Let's make our homes healthy & safe together.
Let me help you make the process of going natural in your home affordable, easy and fun with my book, Detox Your Home! It includes everything you need to know, organized in simple action steps, to clean out the toxins from your home and make it safe for you and your family. No more hunting all over the internet to find what you need – it's all in one place!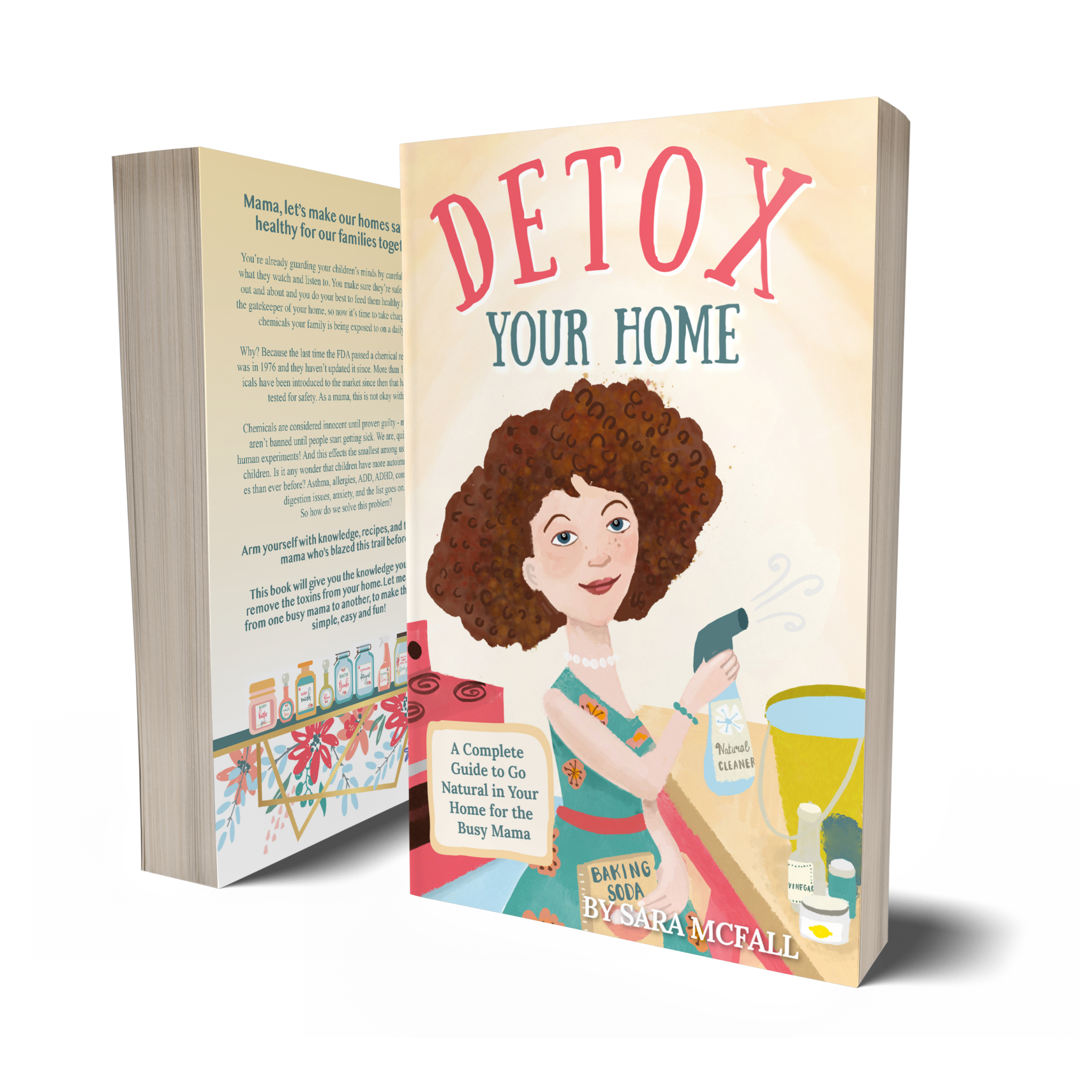 With Detox Your Home, you'll be able to:
Get rid of the toxins in your home once and for all, without the stress and overwhelm

Make your own recipes (more than 80 included!) plus suggestions to buy safe products

Empower yourself with knowledge about the toxins in our products and how to avoid them

Feel confident as you create a safe home for you and your loved ones

Clean out the toxins step by step – go at your own pace!
This beautiful, colorful and easy-to-read book contains:
More than 80 DIY recipes using simple ingredients like baking soda, vinegar, Castile Soap and essential oils

Lists of SAFE store-bought products to purchase if you're not a DIY person

Research on the toxins that are in our products & how they affect our health

Shopping lists to replace the toxins in each area of your home
AS A NEW MOM, I WAS SHOCKED…
to learn about the toxins in my home and how they can harm my family and pets. I was determined to make my home safe but felt really overwhelmed at the thought of changing over everything. I was too tired and wanted someone to guide me through, step by step.
Why Is It Important to Detox Your Home?
Because in the USA, our government are not protecting us from toxins in our products and food. The last time the FDA passed a chemical regulations act was in 1976 and they haven't updated it since! More than 150,000 chemicals have been introduced to the market since then that have not been tested for safety. Chemicals are considered innocent until proven guilty – many of them aren't banned until people start getting sick. We are quite literally, human experiments and this affects the smallest amount us the most – our children.
Toxins abound in our cleaning products, bath and body products and cosmetics. More than 232 chemicals are found in the cord blood of infants! Most companies will use the cheapest ingredients they can source and manufacture, not giving much thought to our health and safety, especially that of our children.
It's time to take the power back in your hands and empower yourself with knowledge so we can raise healthy families! Even our pets are affected by these chemicals as they walk on our floors that are sprayed with toxins and they enter their bodies through their paws. Click here to grab your copy!
Don't Take My Word for It!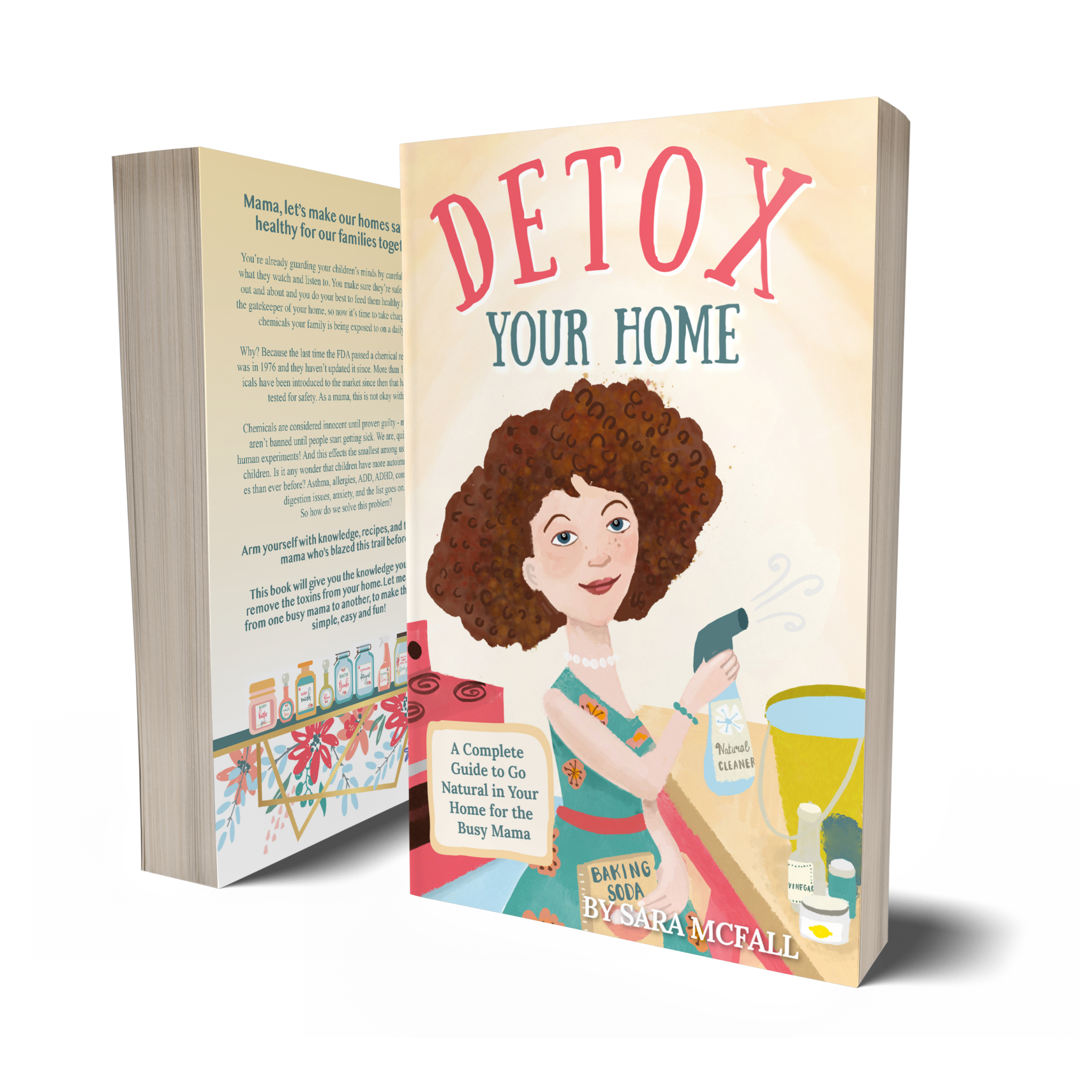 Get it easily on Amazon!
The book is available for both Kindle and in paper copy. Personally, as a millennial, I'm hopelessly old-fashioned and prefer the traditional paper and pen approach. I enjoy having the physical book in my hand, especially when I'm in the kitchen following a recipe. With a book, there's no risk of getting distracted by notifications or social media, unlike when using a device where it's easy to lose focus and forget what you were doing.
Not Sure You Want Detox Your Home Just Yet? That's Okay.
Sign up below for a free guide!
Also check out my natural recipes for:
Transform your home naturally with my FREE guide!
Get my free guide on how to go natural in your home, step by step. I make it easy and help you walk you through the process by providing natural cleaning, bath, and laundry recipes. Then I help you reduce the chaos and clutter in your life and home. It's all here and it's totally free!