I wish you had taste-a-vision right now because there's no way to appreciate these divine cookies without savoring them in your mouth. You'll just have to trust me instead! These are my family's new favorite cookies, as the combination of the coconut, chocolate and almond flavors is just divine.
I made these right after receiving coconut oil from
Tropical Traditions
to review* and use and, boy, was I happy with it! I could tell their hand-pressed, organic coconut oil is different than the other I bought before because the coconut scent was stronger and the oil thicker and creamier. I've been using lots of this amazing oil to make things like
all-natural deodorant
,
organic lotion
,
organic body butter
,
organic diaper rash cream
, and as a
face moisturizer
so I was excited to finally use it for cooking and baking. I scoured their website for recipes to make with coconut oil and came across
this one
.
Chocolate Chip, Almond and Coconut Cookies Recipe
Now, I didn't have any shredded coconut or dark chocolate chips in the pantry and really couldn't be bothered to run to the store to get some, and the cookies were STILL delicious. So, they are probably even more amazing with those two ingredients!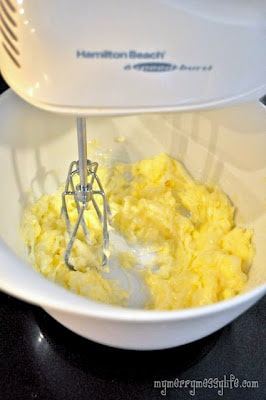 Preheat oven to 375 degrees.
In a bowl, cream the butter and coconut oil. I used a hand mixer for this. Add all the sugars and beat until thick and fluffy, then add the eggs and vanilla and continue to beat.
Chop the almonds in a blender or food processor until they are in smaller chunks and place in a bowl.
Blend the oats in a blender or food processor until it is in smaller pieces, but not fine like flour, and place in the same bowl with the almonds.
Add all the remaining dry ingredients (flours, baking soda, baking powder) and combine with the coconut oil mixture and beat. Stir in the coconut flakes and chocolate chips.
Roll dough into small balls and bake for 6 minutes. Remove from oven, flatten with a spatula, and bake for another 5 minutes.
Let cool for 2 minutes, then remove from pan and continue to cool on a wire rack.
Grayson took his stirring job quite seriously!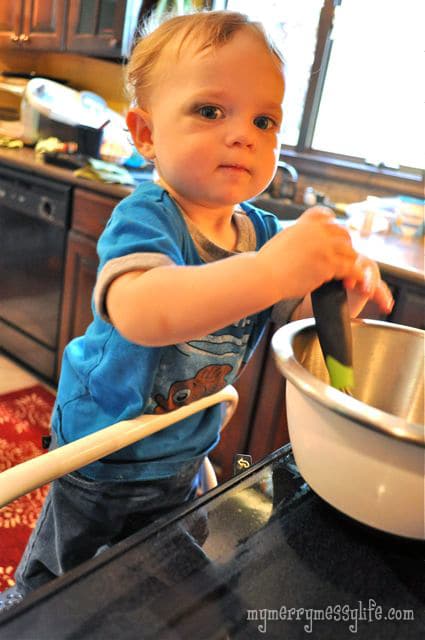 Enjoy with your most favorite people!
The kids devoured these cookies!




*Disclaimer: Tropical Traditions provided me with a free sample of this product to review, and I was under no obligation to review it if I so chose.  Nor was I under any obligation to write a positive review or sponsor a product giveaway in return for the free product. If you order by clicking on any of my links and have never ordered from Tropical Traditions in the past, you will receive a free book on Virgin Coconut Oil, and I will receive a discount coupon for referring you.


This post is being shared at: