Crochet Clover Lattice Cowl – Free Pattern
A free crochet pattern for a beautiful summer scarf using the clover lattice stitch. It's made to be light and airy to wear during warm weather, like a crochet accessory.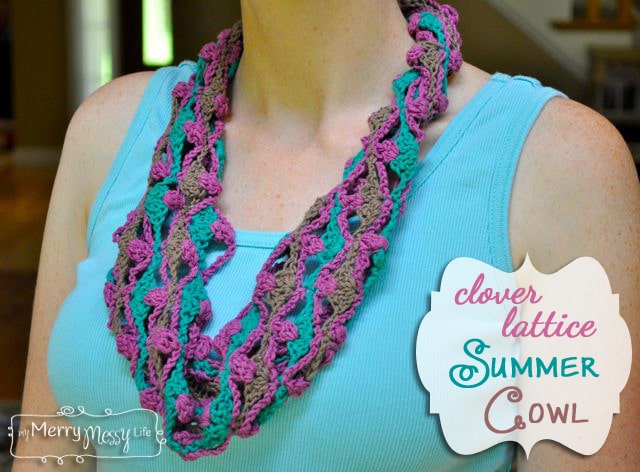 The clover lattice stitch was really fun for me to learn, and I plan to write up a full photo tutorial of it in the near future. They asked me to use Bernat Cotton-ish yarn and I really enjoyed working with it. It's soft, yet still strong since it is half acrylic. Makes for perfect summer projects, washcloths, coasters, headbands and things for which cotton is perfect.
Crochet Clover Lattice Summer Cowl
Materials
Hook: G/6 or 4 mm
Yarn Used: About 3 ounces of a sport weight yarn. Worsted weight would also be fine, just change your hook size. I used Bernat Cotton-ish in Cotton Gin (where to buy), Jade Jersey (where to buy), Coffee Filter (where to buy) (1/2 skein each)
Hook: G/6, 4 mm
Abbreviations
dc = double crochet

sc = single crochet

ch = chain

sl st = slip stitch

sk = skip

st = stitch
Special Stitch
4 dc cl = double crochet cluster (Yarn over, insert hook into space, pull up a loop (3 loops on hook). Yarn over, and pull through 2 loops (2 loops remain). Repeat 3 more times. At end, there should be 5 loops on the hook. Yarn over and pull through all 5 loops).
The Pattern
(Start with Cotton Gin)
ch 104 (or another multiple of 8)
Take chain, and twist it 1 time. Then, sl st to the first ch to form a ring
Round 1
(continue with Cotton Gin)
*ch 4
sk 3 ch
(sc, ch 1, sc)
4 dc cl in next ch
ch 4
sk 3 ch
(sc, ch 1, sc) in next ch
Repeat from * all the way around
End with ch 4, (sc ch 1) in very last ch, then work a sc in the first chain (where the round join is)
Fasten off (13 clover clusters total)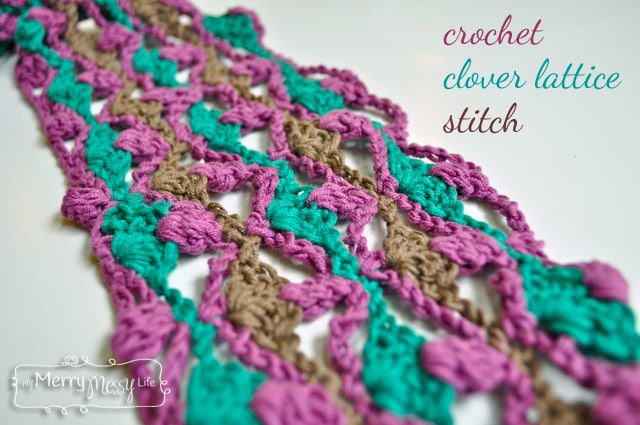 Note: With it being such a long chain, you might find that once you get to the end, you have an extra chain or two, or maybe one less chain. No worries – no need to frog the entire thing. Just finish off the row just like above – an extra few or a few less chains will not be noticeable!
Round 2
(change to Jersey Jade)
sl st in any ch 1 space, ch 3 (counts as first dc)
5 dc in same space
*ch 2
2 sc in next 4 dc-cl (in the first ch of the cluster)
ch 2
6 dc in the next ch 1 sp
Repeat from * all the way around
End with 2 sc, ch 2, sl st to top of ch 4
Fasten off
Round 3
(switch back to Cotton Gin)
sl st in the middle of any shell (6 dc), and work a 4 dc-cl
*ch 4
(sc, ch 1, sc) in next sc space
ch 4
4 dc-cl in next shell space
Repeat from * all the way around
End with 4 dc-cl, ch 4
Join with sl st to the top of the ch 4
Fasten off
Rounds 4-11
(switch to Coffee Filter)
Repeat rounds 2-3
Color Pattern
Cotton Gin
Jersey Jade
Cotton Gin
Coffee Filter
Repeat above pattern, then end with Cotton Gin, Jersey Jade, Cotton Jin
I got the inspiration from my new favorite crochet book, Crochet Stitches: Visual Encyclopedia (where to buy). I love this book because you can craft anything using the different stitch patterns. It's really going to take my crochet skills to the next level!
Cowls are so easy to wear and make. I made this one with a twist, which makes it way easier to work as you don't have to keep the beginning chain untwisted and straight.
Here's another view of it on. This pattern originally appeared at allfreecrochet.com. They gave it a fun name – Out of this World Summer Cowl.