Fluffy Boa Scarf – Free Crochet Pattern
This fluffy, fun scarf is fast, easy, and fun to make! All you need is this fun yarn and a large crochet hook. A great pattern for a last minute accessory. It could even be made as a gift!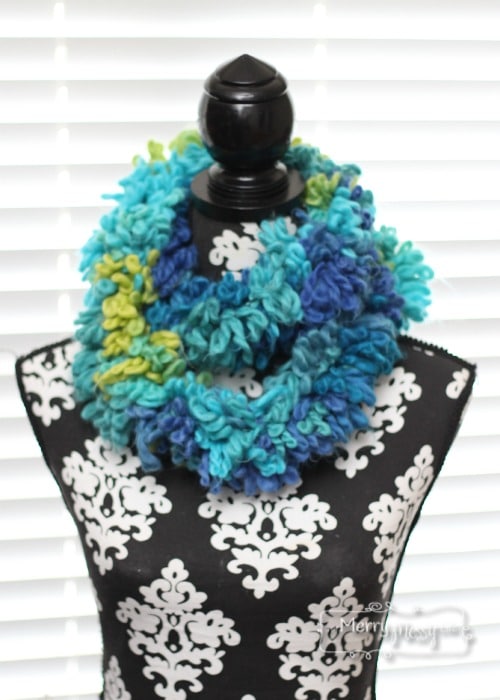 I made this beauty while I was at a craft fair and needed to do a demonstration. I had to think of an quick project in the moment, and this is the result. It is made of chains and single crochet stitches. Everyone was really surprised with how simple it was to make. You could even crochet this one with your fingers.
I did have someone ask me what I'd charge for the scarf, which brings up a great point! I think this scarf should be priced between $15 and $45, depending on your market and how big you make it. The yarn is a little more expensive, but since it takes about five minutes to make it, the price is fair.
I haven't had a chance to wear it anywhere yet, but I see it being worn with maybe a cream colored shirt and a skirt to match the scarf. I just love this yarn!
I would classify this pattern as beginner. The most difficult part of the whole pattern is making sure you are crocheting into the right stitches and that won't make a huge difference.

Fluffy Boa Scarf – Free Crochet Pattern by Stacey Williams
Materials:
Abbreviations:

Sc- Single Crochet
Sl st- Slip Stitch
Ch- Chain
One Size

Ch 90. Join with a sl st in the beginning. (If you use a larger hook then you may chain to the length that you prefer.)
Ch 1, sc into each chain. Join with a sl st in the beginning.
Ch 1, sc into each stitch. Join with a sl st in the beginning.
Repeat row 3 until you have the width that you want. (I did 3 repeats.)
To finish off simply tie it off with a ch 1 and then weave in the ends with the yarn needle.
Done. I hope you enjoy it! Merry Crocheting!