Homemade Deodorizing Spray – Non-Toxic and Green
This is one deodorizing spray that smells divine – and it's cheap and easy to make with no harsh or toxic chemicals. It's safe for those with asthma and allergies, too! I've also included a free printable to tack onto your bottle so you never have to look up the recipe again.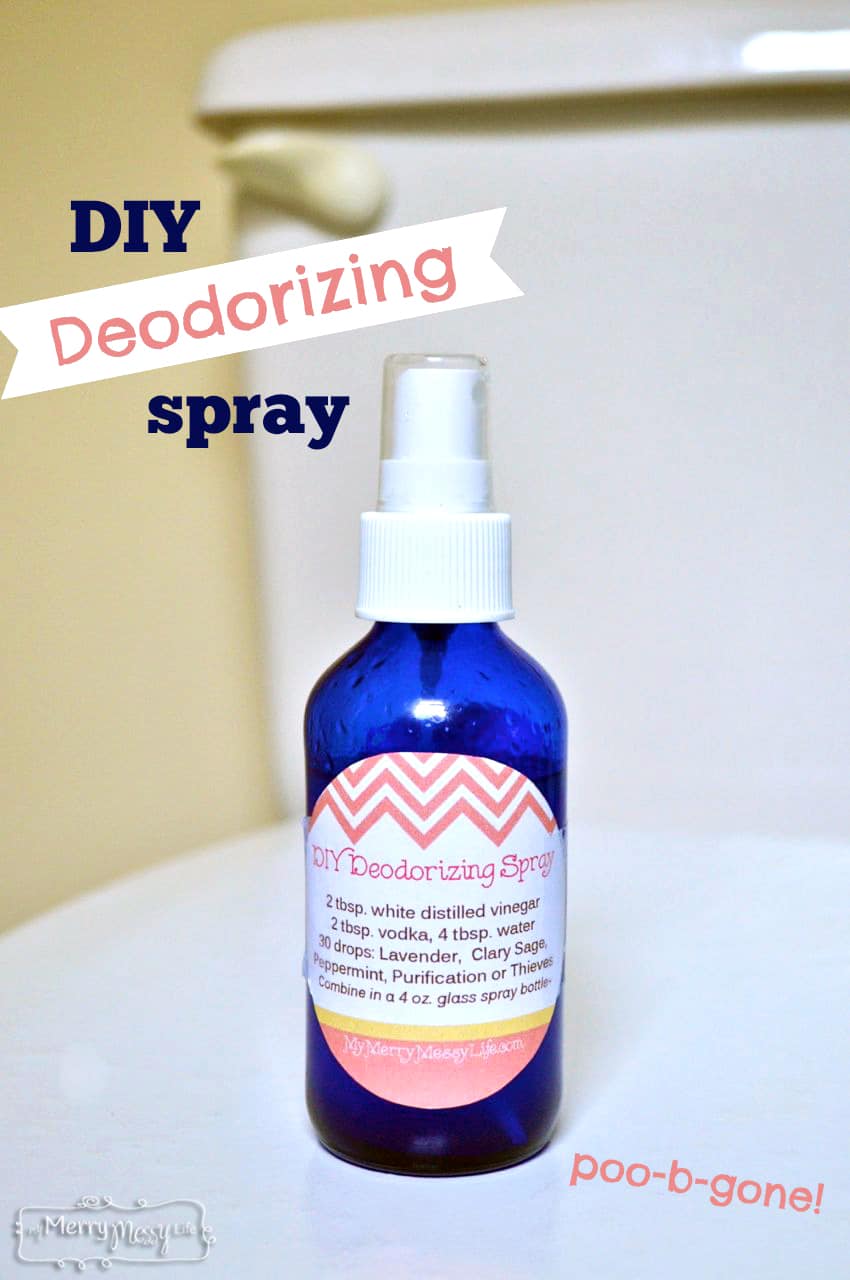 Ever thought about what's in your fabric freshener and room deodorizing spray? Well, according to the Environmental Working Group's (EWG) guide, one of the most popular brands on the market (Febreze) is highly toxic and gets a failing F grade. Yikes. Read the report here. Why is it so toxic? Quite a few of the ingredients are highly toxic to aquatic life (which will harm our lakes and streams if poured down the drain and get into the groundwater during the manufacturing process), it contains endocrine disrupting compounds and irritates those with asthma and allergies. All that mess for a product that isn't even essential – so ironic that the thing we spray into our air to supposedly improve our air quality is actually filling it with junk!
Just a Few Simple Ingredients
Thankfully, it's super easy to make your own at home using just vinegar, vodka (optional), water and essential oils! You might be wondering why I chose to use vinegar, as most can agree it's not terribly fun smelling. It's actually the secret weapon in this spray as it does a great job at deodorizing and removing the smells. The vinegar smell dissipates very quickly and what's left behind is the trail of essential oils you choose to put in it.
Essential Oils
If you're a newb to essential oils, you may want to check out my Essential Oils 101 post to learn all about them. The thing I love about them is that they disinfect and deodorize, while at the same time improve our moods, concentration, and bring mental clarity. Febreeze will likely give you a headache and leave a toxic trail behind to cause confusion, sluggishness, and harm the lungs! Here are the ones I suggest because they really cut through bacteria and bad smells:
Purification (a blend of Lemongrass, Rosemary, Melaleuca, Myrtle, Citronella and Lavandin)
Lavender
Thieves
Lemon
Clary Sage
Peppermint
If you want a combo to smell nice and happy, then I suggest (use one of the following, or blend a single oil with a blended oil):
Stress Away (a blend of Copaiba, Lime, Cedarwood, Vanilla, Ocotea, Lavender)
Joy (a blend of Bergamot, Lemon, Palmarosa, Ylang Ylang, Rose, Geranium, Jasmine, Roman Chamomile, Coriander, Tangerine)
Valor (Spruce, Blue Tansy, Frankincense, Rosewood)
Vanilla
Orange
Cinnamon Bark
(Click here to buy high quality essential oils)
When was the last time your deodorizing spray read that not only is it 100% natural, safe and non-toxic, but can actually help with mental clarity, is an antidepressant and aphrodisiac and helps alleviate stress and mental fatigue?! Essential oils are powerful.
And, if this oil blend isn't strong enough for you, simply add more than I suggest.
Download the free printable label here!
The Recipe
Yield: 4 ounces
Glass spray bottle (not plastic, it will get destroyed by the oils) (where to buy)
2 tbsp. white distilled vinegar (where to buy)
2 tbsp. vodka (helps the oils to be dispersed throughout the solution – shake before using if you don't have vodka)
30 drops of any of the suggested oils above (my favorite is a combo of 15 drops Purification and 15 drops Lavender)
Fill to the top with water or vodka
Mix all in the bottle. Shake before each use. Store in a cool, dry place like a cabinet.