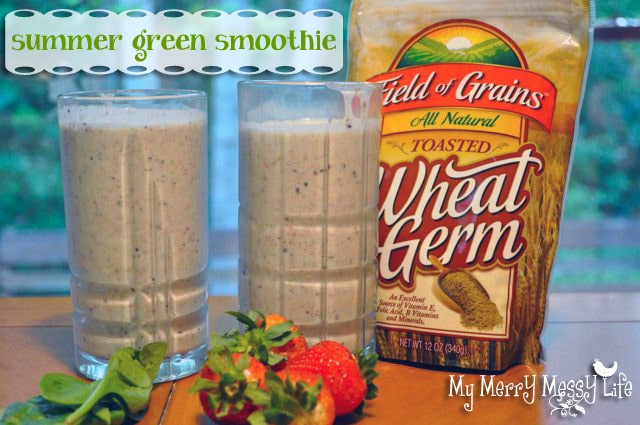 I love making smoothies in the summertime, when berries abound and are so juicy. I've especially enjoyed them while I've been pregnant, since they are jam-packed with nutrition and it's an entire meal in a cup! And, it's a great way to use up fruit that's really ripe and about to go bad. It makes me feel so much better to make a smoothie than to throw out all that expensive fruit!
Here's how I make mine happy on the taste buds and the body.
Summer Green Smoothie Recipe
1-2 bananas
1-2 cups of strawberries (or any other berry – the more of these you include, the sweeter it will be and the less honey you'll need)
1 cup blueberries (or any other berry)
1 cup of ice
1 handful of fresh or frozen spinach
1 1/2 cups of plain Greek yogurt
1-2 spoonfuls of raw honey to taste (to add sweetness since the plain greek yogurt is quite bitter)
2 tablespoons of Wheat Germ for an extra kick of protein, fiber and vitamins
1/2 cup of milk
Load the ice in the blender first, then the milk, then pile the rest on top and let 'er rip! I like mine a little on the chunky side, so I don't liquify it.
That's it! It whips up in about 5 minutes and you've got an entire serving of fruits, a portoin of vegetables, lots of calcium, protein, vitamins and fiber all in a cup with no preservatives or weird chemicals. Enjoy!