Complete Cloth Diapering Guide – Choose Your Brand and Quantity of Diapers (part 3)
After reading my pros and cons of cloth diapering and learning about the different types of diapers that exist, you're ready to choose the brand and quantity of diapers for your baby.
Now that you know what type (or types if you can't pick just one!) of diapers you'd like to try, here are some ideas on choosing a brand. For the most part, which brand you choose is really based on your budget. To try it out, I suggest buying enough diapers to last a day, wash them, and try them again the next day. Wearing them two days in a row ensures that you'll catch any issues like fit or discomfort.
As far as quantity goes, I suggest choosing enough to last for two days, so you can wash every two days. Of course, that changes as your baby gets older. For me, I have two children, a baby and a toddler, and I wash every two days or even three with 25 diapers. I've seen on some forums that moms have up to 40 for two kids, but for me, that wasn't necessary. You can always buy more, so I suggest starting small to see if you'll be able to stick with it, then add on.
If buying used doesn't gross you out too much, there's a great website where you can trade, swap, sell and buy cloth diapers! https://www.diaperswappers.com/
Many of you have probably heard of the big, brand name diaper companies like BumGenius and Fuzzibunz. I have a friend who has Fuzzibunz and she loves them, although she couldn't find them in cute patterns and colors like I could with the cheaper brands. But FuzziBunz are really nice because they are also fully adjustable in the leg width, which is especially helpful when your baby is a newborn and has little chicken legs! I did have a lot of leakage problems when Grayson was tiny due to that issue. I've never heard a bad thing about BumGenius, but you do pay for it. If you can afford it, I say, go for it!
Here's a price comparison between the famous name brands, and the lesser-known ones I purchased from:
Here's What I Bought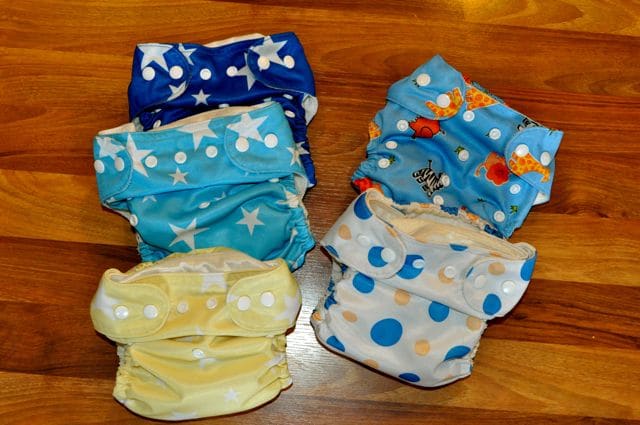 Grape Apple (Ebay Store): $7.99 each, includes one insert or $53.99 for 10 diapers & inserts
This company takes 2 weeks to ship from a little store in China, but it's totally worth it because they are CHEAP and SO SO cute! They also have excellent customer service and will answer any question you write to them in their cute, broken English. They have a myriad of choices and patterns, so you can go crazy buying the cutest diapers you've ever seen in your life. One important detail – they call their diapers AIO (All In One) diapers, but they're actually pocket diapers. I emailed the company about it.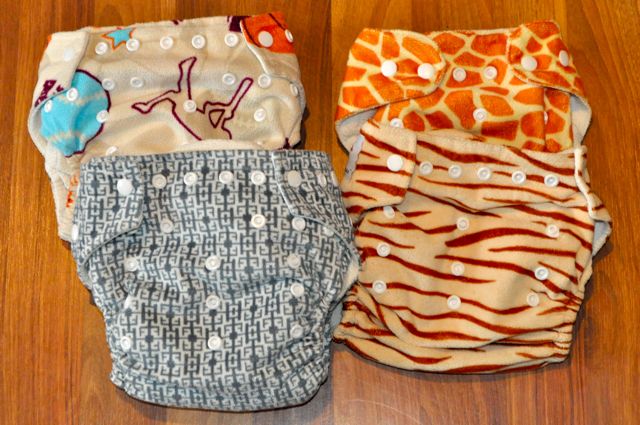 Kawaii Baby Diapers: $6.99 for the Original, $9.25 for the Snazzy Minky, or $7.75 for the Goodnight Heavy Wette

I love this company because they have the Snazzy Minky diaper – what the heck is that, right? It's a super soft, almost fuzzy diaper that was perfect for my toddler who's skin is very sensitive and needed something soft, especially around this legs. I do not recommend the Snazzy Minky for newborns because they are bigger and bulkier due to the fuzziness.

I also love Kawaii's Goodnight Heavy Wetter – it really is perfect for a night diaper because it is longer, has thicker inserts, and a thicker waterproof coating. These diapers are made in China, but come from a company that operates out of Canada. They also have a bamboo option (all the rest are fleece or microfleece), which is nice if your child's skin is sensitive to fleece.

I found the shipping on the Kawaii website to be quite expensive, so I bought all my Kawaiis from 

https://www.sweetbottomsbaby.com/pocket_diapers.html

Nubunz Diapers come in velcro (great for newborns and squirmy toddlers) and snaps

NuBunz

– $4.99 to $6.99, includes inserts

If you can get past their unprofessional website, you'll receive a really good-quality, durable diaper that comes from a family-owned store in West Virginia and they actually make the diapers! They don't have the array of patterns and colors the other companies do, but they are good quality.

Other Brands I Haven't Bought But Heard About

BumGenius – $17.75 each on diapers.com
Supposed to be one of the best on the market. I compared my cheap ones to a friend's BumGenius and they were pretty much the same in style and construction, but the BumGenius did seem to be a little more durable. Still wasn't worth the price for me, though.
FuzziBunz – $17.95 to $21.95 each on diapers.com
UPDATE – I just recently bought a pack of six [amazon_link id="B005XB57Z4″ target="_blank" ]Fuzzibunz[/amazon_link] diapers off Amazon and am VERY happy with them! They have adjustable leg openings, which none of the other brands seem to have. They are working out very well for my newborn, even with his tiny chicken legs!
Sunbaby – $78 for a pack of 12 plus inserts (makes them $6.50 each!)
This is another Chinese company, and they are very comparable to Grape Apple diapers. They come in different sizes, which is not as convenient, but I've heard great things about them from a friend.
Kiss a Luvs – I have a friend who used the fitted diaper version of this brand with all four of her children and really like them.