A sweet little headband that works up so quickly you'll be able to make one to match every outfit! It's easy to make for any size head as well.
The only other girl in my house is our Wire-Haired Pointing Griffon mix, Maddie – even our two cats are boys! So, there's lots of you-know-whats dangling around here (sorry, couldn't help myself!) and while I've really enjoyed crocheting hats and baby blankets for both my boys, there's just nothing like crocheting a pretty pink flower or hat for a baby girl. The next best thing? Crochet for all my friends' baby girls!
How to Make the Right Size Headband
Here's a super easy and quick headband you can make for a baby girl, and it's a little different than others because it's worked in a round. Just adjust the beginning chain to the circumference of the head for whom you're making it! Here is a guide for the measurements:
Newborn 13″
3-6months 14″
6-12months 16″
12months-tween 17.5″
Adult 18″
This headband is sized for newborn up to 6 months because it has a little stretch in it. I love this pattern because it has a lot of texture, and the combination of single and double crochet make the double crochet stitches pucker out, looking like little flowers!

Pucker Stitch Flower Headband
Materials
Yarn: Worsted Weight, Medium 4 (I used [amazon_link id="B003W17UKC" target="_blank" ]Bernat Satin in Faded Glory Ombre[/amazon_link])
Hook: H (5.0 MM)
Level: Advanced Beginner (because we work in a round)
Abbreviations
CH = chain
SC = single crochet
SL ST = slip stitch
DC = double crochet
The Pattern
CH 45 (For newborn to 6 months, which is about 13 1/2 inches long. Use the guide above to determine how long your chain should be.)
Join end of chain to first chain with a SL ST (it's very important here to keep the chain straight, or your headband will be crooked) (see picture below)
SC in the 2nd chain from hook
DC in next chain.
*SC in next chain.
DC in next chain.*
Repeat from * across to the last chain. Then join last stitch to the first SC with a slip stitch. Tie off and weave in ends. Crochet a flower or rose to attach to the headband!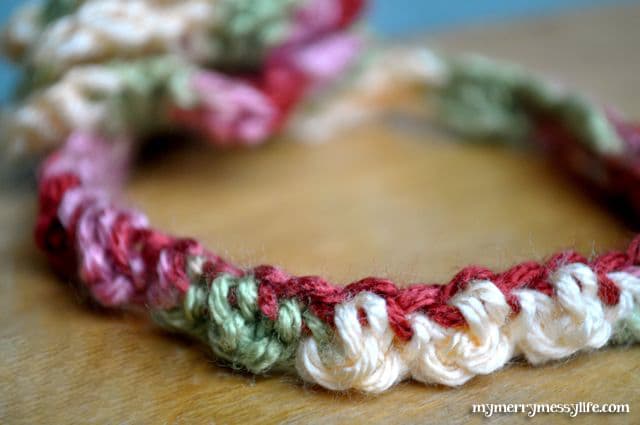 The layered flower pattern comes from Mom of 5 Daughters. I've used this pattern over and over and it looks fantastic every time! It's an intermediate flower. For a beginner one, just follow the first directions for the first flower layer.