Free Crochet Baby Headband Pattern – Seed Stitch
A free crochet baby headband pattern with large flower using the crochet seed stitch. This is so adorable on your little one you'll never want her to be without it. The crochet pattern is easy enough for a beginner and uses the seed stitch.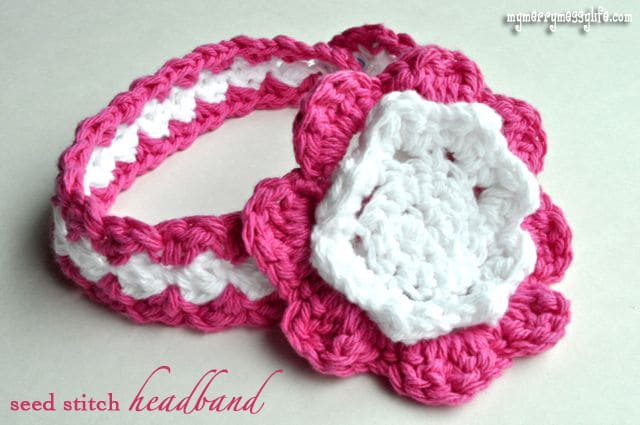 I Love the Crochet Seed Stitch!
After making the adorable Seed Stitch Purse, I really wanted to try the seed stitch again to make a headband. I love this stitch because it creates a nice texture and has a wavy look to it.
My Favorite Crochet Baby Headband Pattern
This turned out to be such an adorable headband, and my favorite crochet baby headband pattern so far! I tried it on Grayson and I giggled, which made him giggle, of course, because it was beyond precious on him. I considered showing pictures of him with it on, but that might come back to bite me in the butt one day when he finds out I've been blasting pictures of him in girly things on the internet.
Here's the PDF for nice, neat printing.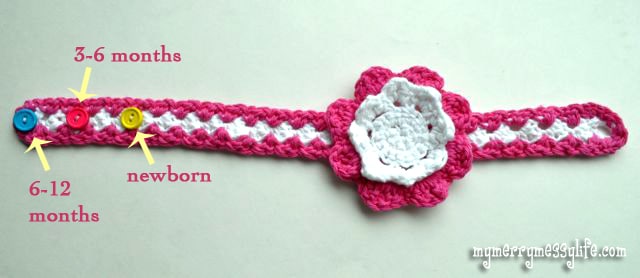 It works up very quickly, and can be adjusted to any size. This particular one is long enough to fit a 6 months to 2 years (17 inches long), but I sewed buttons onto it so it can also fit a newborn, and 3-6 month old baby, so it's quite functional.
Crochet Headband Measurements
Newborn 13″
3-6 months 14″
6-12 months 16″
12 months-tween 17.5″
Adult 18″
Crochet Baby Headband Pattern using the Seed Stitch
Written by Sara McFall of My Merry Messy Life
Materials:
Abbreviations:
SL ST = slip stitch
DC = double crochet
SC = single crochet
CH = chain
ST = stitch
SP = space
(starting with white yarn)
CH 46 (or make it longer or shorter, as long as the number of chains is divisible by two)
In the 2nd CH from hook, work 1 SC and 1 DC in the same ST
Skip 1 CH
*Work 1 SC and 1 DC in the next CH
Skip 1 CH*
Repeat from * until you reach the end.
Fasten off.
(using another color)
Attach new color to the opposite end from the SL ST (where you started) and on the back side. The front side puckers out a bit, so we want to work on the back side so the new color will pucker on the same side as the white.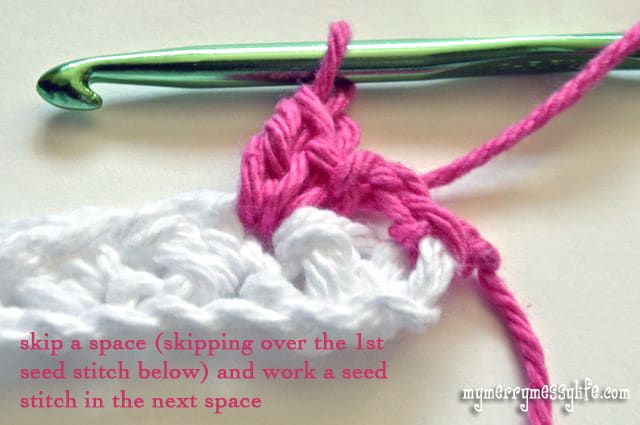 CH 2
*Skip the next sp
SC, DC in next space*
Repeat all the way down
Work 3 sc on the end
Turn work and repeat * above all the way down, working 3 sc on that end . Join with a SL ST to the beginning CH 1 and fasten off.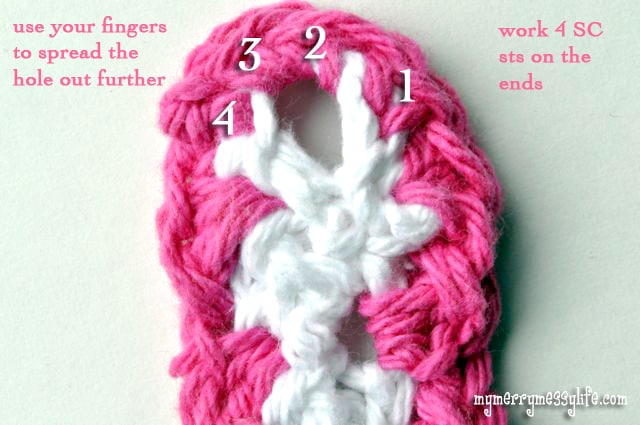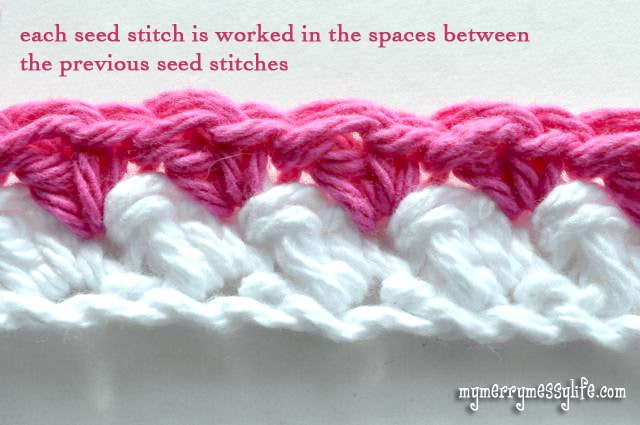 I found the flower pattern on Lion Brand. It's an Irish Rose, however, I did not do the third layer because it makes the flower huge and I thought would be too big for a baby's head.
Sew the rose onto your headband, using the same color as the middle color (white in this case), and then it will be an invisible join!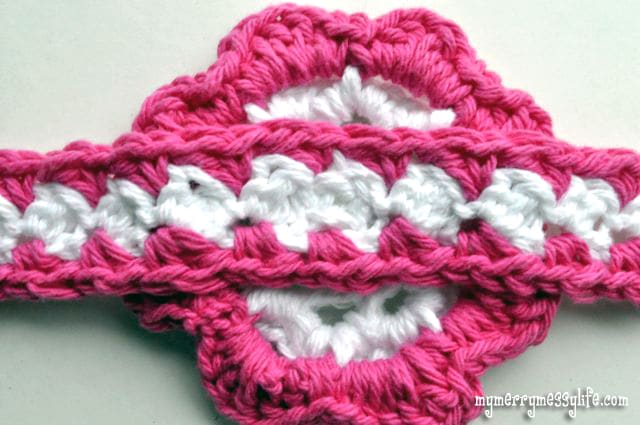 Measure out where you want your buttons, and sew them on using the same color thread as the middle color (white).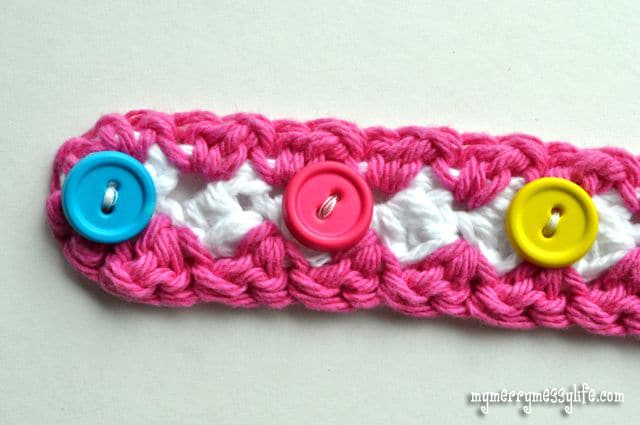 Ta-da! Et voila! C'est fini! I hope you enjoyed this crochet baby headband pattern. Was this your first time learning the seed stitch?
Merry Crocheting!
SaveSave