Crochet Star Baby Mobile – Free Patterns
There's this adorable crocheted baby mobile hanging in Griffin's nursery, and it was so easy and fun to make! Here's a tutorial and free patterns so you can make it, too.
Here's how I did it:
I made 8 large star appliques and 8 mini ones (both of which are free patterns on my blog).
Then, I stiffened them with fabric stiffiner (where to buy) (a water and white glue mixture would also work, or diluted corn starch I've heard does the trick, but haven't tried it myself). This helps the stars to be flat.
With a tapestry needle, I strung them onto four strands of clear jewelry thread that I bought (where to buy).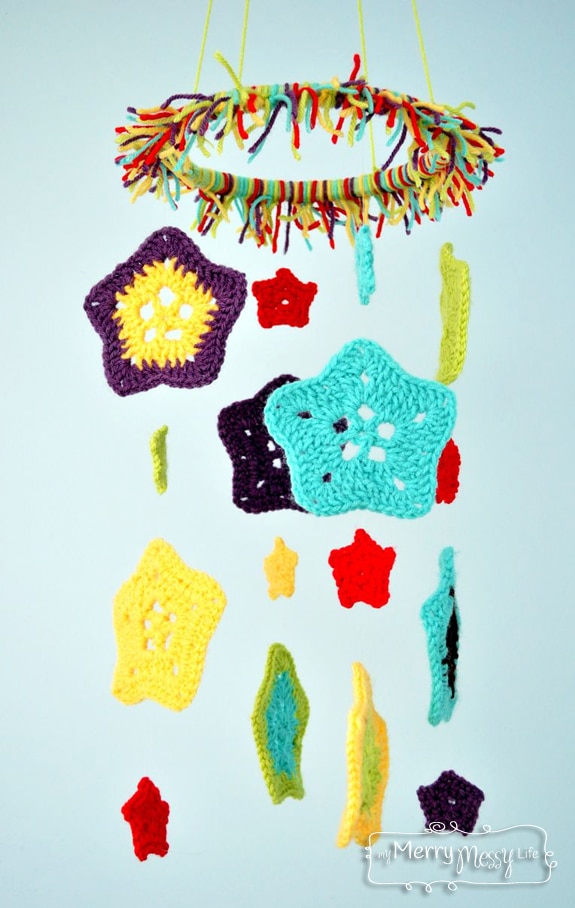 I tied double knots at the bottom of each star to keep it in place.
Then, I tied the 4 strands onto an embroidery hoop (where to buy).
I cut 3 inch strands of yarn from each color that I used and tied them onto the hoop to give more visual interest. To cut tons of strands quickly, I wrapped the yarn around my four fingers on one hand about 20 times. Then, I just cut down the middle! It took me about 30 minutes to tie all the strings on.
I trimmed the fringe once I had tied all the strands on.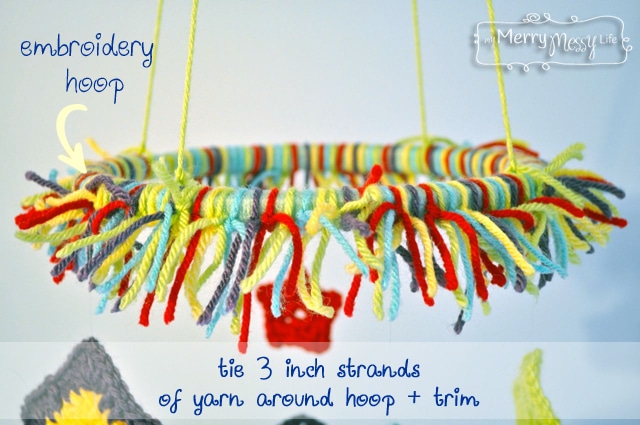 I used mostly Red Heart Super Saver yarn for this project. I love that yarn because it's so cheap and sturdy, great for projects where you don't need a high quality yarn like this one. Here are the colors I used:
The stars work up so quickly that this is really quite an easy project. Who doesn't love easy and cute? I also alternated the size of the stars so one strand started with a large star, and another started with a small star.
And I asked Griffin what he thinks of it, and got lots of smiles and wiggles from him. He loves to look at it when he wakes up in the morning and the happy colors and cute shapes brighten my morning, too. I only wish I'd made it sooner, although, he's only three months old so that's not so bad!
Did I also mention that this is a fabulous stash buster? I made it to match a beautiful quilt made by a friend of my mom. She could make a lot of money off her creations, but chooses to generously give them as gifts.
Here are the free patterns for the stars used in this mobile: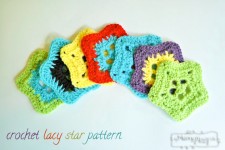 and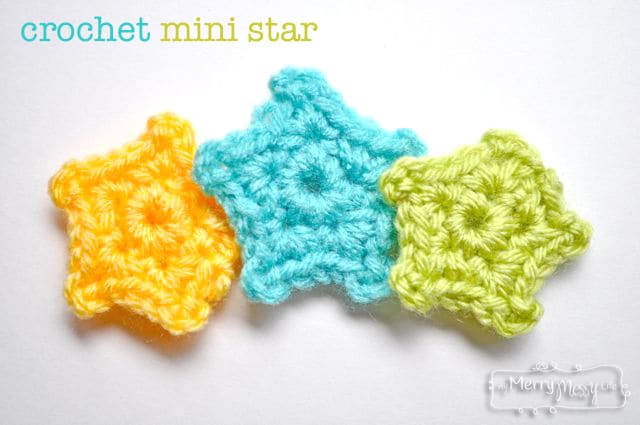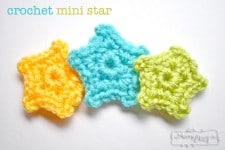 and another post to make matching nursery decor!