Homemade Cloth Baby Wipes – No Sew Tutorial
Tired of buying baby wipes that are expensive and unhealthy for your baby's skin? Well, here's an easy tutorial to make your own homemade cloth baby wipes, using just oil, water and fleece fabric. They actually work much better than disposable wipes and are eco friendly and non-toxic!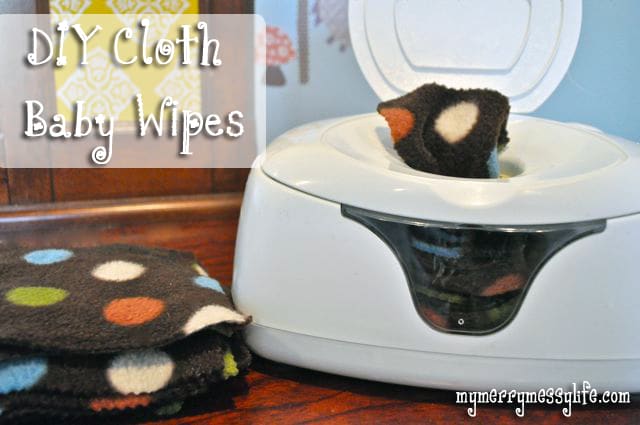 Now that we are cloth-diapering, cloth-toilet-papering, green-living crunchy folks, it only makes sense to continue down the green mile and check another thing off the list – cloth baby wipes. This was super easy to do since I'd already made 6-inch square toilet cloth (as I call it – it replaces our toilet paper). See my tutorial on toilet cloth if you want more information that you probably care to read (smile) about cutting the squares.
But for this post, I'll break it down for ya real quick-like (gotta start talkin' like a Georgia girl since we're gonna be movin back home this summer!). These homemade wipes work just as good, if not better, than disposable ones because they are thicker and, therefore, have more fiber to grab the fun bits off those precious little chubby buns.
Supplies for Homemade Cloth Baby Wipes
1 cup of carrier oil of choice (grape seed, sweet almond, jojoba, or olive oil) 
A 9×9 inch brownie pan
1-2 cups of water
5-10 drops of essential oils such as: Gentle Baby (a lovely blend), Lavender, Tea Tree, Frankincense, or Cedarwood. These oils also aid in reducing harmful microorganisms and softening the skin, all of which lead to happy bums.
1 yard of fleece fabric (or jersey cotton, but it's not as fluffy), makes 60 square wipes, or get these cotton cloth baby wipes
Baby wipes container or a wipe warmer
A Note about Fleece Fabric
I bought three yards of fleece fabric on sale at JoAnn's for $6-ish a yard and cut it up into 6-inch squares with pinking shears. The pinking shears aren't totally necessary since fleece doesn't unravel – the number one reason I bought it because I didn't want to do any sewing what-so-ever! Jersey cotton would also work, but it's not as fluffy as fleece.
As I mention in my toilet cloth post, fleece is NOT an eco friendly fabric, which I didn't figure out until I'd already bought the darn stuff. But, you can buy organic hemp cotton fleece on Amazon for $8 a yard! You get 60 wipes out of one yard of fleece, which lasts for about a week for us! A lotta bang for your buck there!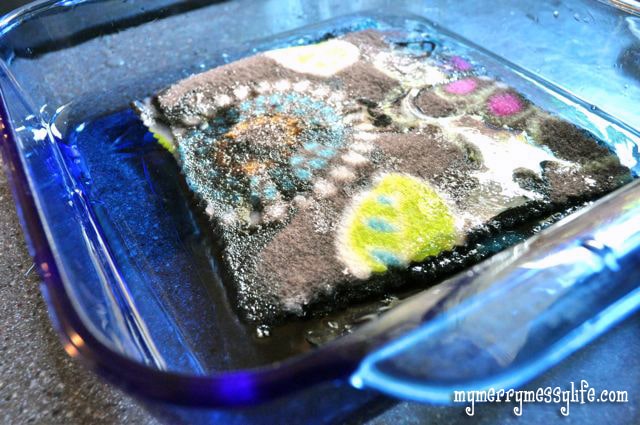 How to Make the Baby Wipes
Cut the fleece into 6-inch squares, and oil up those bad boys one of two ways – by dunking them like a Southern Baptist (I grew up Southern Baptist so I'm allowed to poke fun) into a holy pool of your oil of choice and filtered water in a brownie pan (hmm, ironic brown reference there).
OR Keep a glass spray bottle (essential oils destroy plastic, where to buy) with a solution of three parts filtered water to one part oil and spray it on the poop cleaners each time you use them.
I did the first method because I figured it would be the easiest way to do it – my Little G-Dog wrestles like a baby alligator when we try to change his diaper, so I need wipes quick, like yesterday. There is NO time to spray them and sing sweet songs and listen to birds chirping, By then, he'd have taken a nose dive off the table and be running around his room with poop stuck to his chubby little butt (and yes, the latter part of that has actually happened!).
I soak all the wipes at one time and store the extras that don't fit into our poop cleaner container in a plastic zip-lock bag so they stay moist. Then I dump the dirty ones in the cloth diapering pail we already have in the bathroom, along with the stank-nasty cloth diaper. And that's it! Voila!
Other Baby Posts You Might Like
If you enjoyed this homemade cloth baby wipes tutorial, you might also like these posts for babies I have on my blog!