Essential Oils that are Safe for Babies and Children
Essential oils are wonderful to use for babies and children – they help support their delicate, developing immune systems and are safe to use as they work synergistically with the body to promote wellness. Here is a guide on which oils are effective and safe for sweet little ones!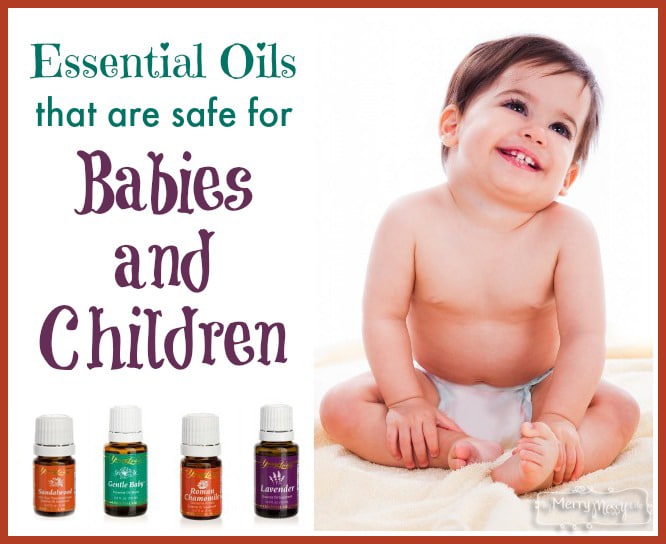 Even though I attempted natural birth with my first son (read the crazy story of how it went down here!), I wasn't living a natural life at home. The pantry was full of food that was definitely not real, I had toxic cleaning products galore, and thought Febreeze was safe and healthy. I've come a long way… So, naturally, I had never once heard of using essential oils for my new son and resorted to using very unnatural things whenever Gabriel wasn't feeling well (read why I steer clear of those things here). Now my kids all know what I'm gonna do when I pull out my oils – give me your feet, kids! At first, I didn't use them correctly and my kids got some small rashes because I wasn't diluting it properly. Now I know better and using high quality oils like Young Living has helped a lot. They are now a staple in my household and we use them daily, which has worked very well to keep us healthy and well!
This guide refers to children from newborns to five years old. Are you brand-new to essential oils? Then I suggest starting here, with my Essential Oils 101 article.
Most Common Oils Used for Babies
Lavender
Cedarwood
Melaleuca Alternifolia (aka Tea Tree Oil)
Roman Chamomile
German Chamomile
Sandalwood
Marjoram
Frankincense
Lemon
Citrus Fresh (a blended oil)
Purification
Click here to buy high quality essential oils!

Proper Dilution
Dilution is important when it comes to babies as they are so small and the oils are strong – a little goes a long way. Not that they are something to be feared, but just have a healthy respect for them.
This is where I recommend starting: 1-3 drops essential oil to 1 tablespoon carrier oil. If you're finding this dilution ratio isn't effective for your baby, then increase the amount of essential oils you're using by a few drops and continue from there.
Frequency
For general immune support, just 1-2 times a day or less is good. I've even found that when I use oils right after we've been somewhere where I think they've picked up germs, they stay well with just 1-2 applications afterwards.
When their immune systems need more support, I apply the oils 2-4 times a day. Essential oils metabolize in the body in 2 1/2 to 3 hours, so you can technically apply that often.
My Favorite Carrier Oils
Carrier oils are fatty oils that are totally different than essential oils. They help to "carry" the oil over the skin. This helps to reduce irritation (as essential oils are drying and some can irritate if they are not diluted) and makes your oils go further!
Common Oil Uses for Babies
Note: Roman Chamomile is gentler than German, so it is best suited for newborns and infants.
Immune Support
Recommended Oils: Lavender, Frankincense, Lemon
Use topically by diluting 1-3 drops in 1 tablespoon of carrier oil of choice and massage on the Vita Flex points on the bottoms of the feet, 2 to 4 times a day when needed.
Digestion Support
Recommended Oils: Fennel, German Chamomile, Melissa, or Marjoram
Use topically by diluting 1-3 drops in 1 tablespoon carrier oil of choice, and massage a small amount gently on stomach and back
Respiratory Support
Recommended Oils: Thyme or Lemon
Diffuse with an aromatherapy diffuser
Dilute 1-3 drops in 1 tablespoon carrier oil and massage a little on neck and chest
Crying
Recommended Oils: Ylang ylang, Lavender, or Roman Chamomile
Diffuse with an aromatherapy diffuser
Dilute 1-3 drops in 1 tablespoon carrier oil and massage a little on neck and chest
Diaper Area
Recommended Oils: Lavender (This really works for us! I get a tablespoon or so of my homemade diaper rash cream and add 1 drop of lavender to it, then rub on.)
Dilute 1-3 drops in 1 tablespoon of carrier oil of choice or buy KidScents Tender Tush from Young Living
For Happy Ears
Recommended Oils: Melaleuca Alternifolia (Tea Tree Oil), Cedarwood, or Frankincense
Put a dilute drop of oil on a cotton ball and place in the ear (but do NOT put the oil itself directly in the ear), rub diluted oil behind ear (1-3 drops in 1 tablespoon of carrier oil)
For Healthy Skin
Recommended Oils: Lavender, Roman Chamomile, Rose, or Sandalwood
Dilute 1-3 drops in 1 tablespoon carrier oil and apply where needed
Teething
Recommended Oils: Lavender, German Chamomile, Ginger, Marjoram, Melaleuca
Dilute and apply a small amount to feet
To actually rub on the teeth, see my post here for a homemade teething oil and other homeopathic relief for teething.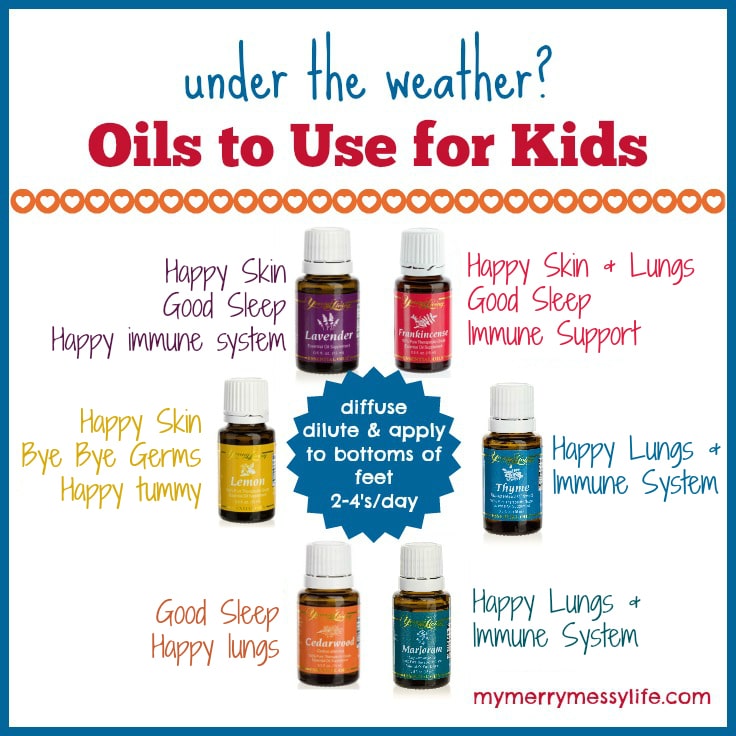 Interested in more posts on essential oils? Click here to see all of them!