Natural Charcoal Face Soap Bar Recipe
Natural charcoal face soap bar recipe is a purifying and detoxifying face soap using activated charcoal, lavender flowers, essential oils, and Castile soap. It's gentle, moisturizing, and surprisingly easy to make in only five minutes!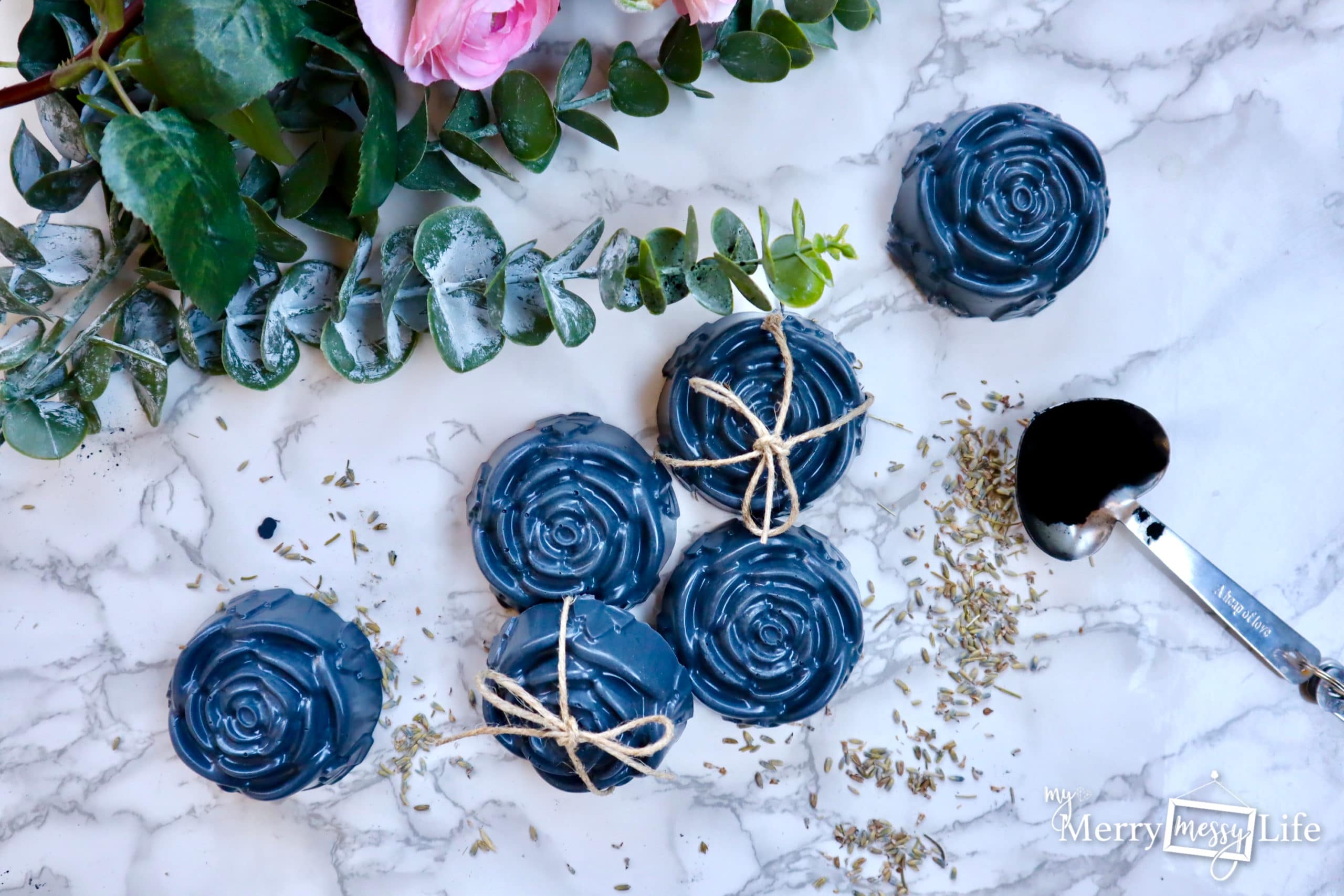 What is Activated Charcoal?
So obviously this is not the charcoal that we grill with! Haha. Nope, this is an ancient remedy for everything from whitening the teeth, and removing toxins and chemicals, to helping with poisoning and stomach bugs. Its first recorded use dates back to 1550 BC.
Activated charcoal is a fine black powder made from bamboo, coconut shells, wood, coal, or olive pits.
It becomes activated when it is processed at very high temperatures. The high temperatures change its internal structure, reducing the size of its pores and increasing its surface area (source).
This results in charcoal that is more porous than regular charcoal so it can bind to toxins and chemicals in the gut and then the body excretes them through the feces. 
Used as a Poison Antidote & to Treat Drug Overdose
It has been used as a poison antidote and to treat drug overdoses and is still used in hospitals even today! It is not very effective for alcohol or heavy metal poisonings, however.
As for our skin, it does the same – it binds to chemicals, dirt, and bacteria and then they get rinsed off. So it can be very effective for keeping your skin clean and even help with acne!
Castile Soap
I use Castile Soap all of the time! I use it in all of our hand soaps and body washes. It lathers well and is also gentle and mild. It doesn't contain any harsh detergents like Sodium Laureth or Lauryl Sulfate so it is wonderful to use on the body. It is an olive oil-based soap that originated in the Castile region of Spain, which is where it gets its name. 
This recipe uses a Castile soap melt-and-pour base, which has all of the ingredients needed to make soap and makes the soap-making process MUCH easier than it used to be! You can change out the charcoal for a different natural powder (like pink kaolin clay) and have a completely different colored soap and scent. They melt in just a few minutes and harden within 30 minutes to an hour. So convenient!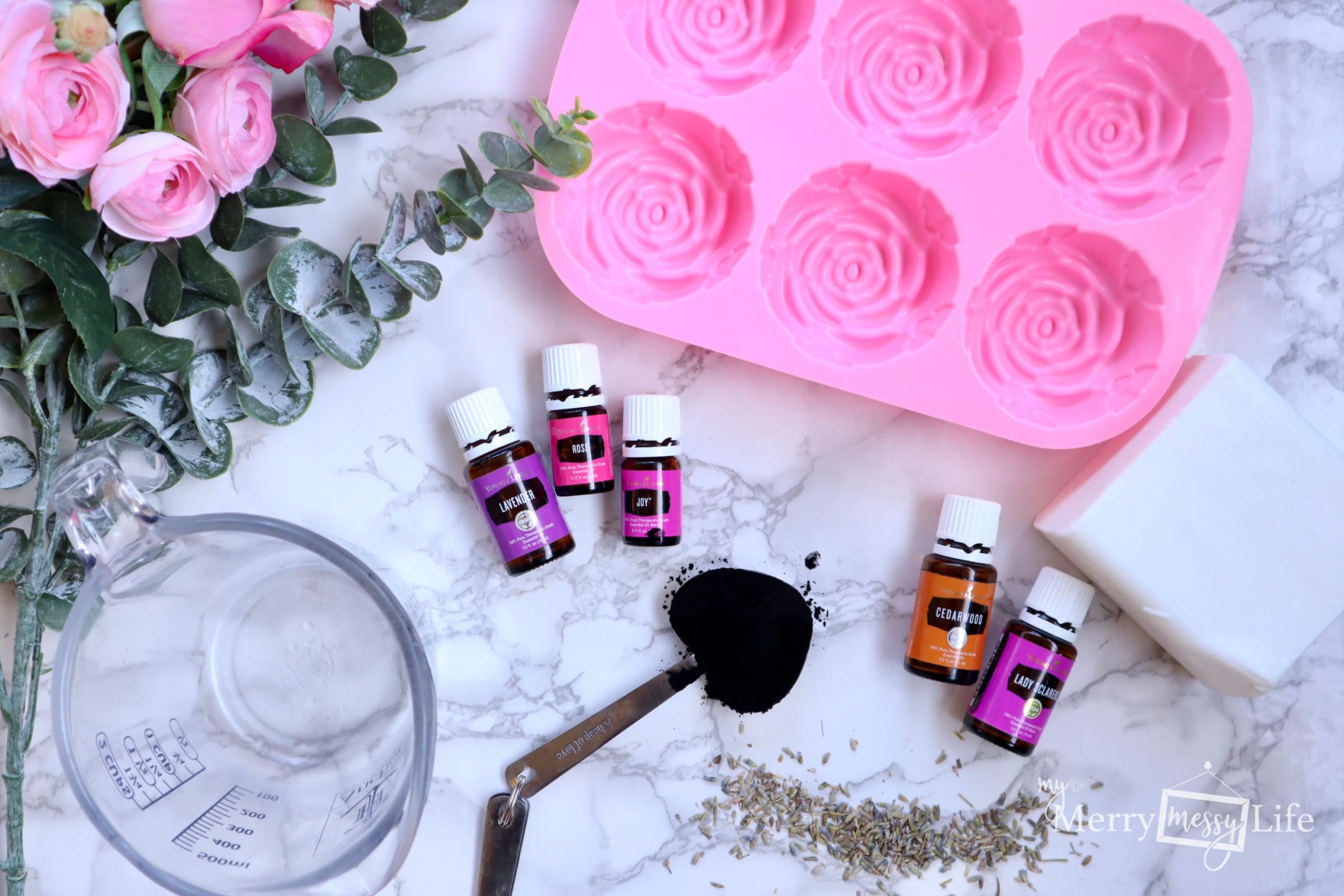 Dried Lavender or Rose Petals
I love to put lavender or rose petals in my soaps, bath bombs, and shower steamers but it's really more for aesthetics and scent than anything else! It makes for a luxurious natural charcoal face soap bar that you can give as a gift to family and friends, or to make a treat for yourself.
Print
Natural Charcoal Face Soap Bar Recipe
Natural charcoal face soap bar recipe using Castile soap melt and pour base, along with activated charcoal and essential oils. It's a luxurious and moisturizing soap that gently cleanses toxins and impurities from the skin, while retaining moisture.
Author:
Prep Time:

3

Cook Time:

3

Total Time:

6

Yield:

12

large soap bars or roses

1

x
Instructions
Cut up the soap and put it in a microwave safe dish. Cook on 30 second intervals, stirring it each time until it's melted. For me, it took 5 times. After it is done, add the activated charcoal and the optional flower petals. Stir well. Then add the essential oils. Working quickly, pour it into the soap molds and let dry for an hour or more.
Keywords: charcoal bar soap, activated charcoal bar soap, detoxifying, purifying, natural
Cut up the soap into square chunks and microwave at 30-second intervals. Stir after each interval and keep cooking until it's all melted. One pound of soap fits in a two-cup glass pyrex measuring cup.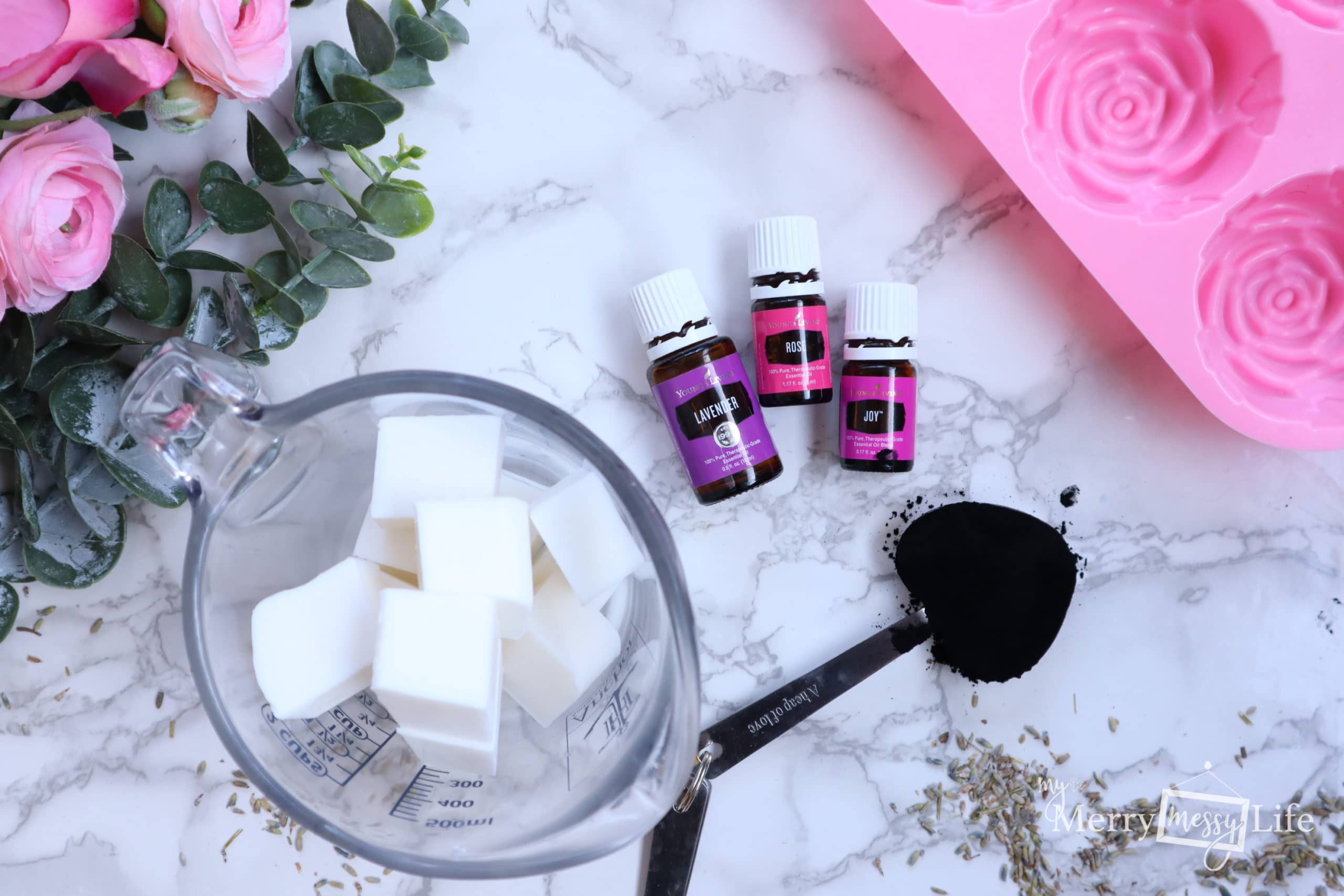 Once the soap is melted, add the 1/2 tbsp. of charcoal to the soap once it's removed from the microwave (2 cups of soap is 1/2 lb.). A note about the charcoal – because it is so richly pigmented and fine, it can make a MESS. So be gentle when using it and use it on a surface that can be easily wiped down. I would maybe even wear an apron or a dark shirt so your clothes don't get ruined!
Then add in 1-2 tbsp. of flower petals and 20-30 drops of essential oils.
Working quickly, pour into the soap molds.
They dry within 30 minutes to an hour!
Which essential oils to use?
I only use essential oils from Young Living. They are truly the best in the world! You have to use double the amount of other, cheaper essential oils to get the same scent and many essential oils on the market aren't even effective (because I've tried many of them) for improving health issues. I've used Young Living's oils for years to help keep my family healthy, and haven't been disappointed yet! Learn more about them here.
The essential oils I suggest using in this natural charcoal face soap bar recipe are: