No-Poo Alternatives to Baking Soda – Some Recipes
Here are some no-poo recipes that are all-natural and great for all hair types, from straight to kinky!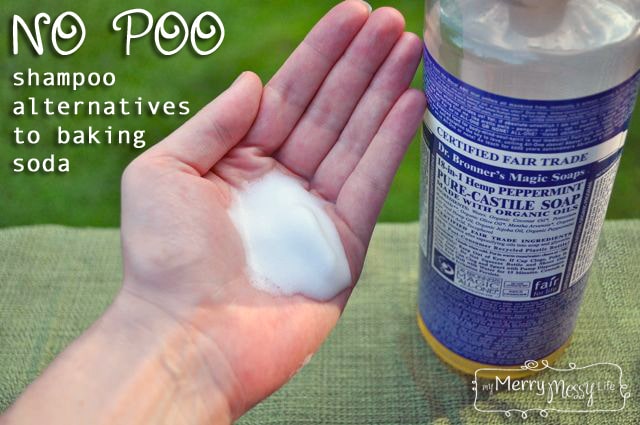 If you're a die-hard no poo-er (if you think that means some bizarre practice of forced constipation, then you're not…) that gets tired of using baking soda as shampoo because it has no poo (you miss the suds) or because your hair or scalp is starting to get dry, then this post is for YOU!
So, I haven't washed my hair with shampoo for a year and eight months, using only baking soda/water as "shampoo" and apple cider vinegar as conditioner (see my no-poo post here). It keeps my hair squeaky clean and I've been very happy with it (I promise – it's not disgusting!). The price is right (cheapest thing EVER!) and it really works to clean (contrary to what one might think). Except for one thing – my hair is dry.
I've had to use a lot of styling cream and oils to replenish the moisture and even then, it's gotten drier. There have been some comments on my first no-poo post with folks who have the same dry hair issue, so I realized about a month ago after a comment that mentioned baking soda can be drying, that my no-poo regimen might be to blame. So, after lots of research and some time in my chemistry lab kitchen whipping up some new concoctions, I came up with a few other no-poo options that I have personally tried and can all recommend.
Keep in mind that my hair is thick, very curly, very dry and coarse. I'm one of those that without the right haircut and care, I could be confused with a lion or a wild baboon (especially in the mornings – ACK!).
Now that I've gotten that off my chest, er, I mean, scalp, here are the things I've tried that also work as a great no-poo but baking-soda-free alternative!
No-Poo Alternatives
All of these options will have a transition period if you're just coming off of shampoo. If you aren't sure what I'm talking about, read more about it in my original no-poo post.
Diluted Liquid Castile Soap – Good for All Hair Types
If you'd still like to try baking soda, this one is a great transition from shampoo, because it will make you feel like you're in the old Herbal Essences commercials (ahhh! ahhh!) and it is still sulfate-free. Best part about using this is that you can use on your hair and body – make a batch to use all over! I like to use the Dr. Bronner's Castile Soap in Baby Mild  (where to buy) because my skin and hair are so dry and sensitive, but it comes in many different scents.
How To Make
1 part liquid castile soap to 3 parts water. To make it even more moisturizing, add a teaspoon or two of your favorite oil (castor oil) and Jojoba Oil are my favorite for the hair). To add scent, add your favorite essential oil! I like lavender, rosemary, and carrot seed oils for hair (where to buy high quality essential oils).
Add Some Castile Soap to the Baking Soda – Good for Oily Hair & Scalp
One of my readers commented that she adds a small amount of castile soap to her baking soda shampoo to give it some suds and make it feel more like shampoo (it will make it suds up).
Aloe Vera and 
Glycerine – pH balanced shampoo, leave-in conditioner, and spritzer – FREE PRINTABLE
This is a ph-balanced concoction because aloe vera and glycerine both have a neutral pH of 7, so they will be the best option (although not as cheap as baking soda!) for the health of your hair. (Baking soda is a litle bit basic, at about 9 pH). This has been my favorite cleaner so far. Glycerine acts as a cleaner because it bonds to dirt and oil and washes it out when you rinse and aloe smooths the cuticle and moisturizes the hair. By the way, in the picture I use a pretty pink plastic spray bottle because I ran out of my glass spray bottles. So, for the record, I do not recommend using a plastic bottle if you add essential oils to the recipe – they will make the plastic deteriorate and make the bottle unusable. I get my glass bottles on Amazon here.
1/4 cup of pure aloe vera (this one is totally pure, from Aubrey Organics)
1/4 cup vegetable glycerine
1/2 cup water
Essential oils for scent or to treat a problem if desired – Tea Tree and Lavender

 

are great for psoriasis and dandruff, and carrot seed and rosemary are healing to the scalp (where to buy high quality essential oils).
Pour all ingredients into a spray bottle and shake. Shake before each use to combine. To use, just squirt onto your scalp and scrub with the fingers to loosen the dirt. Rinse.
I also use this concoction in between washes as a leave-in conditioner and a spritzer to freshen up my curls. It helps with the frizz and tames them!
Here's a free printable label for you, if you want something pretty to stick on your bottle!
Some Notes
I use vegetable glycerine because it is derived from vegetables and not from animal fats like regular glycerine is.
I use pure aloe vera gel that contains no added alcohols or fragrances, as those can be unnatural and drying to the hair. But, it is more expensive. You can use regular aloe vera or you might be able to use it right out of the plant if you have one. I haven't tried it, but I think you'd need to blend it, along with the other ingredients, with a mixer since it's so thick.
Also need alternatives to Apple Cider Vinegar for conditioner? Then check out my sequel to this post –
Oils and Other Natural Conditioner Alternatives to Apple Cider Vinegar
See my other hair care posts: