Natural Pumpkin Spice Room Spray Recipe You Gotta Make
If you love those autumn aromas but want something that won't give you a headache, this natural pumpkin spice room spray recipe is for you! It's super easy to make.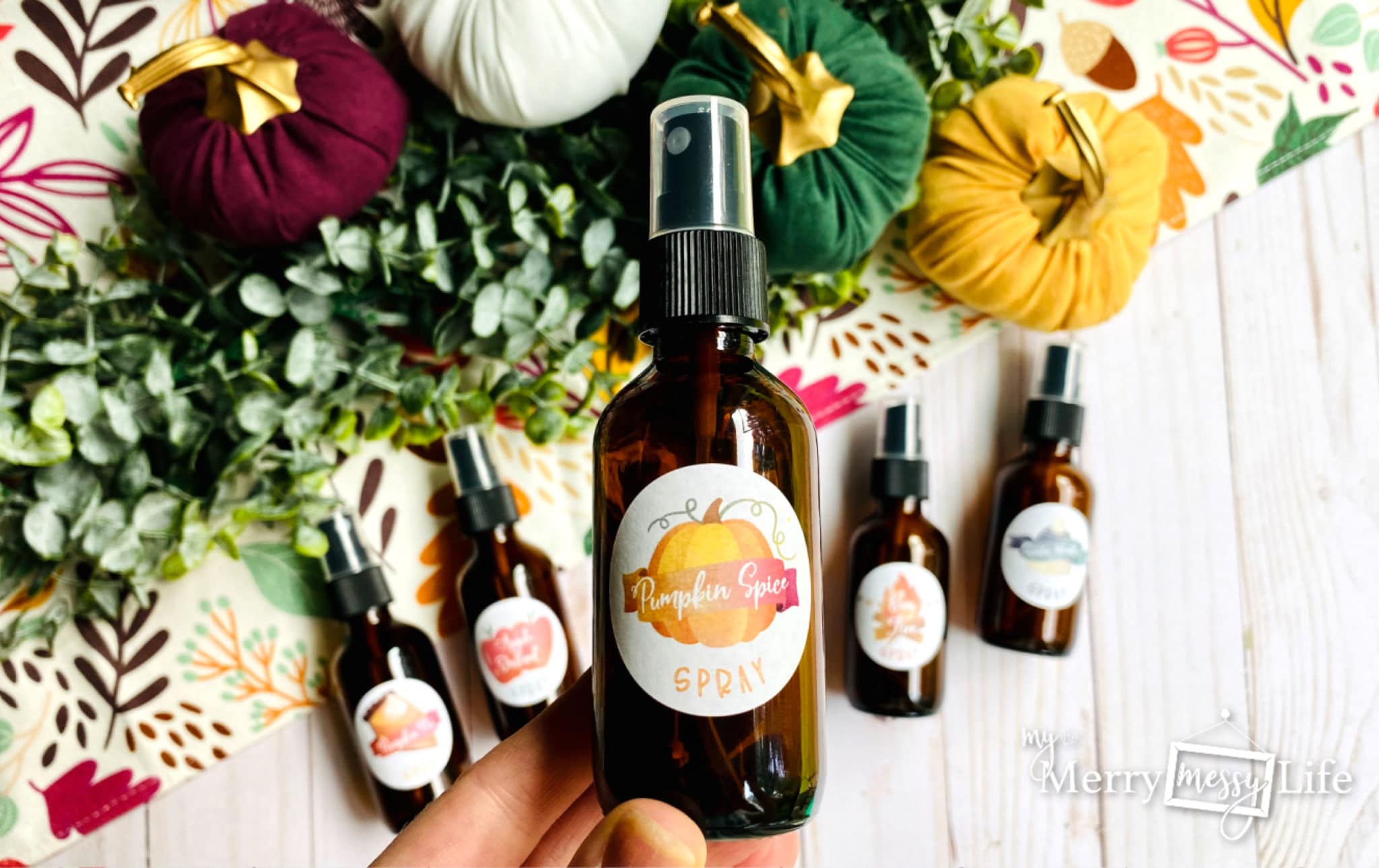 I Stopped Buying Scented Plugins and Candles…
Why make your own pumpkin spice room spray recipe at home? Because the one in the stores contain toxic and irritating artificial fragrances.
I love to make my home smell amazing, but when I used to use scented candles, plug-ins, and air fresheners, I found they would always give me a headache, make me feel confused, and even made my nose burn! I started to research why they'd affect me like that as I got into more natural living and found that these fragrance-filled products are very toxic to our health.
Why? It's because they disperse particles of formaldehyde and phthalates (thy-lates) into the air. Phthalates are small particles of plastic that are used to bind the artificial fragrance molecules together. We then breathe in those tiny particles of plastic and they get into our nose and lungs – yikes!
Artificial Fragrance is a class of 3,000 different Chemicals
The term "artificial fragrance" stands for more than 3,000 chemicals and companies do not have to disclose which chemicals are included. So there's no way of knowing if the chemicals in the product are safe for our health or not.
I don't know about you, but I'd rather be safe than sorry and now that I use essential oils, it's SO easy to put a few drops in my diffuser or a natural room spray like we're doing today to make my home smell like a holiday!
Which Essential Oils to Buy?
My favorite essential oils company is Young Living (learn more about their oils and starter kits here). I personally have experienced their oils to be of much higher quality that most others on the market and I've visited two of their farms and have seen their commitment to quality and purity first-hand. They have starter kits that make, well, getting started (LOL) with essential oils really easy and fun!
Print
Natural Pumpkin Spice Room Spray Recipe
Bring the aromas of fall into your home with this natural pumpkin spice room spray recipe!
Instructions
Put the pinch of salt or Witch Hazel into the bottom of the jar first. Then add your essential oils, and last, the water. Gently shake to combine. Rub the bottle with alcohol first to clean it before attaching the label. To use, simply spray into the air and enjoy! You could also use on dark linens and upholstery, but it will be a slight orange color to the spray that can stain light fabrics.
Other Room Spray Recipes You Might Like
If you like this natural pumpkin spice room spray recipe, you might also like these recipes I have on my blog: