10 Summer Essential Oil Diffuser Blends
Make your home smell fresh and bright while it's hot outside with these summer essential oil diffuser blends! These blends don't just smell good, though, they will also support your health and wellness.
Artificial Fragrances are Toxic!
I love to make my home smell amazing, but when I used to use scented candles, plug-ins, and air fresheners, I found they would always give me a headache, make me feel confused, and even made my nose burn! I started to research why they'd affect me like that as I got into more natural living and found that these fragrance-filled products are very toxic to our health.
Why? It's because they disperse particles of formaldehyde and phthalates (thy-lates) into the air. Phthalates are small particles of plastic that are used to bind the artificial fragrance molecules together. We then breathe in those tiny particles of plastic and they get into our nose and lungs – yikes!
Artificial Fragrance is a Class of 3,000 Different Chemicals
The term "artificial fragrance" stands for more than 3,000 chemicals and companies do not have to disclose which chemicals are included. So there's no way of knowing if the chemicals in the product are safe for our health or not. I don't know about you, but I'd rather be safe than sorry and now that I use essential oils, it's SO easy to put a few drops in my diffuser or make room sprays like we're doing today to make my home smell like an island beach, summer sunshine or a delicious summery drink!
Top Summer Essential Oils
Click on the name of the essential oil to learn more about it and/or buy a super high quality oil.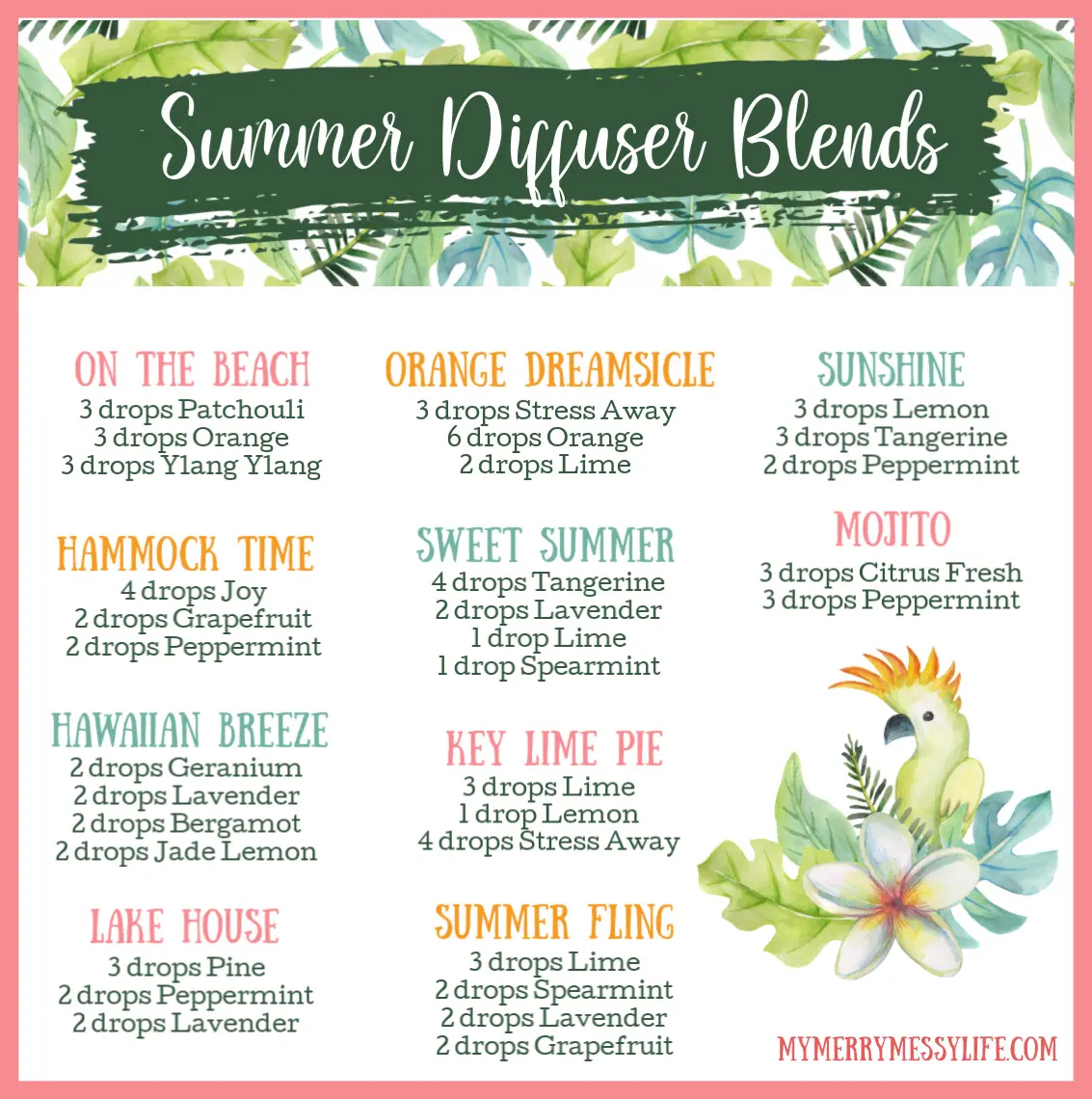 Top 10 Summer Essential Oil Diffuser Blends
On the Beach
3 drops Patchouli
3 drops Orange
3 drops Ylang Ylang
Hammock Time
4 drops Joy
2 drops Grapefruit
2 drops Peppermint
Hawaiian Breeze
2 drops Geranium
2 drops Lavender
2 drops Bergamot
2 drops Jade Lemon
Lake House
3 drops Pine
2 drops Peppermint
2 drops Lavender
Orange Dreamsicle
3 drops Stress Away
6 drops Orange
2 drops Lime
Sweet Summer
4 drops Tangerine
2 drops Lavender
1 drop Lime
1 drop Spearmint
Key Lime Pie
3 drops Lime
1 drop Lemon
4 drops Stress Away
Summer Fling
3 drops Lime
2 drops Spearmint
2 drops Lavender
2 drops Grapefruit
Sunshine
3 drops Lemon
3 drops Tangerine
2 drops Peppermint
Mojito
3 drops Citrus Fresh
3 drops Peppermint
See My Other Seasonal Diffuser Blend Posts!
How to Get Started with Essential Oils
I started using essential oils in 2011 to make my own cleaning products without toxins, which is also when this blog was born! I bought the cheapest oils I could find and eventually started to try to use them for our health, too. But we didn't see any difference – my kids would still end up at the Pediatrician's office and we missed many activities due to sickness. In 2014, a friend told me about Young Living.
I was skeptical that their oils would be any better than the ones I'd be trying, but I thought I'd try one last time.I bought their Premium Starter Kit and have never looked back! The oils worked straight out of the box. I continue to use their oils, supplements, and household products daily and I love that I don't have to worry about toxins or research ingredients. Learn more about Young Living here!
More Summertime Recipes from My Blog