New Year, New You with Essential Oils – Webinar Notes
We all want to be thin and look amazing in a swimsuit, right? But getting to that point can certainly be h.a.r.d. hard! Temptation for food that is less than ideal comes at us from all angles, and our jobs and lifestyles keep us sedentary. Then the weight control products that are out there are nothing less than dangerous – full of caffeine, ephedrine, frankenfood and more. But there is a better way! Come learn how essential oils and products infused with oils can help support your metabolism and endocrine system so you can be healthy and the right way from the inside out. No gimmicks, no crazy program. Just real food and products from nature herself.
I did a webinar on this and here's the video!

And here are the slides and notes from the webinar!
(for the beginning of the webinar, please go see the slides from my Discover Essential Oils class, here)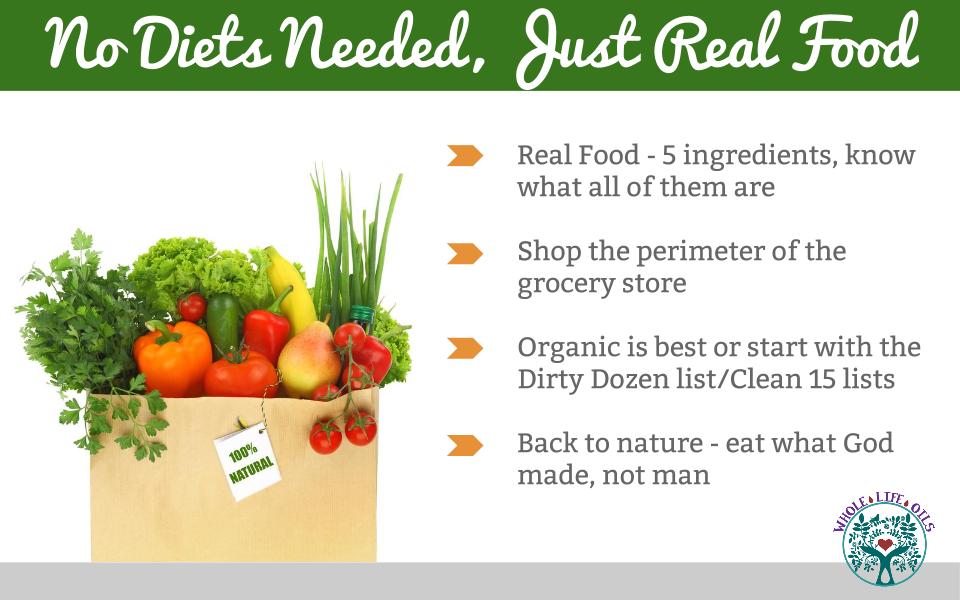 Just Real Food, Please!
The importance of eating real food cannot be understated when it comes to your health and weight management. No diets are necessary when you are eating food that your body can actually use as fuel!
Real food is defined as something that contains all real ingredients and in general, there are 5 or less ingredients. Focus on the INGREDIENT labels, not the nutritional labels. Know what you are eating!
Organic is best as when we eat foods grown with pesticides and herbicides, trace amounts do get into our systems and contribute to toxic buildup in our bodies over time.
Check out the EWG's Dirty Dozen and Clean 15 lists – they are the foods that are grown with the most chemicals (like apples and berries) and should be avoided if not organic, and the ones that are safer to eat non-organic (like bananas and avocados).
Some tips: shop the perimeter of the grocery store where the produce, meat and dairy are.
Biggest complaint of eating real, organic food is that it's more expensive. It's not fair, but organic farms are not subsidized by the government and they have to pay extra fees and taxes. But it's about priorities – many are happy to pay hundreds of dollars a month for TV, internet and phone services, but won't pay more for good food. Something else in the budget may have to be sacrificed – but if you don't pay for real food now, you'll pay for it with your healthcare bills and quality of life later.
Click here to read more on real food! 
Where to find real food for less.
Slique Tea and Slique Essence
Slique Tea is an exotic drink from Young Living that has been formulated with natural ingredients to help support individual weight goals. This blend is rich in flavonoids, a dietary compound generally associated with helping maintain certain normal, healthy body functions. It also contains polyphenols, which may be useful as part of a guilt-free weight-management regimen when combined with a healthy diet and physical activity. This unique blend is enhanced with 100% pure therapeutic grade Frankincense powder.
Contains: Jade oolong tea, inulin, ocotea leaf (Ocotea quixos), Ecuadorian cacao powder, vanilla essential oil, frankincense powder (Boswellia sacra), and natural stevia extract.
Slique Essence Essential Oil Blend combines grapefruit, tangerine, lemon, spearmint, and ocotea with stevia extract in a unique blend that supports healthy weight management goals. These ingredients work together to help control hunger, especially when used in conjunction with Slique Tea or the Slique Kit. The pleasant citrus combination of grapefruit, tangerine, and lemon essential oils adds a flavorful and uplifting element to any day with the added support of spearmint that may help with digestion. Ocotea essential oil adds an irresistible, cinnamon-like aroma to help control hunger, while stevia adds an all-natural sweetener that provides a pleasant taste with no added calories.
Slique Slim Caps
Slique Slim Caps contain two powerful, patent-pending formulas that combine essential oils, dietary fibers, and other key ingredients into a dynamic, dual-action weight-management supplement. When taken as directed, Slique Slim Caps may help in managing satiation—which plays a factor in weight gain.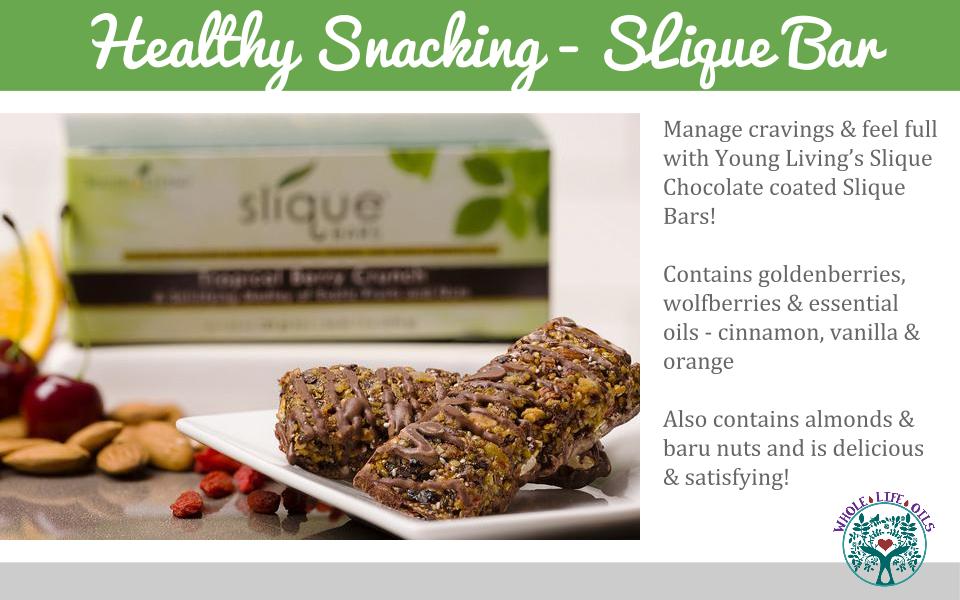 Slique Snack Bars – All Real and Tasty!
I have tried these myself and they are delicious! They are a great way to replace dessert if you are accustomed to having something sweet after a meal.
To support any weight-management plan, Slique® Bars are loaded with exotic baru nuts and wholesome almonds, which promote satiety when combined with protein and fiber. We also use a potato skin extract that, when ingested, triggers the release of cholecystokinin in the body, increasing the duration of feelings of fullness.
Slique® Bars deliver essential nutrients from a unique superfruit blend of golden berries and wolfberries, plus pure Cinnamon, Vanilla, and Orange essential oils. This dual-target satiety approach and medley of exotic fruits, nuts, and potato skin extract create a nutritious, stimulant-free snack to help you feel fuller, longer.
High in fiber

Gluten-free

No trans fat

No preservatives

Manages satiety

Potato skin extract triggers the release of cholecystokinin (CCK) in the body, increasing the duration of feelings of fullness.

A mix of exotic nuts and berries, featuring baru nuts, golden berries, and wolfberries, delivers delicious taste and promotes fullness when combined with protein and high levels of fiber.

A proprietary essential oil blend of Cinnamon, Vanilla, and Orange essential oils helps moderate cravings.
Ingredients: Organic dark chocolate (Cane sugar, Chocolate liquor, Cocoa butter, Soy lecithin, Vanilla extract), Baru nuts, Almonds, Honey, Chicory root inulin, Dates, Coconut, Cacao nibs, Golden Berries, Bing cherries, Wolfberries (Lycium barbarum), Quinoa crisps, Chia seeds, Potato skin extract, Sea salt, Vanilla† (Vanilla planifolia) essential oil, Sunflower lecithin, Orange† (Citrus sinensis) peel oil, Cinnamon (Cinnamomum verum)† bark oil
Slique Gum
This gum is very different that the gum you are probably used to…but that's a good thing because it's made of all real ingredients and doesn't contain harmful things like aspartame.
Ancient travelers throughout the Middle East used raw frankincense resin for its nutritional content and ability to help control hunger. Slique™ Gum offers those same benefits in a modern delivery system that helps control food cravings and improve oral health.
Frankincense Resin (Boswellia frereana), Gumbase, Isomalt, Sorbitol, Natural Flavors, Calcium Stearate, Natural Sweeteners, Colors (Red Cabbage Juice, Turmeric,), Slimming Fresh Mint Essential Oil Blend: (Peppermint (Mentha Piperita) Oil, Spearmint (Mentha Spicata) Leaf Oil], Xylitol
Slique Assist Kit
The benefit of getting these products in a kit is that you'll get them for a bundled, cheaper price that if you purchase the items individually. For a little assistance slimming into the new you, Slique™ Assist includes the Slique Maintain collection, plus Slique Bars and Slique Gum. This kit includes: (1) Slique Tea (4) Slique Gum, 8 ct. (1) Slique Essence (2) Slique Bars, 6 pk. This can only be purchased through Young Living.
Slique Advanced Kit
The perfect way to put your weight-management goals on the fast track is to jump ahead with Slique™ Advanced. This collection contains the Slique Assist collection, plus Slique Slim Caps. This kit includes: (1) Slique Tea (1) Slique Slim Caps, 30 packages (4) Slique Gum, 8 ct. (1) Slique Essence (2) Slique Bars, 6 pk
Slique Complete Kit
The ultimate collection for healthy weight management and optimal nutritional support, Slique™ Complete contains everything found In the Slique Advanced collection, plus Balance Complete™ meal replacement shakes and NingXia Red®.
Balance Complete Meal Replacement
Balance Complete™ is a super-food-based meal replacement that is both a powerful nutritive energizer and a cleanser. Offering the benefits of Ningxia wolfberry powder, brown rice bran, barley grass, extra virgin coconut oil, aloe vera, cinnamon powder, and our premium whey protein blend, Balance Complete is high in fiber, high in protein, and contains the good fats, enzymes, vitamins, and minerals needed for a nutritionally dynamic meal. Balance Complete also features Young Living's proprietary V-Fiber™ blend, which supplies an amazing 11 grams of fiber per serving, absorbs toxins, and satisfies the appetite while balancing the body's essential requirements.
Pure Protein Complete
This protein powder makes a delish drink! Combine it with fruits, chia seeds, flax oil and other healthy bits to create a delicious drink that you can have on the go.
Excellent source of protein – 25 grams per serving!

Supports the body's need for protein

Provides a full range of Amino Acids including: D-aspartic acid, Threonine, L-serine, Glutamic acid, Glycine, Alanine, Valine, Methionine, Isoleucine, Leucine, Tyrosine, Phenylalanine, Lysine, Histidine, Arginine, Proline, Hydroxyproline, Cystine, Tryptophan, and Cysteine

Protein metabolism support

elevATP or Ancient peat and Apple extract supports ATP production, the energy currency of the body

No trans fat

rBGH-Free Whey

Soy-Free

Supports muscular system

Supports body in building lean muscle

Supports ATP production

Delivers amino acids

Supports energy levels

Post-workout muscle recovery
29.4oz/833gm
Digestion and Tummy Help – Cleansing Trio Kit
Digestion is key for proper weight management and overall health. It is so important that our bodies are able to assimilate the food we eat, otherwise it is stored in the cells as waste or eliminated. We cannot properly assimilate food that contains ingredients that are hard to digest (sugar, processed grains and dairy). A healthy digestive system is important for the proper functioning of all other systems because it absorbs nutrients that are used throughout the body.
Cleansing Trio™ Kit contains the products you need to begin improving your health through cleansing your system and eliminating waste by specifically supporting normal liver function.* Augmented with herbs that are rich in vitamins, minerals, enzymes, amino acids, fiber, and essential oils, the Cleansing Trio will give you new energy and an improved sense of well-being.
Kit includes: Essentialzyme, ComforTone, and ICP.
Essentialzyme – Essentialzyme™ is a bilayered, multienzyme complex caplet specially formulated to improve and balance digestive health and to stimulate overall enzyme activity to combat the modern diet. Essentialzyme contains tarragon, peppermint, anise, fennel, and clove essential oils to improve overall enzyme activity, reduce pancreatic stress, and support healthy pancreatic function.
ICP – ICP™ helps keep your colon clean with an advanced mix of fibers that scour out residues.* ICP provides ingredients such as psyllium, oat bran, and flax and fennel seeds to form a combination of soluble and insoluble fibers. Enhanced with a special blend of essential oils, the fibers work to decrease the buildup of wastes, improve nutrient absorption, and help maintain a healthy heart.* ICP provides three grams of soluble fiber and one gram of insoluble fiber per serving.
ComforTone – ComforTone® (capsules) is an effective combination of herbs and essential oils that support the health of the digestive system by eliminating residues from the colon and enhancing its natural ability to function optimally.* Because it supports normal peristalsis (the wave-like contractions that move food through the intestines), ComforTone is ideal for strengthening the system that delivers nutrients to the rest of the body.* It also contains ingredients that are beneficial to liver, gall bladder, and stomach health.*
Life 5 Probiotics
Life 5 probiotic builds and restores intestinal health as it contains 10 billion beneficial live cultures per serving that bypass the stomach so they are fully absorbed in the bowels.
What's so important about a healthy gut? The bowels are the source of health and vitality where nutrients are absorbed into the bloodstream. They are the command center of the immune system and the elimination of waste products. It the bowels are not working properly, optimal health is not possible and the body is vulnerable to a myriad of conditions.
Probiotics have been shown to assist the body in manufacturing B vitamins, improve nutrient absorption, support immune function and digestion, and reduce yeast growth.
Life 5 may be taken by healthy children and adults to help maintain optimal well-being.