DIY Natural Detoxifying and Relaxing Bath Salts
DIY natural detoxifying and relaxing bath salts are so healing and therapeutic! With just Epsom Salts and essential oils, you can make bath salts and customize them to your own personal needs and scent preferences! Epsom Salts are naturally detoxifying and are a great magnesium supplement when used in the bath.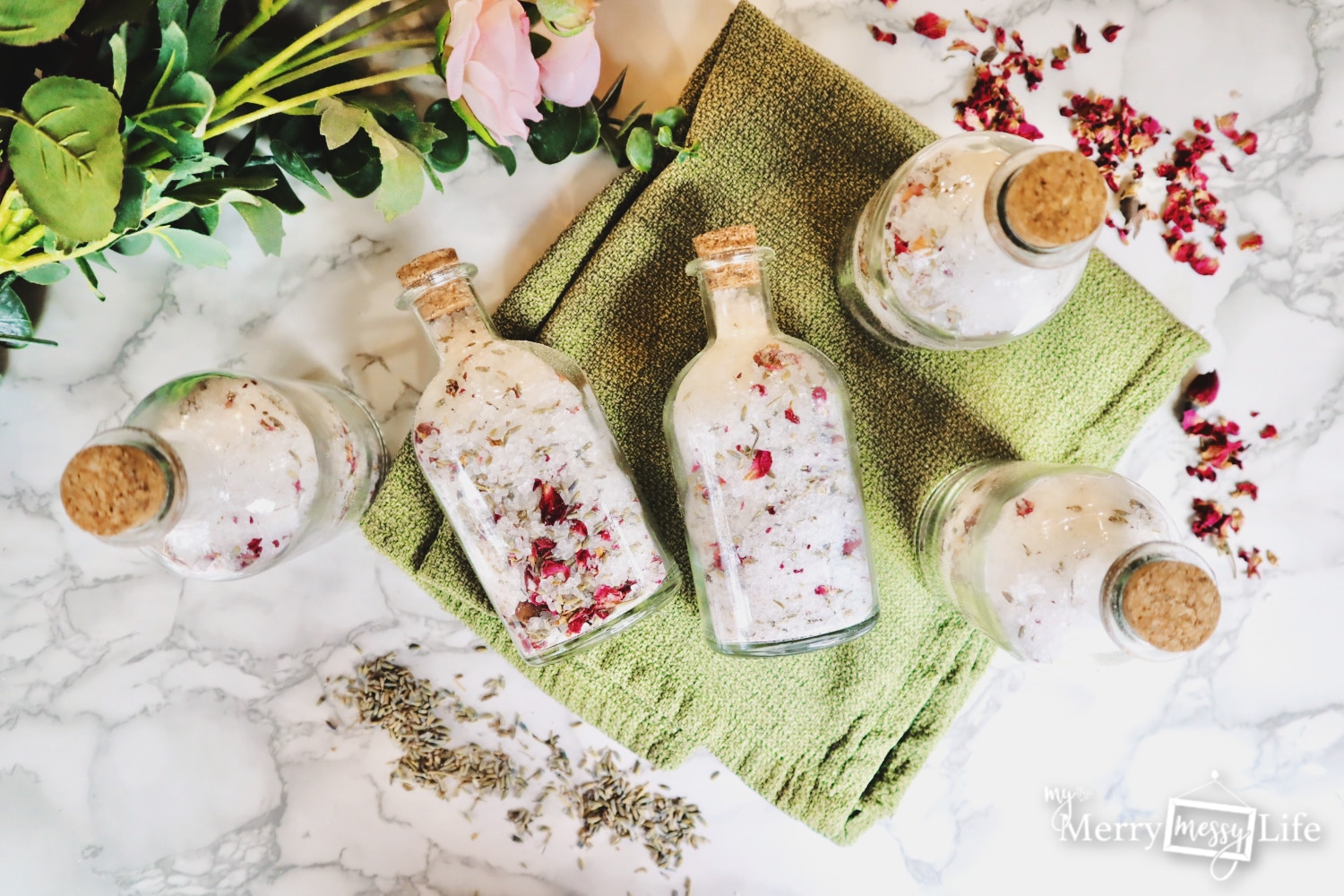 A little about Epsom Salts
Epsom Salts have been used for thousands of years to help treat sore joints and muscles, and injuries. As a mom of four, I use them for my mental health at the end of a long day!  Soaking in the tub with my salts makes me feel so relaxed and sleepy – it's like going to the spa for only a few dollars. Plus, any tired or aching muscles are soothed, which is especially helpful after I've worked out or been carrying little ones.
Epsom Salts originally come from the town of Epsom in Surrey, England, from a spring that produced the naturally occurring mineral. It contains magnesium, which is absorbed into the skin and reduces inflammation. In water, they break down into magnesium and sulfate. The theory is that when you soak in an Epsom salt bath, these get into your body through your skin, bind to toxins, and help to pull them out of your body.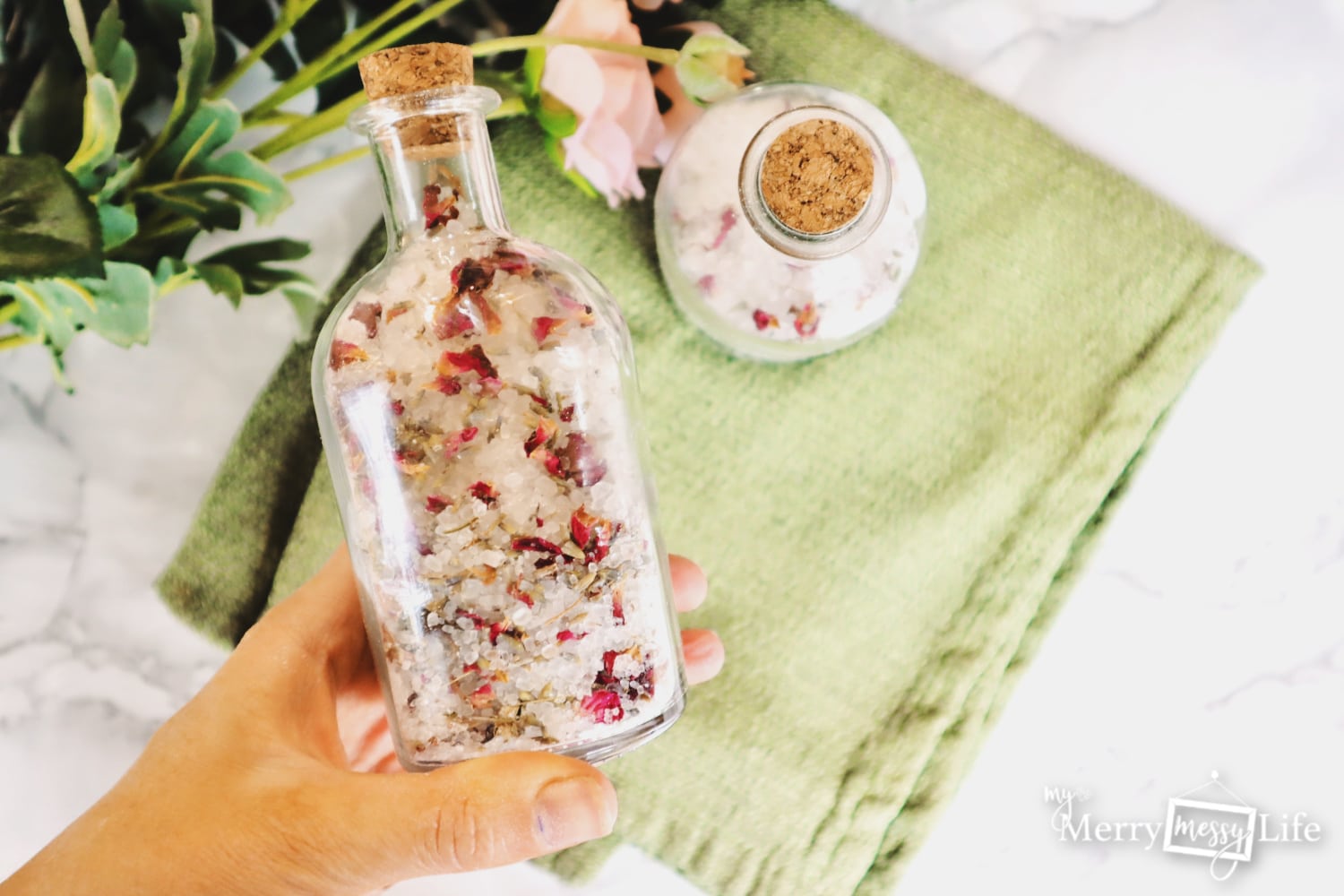 Customize Your Scent with Flower Petals and/or Essential Oils
Some Essential Oils are Irritating in a Bath
You can customize your scent and therapeutic benefit with essential oils! The only thing you'll need to be careful of is that some essential oils are considered "hot" and can really irritate your skin in a bath because the warm water really drives the oils into your skin. I can use many essential oils straight out of the bottle and undiluted now, but I can't use those same oils in the bath. I have to steer clear of citrus oils (lemon, lime, orange, grapefruit), cinnamon, peppermint, eucalyptus, and wintergreen. Now you could probably use most any essential oil in a foot soak, and Peppermint and Wintergreen would be wonderful for that. I've taken baths with peppermint before, and it burned my skin – I was red and rashy for a good hour after the bath! 

How to use Flower Petals in your Natural and Detoxifying Bath Salts
Flower petals make the salts look GORGEOUS. Perfect for making gifts! The lavender petals especially add a stronger aroma than essential oils. Plus, they don't irritate your skin like peppermint or wintergreen essential oils would. Part of the reason I use bath salts is for the aromatic experience, so a strong aroma makes me happy! They can also be quite messy, and you'll have to use extra water to rinse out the tub afterward. Just something to keep in mind.
How to Choose Flowers Petals
Relaxing and calming – lavender and/or chamomile
Feminine and romantic – lavender, rose and/or jasmine
Healthy breathing and invigorating – eucalyptus and/or peppermint
For sore muscles and joints – peppermint, wintergreen and/or lavender
BONUS – use the flower petals to make tea as well!
Print
DIY Natural Detoxifying and Relaxing Bath Salts
A recipe and tutorial to make your own DIY natural detoxifying and relaxing bath salts to use to reduce stress, soothe aching and sore muscles and joints, remove toxins
Instructions
Combine all in a large bowl and mix well. If making these for gifts, use a funnel or your hands to pour them into your containers (I found that using my hands is easier because the flower petals can get stuck in the funnel). To get the detoxifying benefits, you'll need 1-2 cups per bath. 
Directions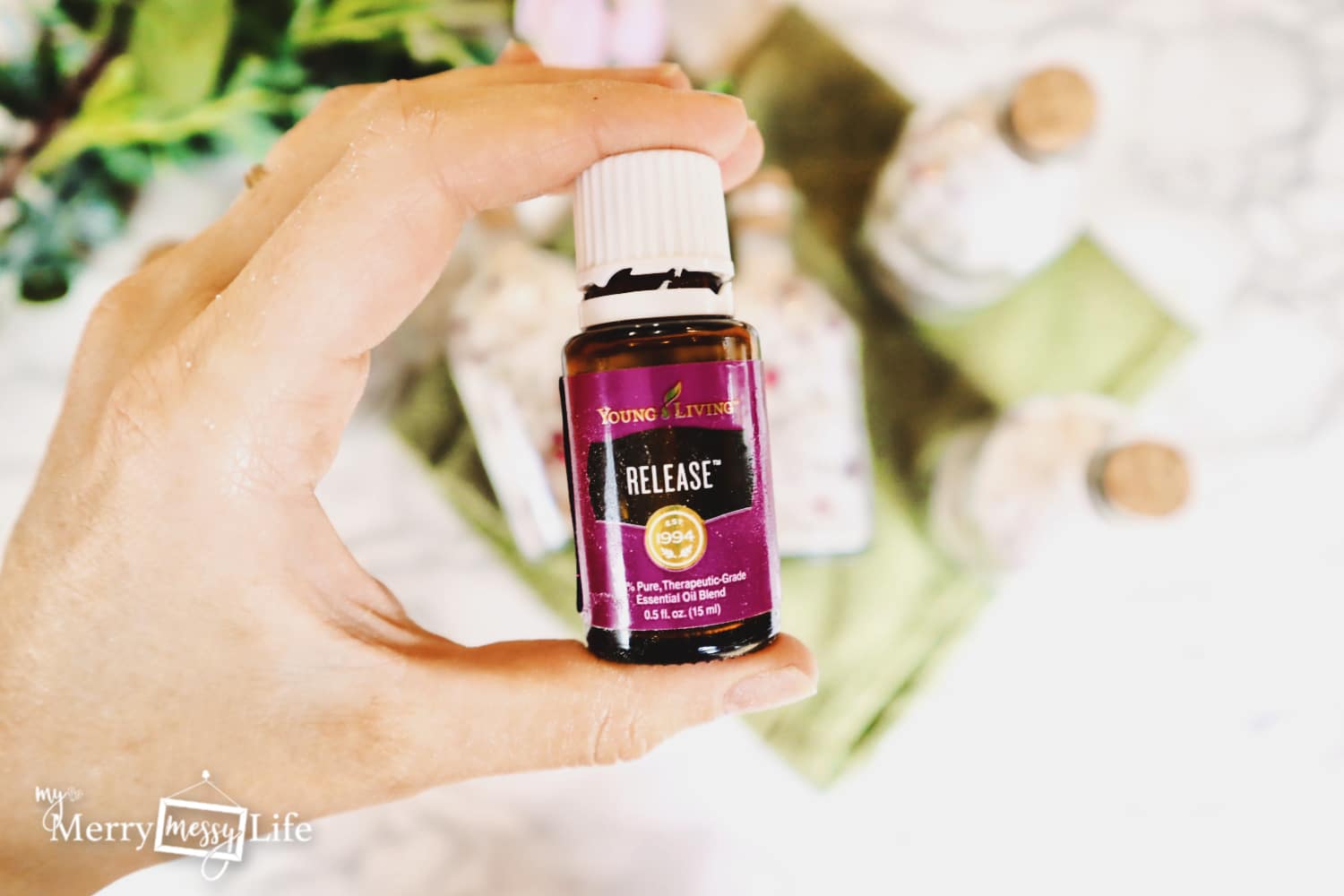 Release essential oil blend is my favorite one to use in baths! It contains Ylang ylang, Olive fruit oil, Lavandin oil, Geranium oil, Royal Hawaiian™ sandalwood wood oil, Grapefruit peel oil, Tangerine peel oil, Spearmint leaf extract, Lemon peel oil, Blue cypress wood oil, Davana flower oil, Kaffir lime leaf extract, Ocotea leaf oil, Jasmine oil, Matricaria flower oil, Blue tansy flower oil, and Rose flower oil. Quite a combo, right? It's such a feminine and floral scent and doesn't irritate my skin at all. 
I buy it for 24% off as a Young Living member and use many other essential oils on a daily basis to keep my family healthy. Learn more about their amazing memberships here!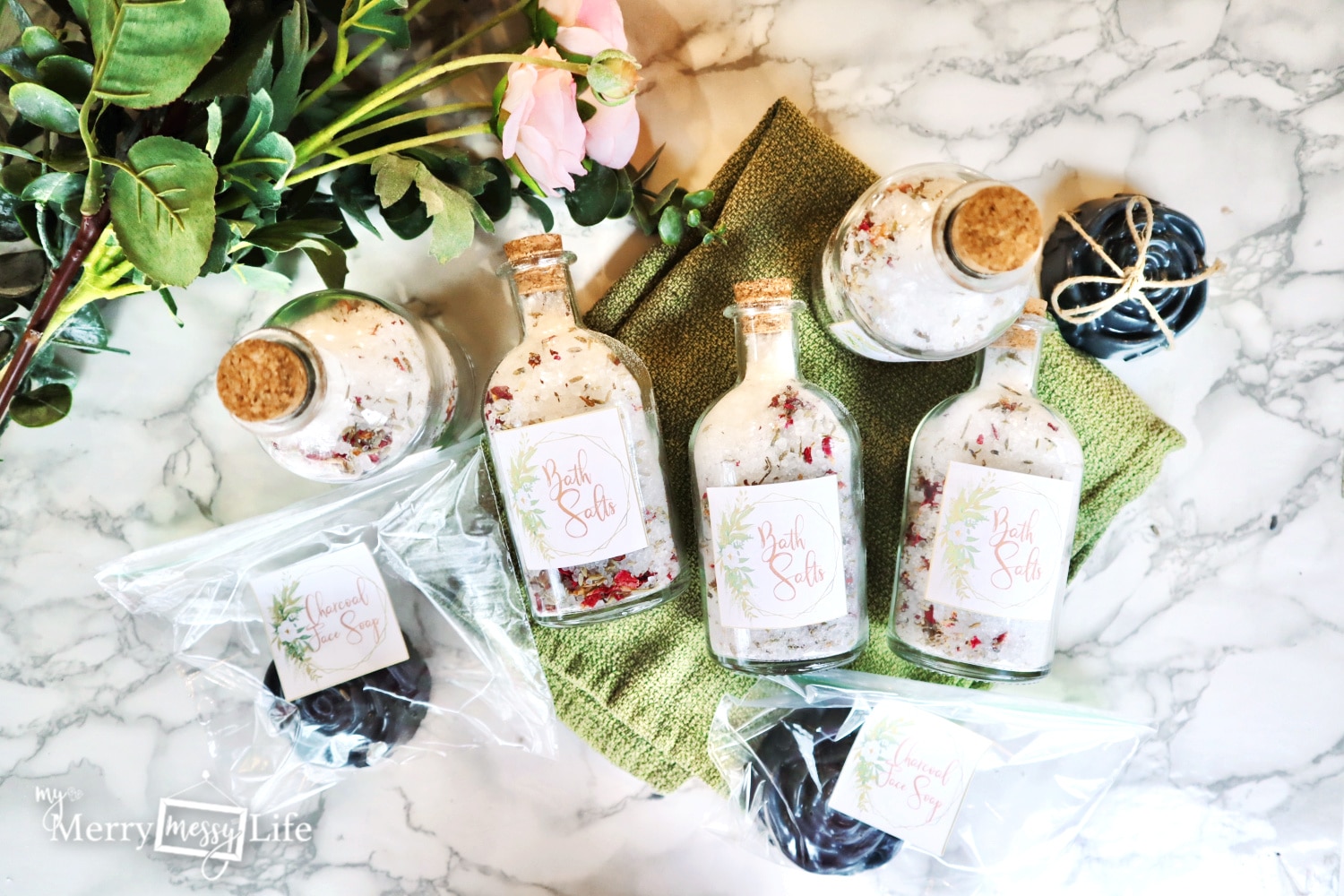 I made my charcoal bar soaps and these bath salts to give as gifts to my kids' teachers! To get the labels for the bath salts and charcoal bar soaps, click here.
Get the Labels Here
In my Etsy shop, I have printable bath salt labels like the ones shown in the picture above, plus the recipe and shopping links. Get the kit here!
Do you own an essential oils business?
Then check out my essential oil make-and-take class kits on Etsy! They include entire class scripts, shopping lists with links, table cards, recipe cards for your guests, a class handout for your guests, and more! These kits remove the headache and overwhelm, so you can just teach and hang out with your guests. Click here to see the Girls Pamper Party that includes recipes like these bath salts.