The Best Essential Oils for Natural Cleaning
Here are the best essential oils for natural cleaning that I have used through the years in my own natural cleaning products. In this post, you'll learn how to use them and why they work!
So why use essential oils in natural cleaning? In my opinion, there are two main reasons. To add a lovely scent to make cleaning more enjoyable and to scent your home naturally, and to aid in the cleaning power. Artificial fragrances are prevalent in most manufactured cleaning products and they are toxic.
Artificial Fragrances are Toxic!
I love to make my home smell amazing, but when I used to use scented candles, plug-ins, and air fresheners, I found they would always give me a headache, make me feel confused, and even made my nose burn! I started to research why they'd affect me like that as I got into more natural living and found that these fragrance-filled products are very toxic to our health.
Why? It's because they disperse particles of formaldehyde and phthalates (thy-lates) into the air. Phthalates are small particles of plastic that are used to bind the artificial fragrance molecules together. We then breathe in those tiny particles of plastic and they get into our nose and lungs – yikes!
Artificial Fragrance is a class of 3,000 different Chemicals
The term "artificial fragrance" stands for more than 3,000 chemicals and companies do not have to disclose which chemicals are included. So there's no way of knowing if the chemicals in the product are safe for our health or not. I don't know about you, but I'd rather be safe than sorry and now that I use essential oils, it's SO easy to put a few drops in my diffuser or make room sprays like we're doing today to make my home smell like an island beach, summer sunshine or a delicious summery drink!
Best Essential Oils for Natural Cleaning
Essential Oils that Cut through Odors
Here are the essential oils for natural cleaning that really cut through tough odors, something I find to be really important in my house with four young kids! The toilets in my home can get GROSS, even when I clean them often. So having essential oils that get rid of odors is very important to me.
Essential Oils that Purify
Here are the ones I recommend to use when you want to purify a surface. See also my recipes for a DIY Natural Disinfecting Spray and Natural Disinfecting Wipes that use the germ-fighting power of rubbing alcohol to kill viruses and bacteria.
Essential Oils that Freshen and Clean
These essential oils make your space smell bright, fresh and clean and will remind you of traditional store-bought cleaning products. They'll also help to open up your nose and sinuses and aid in a health respiratory system.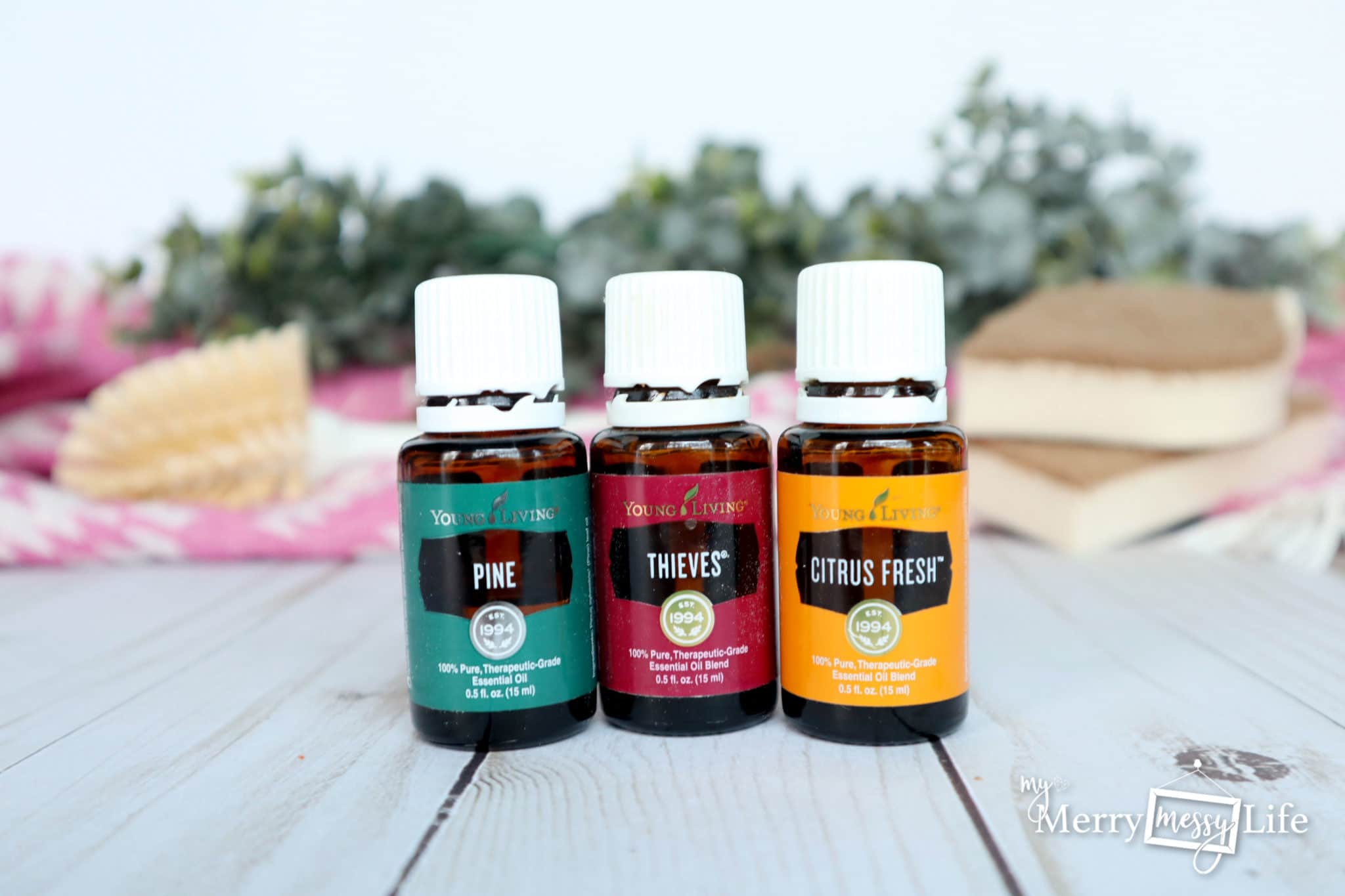 How to Get Started with Essential Oils
When it comes to which essential oils brand to buy, I continue to go back to Young Living again and again. I have found them to have such excellent quality and I have personally visited some of their farms (one in Salt Lake City, Utah and one in St. Marie's, Idaho) to vet their quality and purify for myself. Their oils continually work for my family to keep us healthy, including my children!
I highly recommend their Premium Starter Kits to begin using essential oils. These kits make it easy and take out the guess work and confusion, plus you'll get to be on my team where I can help you with recipes, a Facebook group, and more! Learn more here.
What would YOU add to my lists? There are many more essential oils you can use in natural cleaning products, this is not an exhaustive list, but it will help you get started.
My Natural Cleaning Recipes
Click here to see all of my natural cleaning recipes, or click on a link below!