Elderberry Syrup Gummies Vitamin Recipe for Cold and Flu Relief
Make a delicious and healthy elderberry syrup gummies recipe with my easy tutorial! You'll be getting the antioxidant benefits of the elderberries PLUS the healthy gelatin that's good for your bones, hair, skin, nails, and even your digestive system! Kids also love them.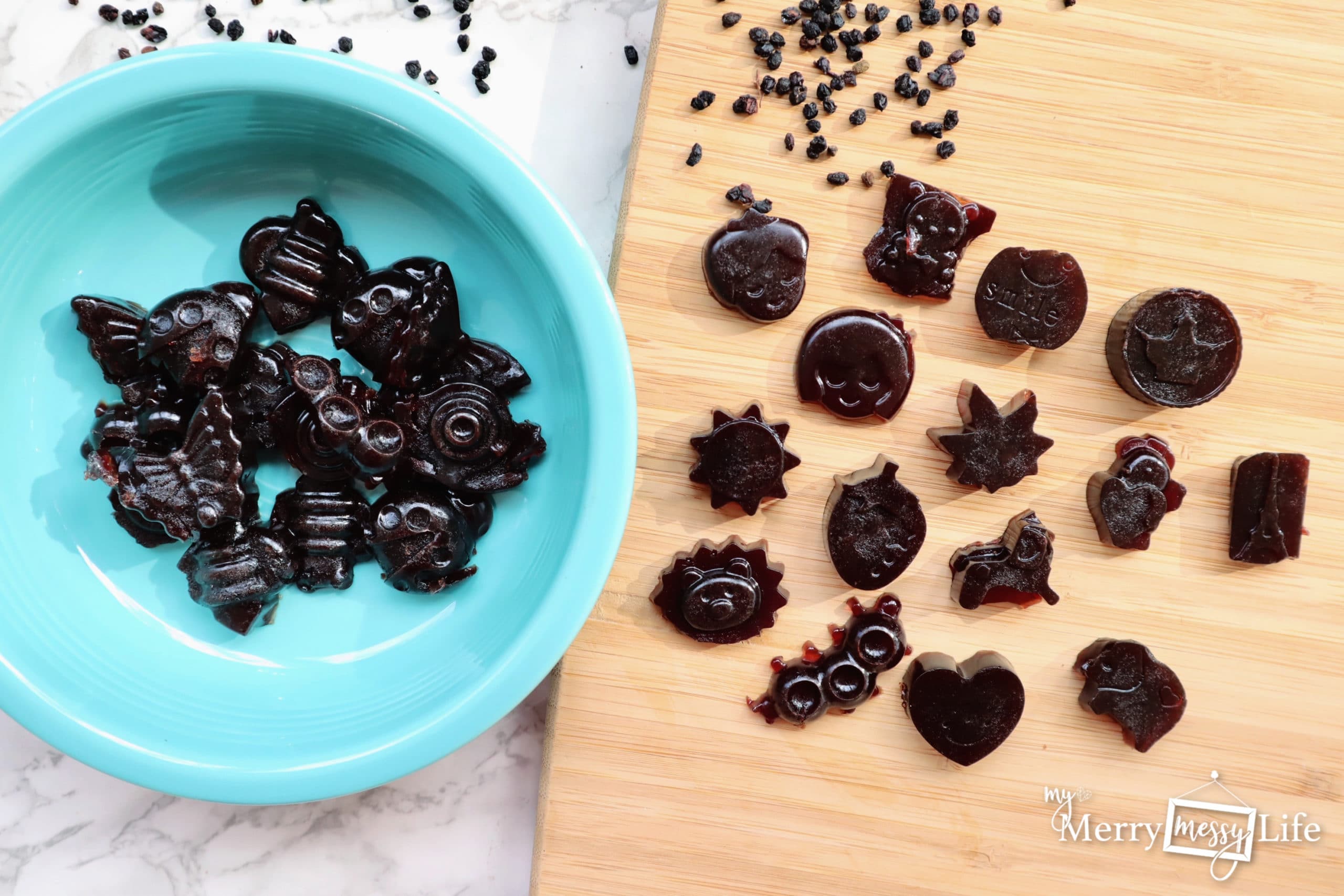 I have another post just on Elderberry Syrup and how much elderberries can help you stay healthy and lessen the strength and duration of colds and the flu. I even include some scientific studies!
Like most kids, mine love gummies, so I've found that making this elderberry syrup gummies recipe is an easy and fun way to ensure they're getting the nutrition they need each day to stay healthy.
Print
Elderberry Syrup Gummies Vitamin Recipe for Cold and Flu Relief
Use delicious and nutritious elderberry syrup gummies recipe to help you and your children power through colds and the flu.
1

cup

Elderberry Syrup

1/4

cup

 gelatin – grass-fed from cows or from fish (if vegetarian or pescatarian)

2/3

cup

 h

ot water

(not boiling)

Coconut oil or other kind of oil to grease the gummy molds
Silicone gummy mold or a 9×13-inch baking dish
Optional – instead of water, replace it with NingXia Red which adds a ton of antioxidants and nutrition. It also adds sweetness, which helps with the bold flavor of the elderberries that can be strong for some kids.
Instructions
Grease molds or dish with oil to prevent sticking. Place the silicone molds on a baking pan, plate or other small, flat surface so that they are supported. Otherwise the syrup will spill as you transfer it.
Place ¼ cup of cooled elderberry syrup into a bowl and quickly whisk in the gelatin powder. A whisk does work much better for this than a fork.
Add the ½ cup of hot (but not boiling) water and stir quickly until smooth.
Add the rest of the elderberry syrup and stir or whisk until completely smooth.
Pour into molds and refrigerate for 1-2 hours or until completely firm. If you don't have enough room in your fridge, they do also harden at room temperature, it just might take the full two hours.
Pop out of molds and store in airtight container with parchment paper between layers.
Notes
Yield – 60 gummies. Dosage – children take 1 tsp. a day, adults take 1 tbsp. a day. If you have the flu or a cold, triple the dosage per day. For most gummy molds, each gummy is about 1 tsp.
Add more Nutrition with NingXia Red
When making this elderberry syrup gummies recipe, I have found the elderberry flavor to be really strong for my kids, so I mix it with the NingXia Red to make it more palatable for them. Get NingXia Red here!
Ningxia is a delicious, superfood supplement drink that's packed with antioxidants and loaded with nutrition. I use it in my house often – my kids love the taste, and I combine 1 oz. with 6-8 oz. of water to make a delicious drink for them that they sip on while they're feeling under the weather. It supports their immune systems and helps provide the healthy fluids they need.
When I drink 1-2 ounces a day, I've noticed that my skin is clearer and softer, and my nails are harder and stronger. My hair grows quickly, too, more than one inch a month!
Infused with Lemon, Orange, Yuzu, and Tangerine essential oils, NingXia Red is a delicious daily supplement that includes juices and extracts from superfruits such as aronia, plum, blueberry, pomegranate, and—best of all—exotic Ningxia wolfberries.
It contains 18 amino acids, 21 trace minerals, 6 essential fatty acids, and vitamins B1, B2, B6, and E.
I feel like it helps to make up for my lack of nutritious eating on some days. Always nice to have a backup plan!
Elderberry Syrup Gummies Recipe Picture Tutorial
When pouring the syrup into the molds, it's helpful to use an eye dropper. If you don't have one, it's okay if it all gets messy. As you can see here, I didn't do that and regretted it! LOL! Once you pop out the gummies, you can easily tear off the messy bits.
Refrigerate the gummies for 1-2 hours. Or if you don't have room in your fridge, they do harden at room temperature, it just might take longer than two hours.
Before using your molds, use a teaspoon measuring spoon and water to determine the liquid volume of an individual mold so that'll you'll be able to dose the gummies properly. Children take 1 tsp. a day and adults take 1 tbsp. a day. Pictured here are my molds, and the brown ones are tsp. each. The blue ones are 1/2 tsp. each.
Do you own an essential oils business?
I also have a complete printable Elderberry Syrup Make and Take class kit on Etsy. Get your friends together and have fun making it! It includes a class script, a complete shopping list, labels, and more! Click here or on the picture to see the kit.