How to Create Your Own Nontoxic Cleaning Caddy
Here are the absolute basic things you need to create your own nontoxic cleaning caddy or nontoxic cleaning starter kit. Everything you need in one place, just pick it up and go. Switching your home over to natural cleaning can be easy and affordable!
Even though my blog is FULL of nontoxic cleaning and laundry recipes, I wanted to share with you how you could get started with just a few recipes and supplies that can clean just about anything in your house!
How to Make Your Own Nontoxic Cleaning Caddy
To go natural in your cleaning routine, here are the top things I suggest to include in your nontoxic cleaning caddy or nontoxic cleaning starter kit.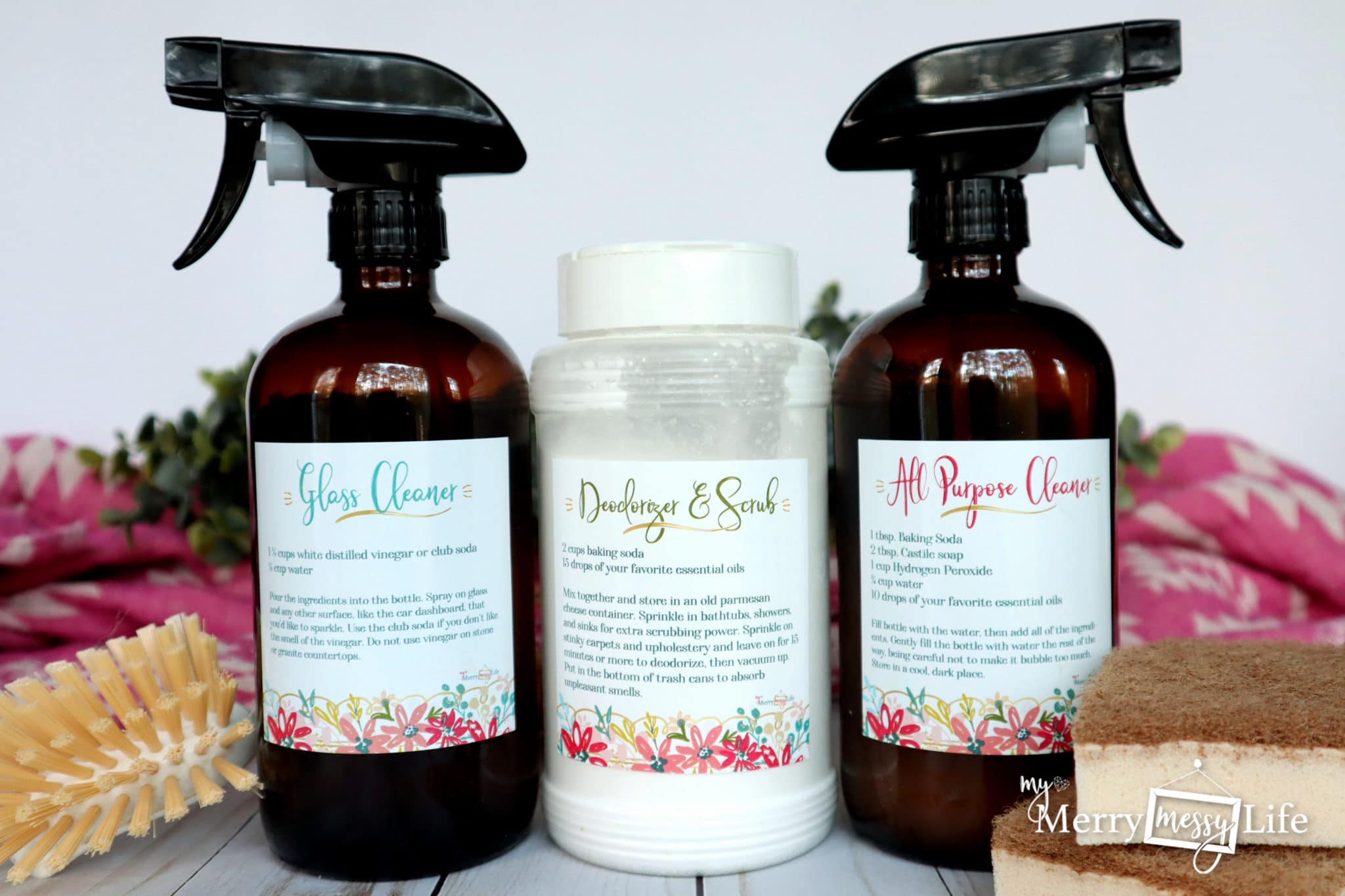 3 Cleaning Recipes
To switch over to natural cleaning in your home, you really could start with just three basic recipes. These are the ones I suggest!
Natural All-Purpose Household Cleaner
This cleaner really is all-purpose. Use it on your bathroom counters, toilets, floors, bathtubs, toilet bowl, showers, kitchen sink, kitchen countertops, car dashboard, baseboards, walls, doors…you get the idea! Click here to get the full recipe.
Baking Soda Deodorizer and Scouring Scrub
I love using this scrub to clean bathtubs, showers, toilet bowls, and ovens. Just spray the All Purpose Household Cleaner on first, then sprinkle this on top, and you have natural scrubbing power. It's also amazingly effective to deodorize carpets and upholstery – just sprinkle on and let sit for 15 minutes or more, then vacuum up. Also, use it in the bottoms of trashcans and diaper pails to deodorize. Get the full recipe and tutorial by clicking here!
All Natural Glass Cleaner
The last cleaning product I suggest to start your natural cleaning caddy is a glass cleaner. Now, in this post, I have three recipes for you so you can pick the one you like the best! This works very well on glass, but you can also use it to add extra cleaning power in bathrooms and kitchens if you like. Click here to get the three glass cleaner recipes!
Basic Ingredients Needed for Nontoxic Cleaning Recipes
Distilled White Vinegar
Vinegar is completely safe and a very effective window, all-purpose cleaner, and sanitizer. But we all know vinegar kinda stinks. So you can make some citrus-infused vinegar (see my tutorial on that here) to lessen the scent, add your choice of lovely-smelling essential oils to it, or do one of the other two recipes I've added here.
In order for it to properly sanitize, leave it on the surface for 30 minutes. Buy vinegar here on Amazon.
Hydrogen Peroxide
This is a safe and effective disinfectant and an alternative option to chlorine bleach. Its molecules are made of two hydrogen and two oxygen atoms (H2O2) that decompose after use back into oxygen and hydrogen, so it's completely green and non-toxic and is colorless and odorless to boot. It must be stored in a dark container or cabinet out of direct sunlight as sunlight will break it back down into oxygen and hydrogen.
For household cleaning, the 3% solution is an effective disinfectant if left on for 30 minutes or more. It can also be used as a laundry and upholstery stain remover for light or white items. I wouldn't use it on colored items as it will remove the color as bleach does.
I have a whole post I wrote just about hydrogen peroxide – see it here! Buy peroxide here on Amazon.
Castile Soap
Castile Soap is traditionally made from Olive Oil and comes from the Castile region of Spain, which is where it derives its name. Today it is also made from coconut, castor, and hemp oils. It is free of animal fats, making it vegan and free from synthetic ingredients, making it environmentally friendly and biodegradable. It is also a gentle surfactant, unlike harsh ones such as sodium laureth sulfate that strips your hair and skin of its natural protective oils (like sebum). I have written extensively about Castile Soap here on the blog – see all of the ways you can use it here!
Buy Castile Soap here on Amazon.
Baking Soda
Also known as sodium bicarbonate, it is a component of the natural mineral natron that is found in mineral springs. It is a natural deodorizer and scrubbing agent, perfect for removing soap scum and stuck-on particles. Make a paste with some Castile soap and water, or just water, and you might be surprised by how effective this very simple and safe ingredient can be! Buy baking soda here on Amazon.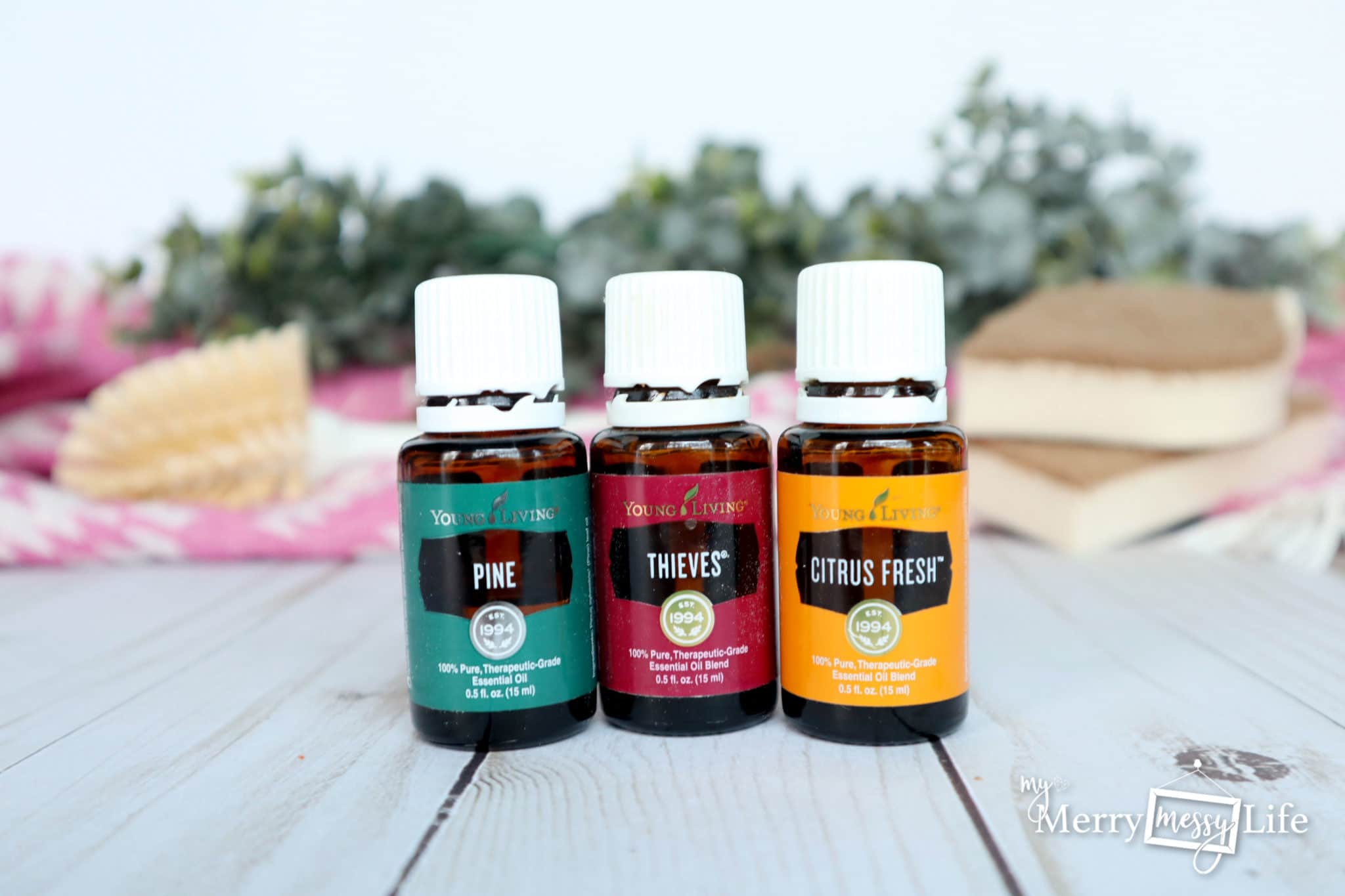 Essential Oils for Natural Cleaning
Essential oils are wonderful to use in natural cleaning and are essential (See what I did there? LOL) to your nontoxic cleaning caddy. They add extra cleaning and germ-fighting power and also smell wonderful, making the cleaning experience more enjoyable! In my family, we also use them for our health. I only use Young Living Essential Oils as I've found them to be the best and most effective ones on the market. Learn more about their oils here. The ones I use the most in cleaning are: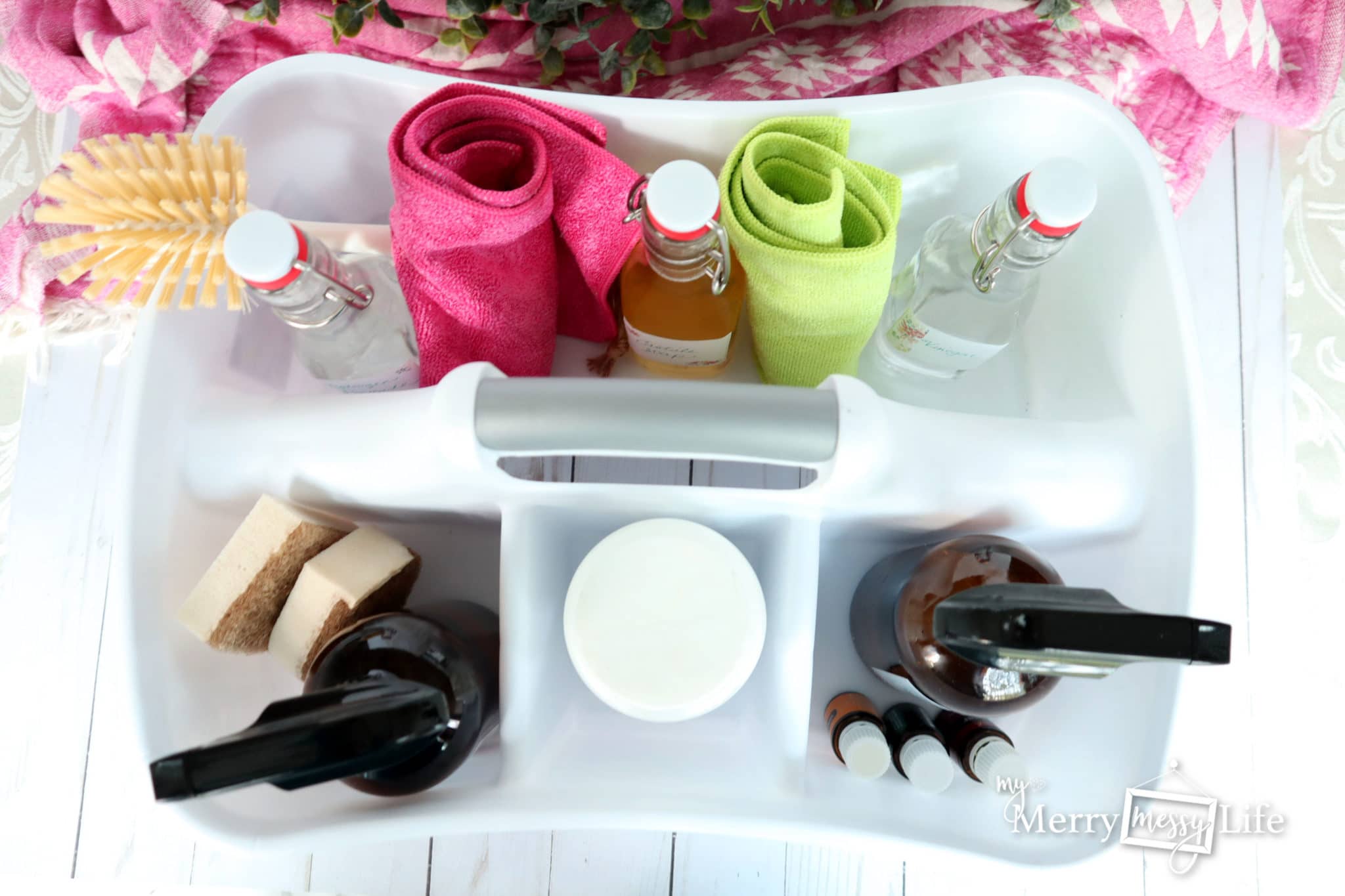 Caddy Supplies
Here are the supplies I suggest for your natural cleaning caddy. Click on the links to purchase them on Amazon.
A Cleaning Caddy
Cleaning caddy I really like this particular caddy as it holds a hold of items! It's roomy and still easy to carry around the house.
Natural Sponges – These are from Pura Naturals, and I suggest this particular brand because they are petroleum and latex-free and have a negative carbon footprint. They also do a great job of repelling water, so they don't get full of bacteria like other sponges do!
Scrubbing Brushes – These are made from bamboo and are very trendy looking! I love the way they look and are clean. Bamboo is a renewable resource, so they're more eco-friendly, too.
Microfiber Cloths – I chose these microfiber cloths because they clean with just water! You can use them to do all of your household dusting – no dusting spray is needed. They also contain silver fibers to remove 99.9% of bacteria!
2 Glass Brown Amber Spray Bottles (16 oz. each)
1 empty Parmesan cheese or spice container (16 oz., cleaned and dried)
3 swing top glass bottles (8 oz. or 16 oz.)
Labels for your bottles – Waterproof, Vinyl Recipe Labels or Printable Recipe Labels