A Natural All Purpose Household Cleaner Recipe You'll Love
Here's a recipe for a natural all-purpose household cleaner that's affordable, super easy to make,, and works like a charm on most household dirt, grit and grime. It contains baking soda, Castile Soap, hydrogen peroxide, and essential oils It's also very green, environmentally friendly, and much safer to make your own cleaners as opposed to buying ones in the stores.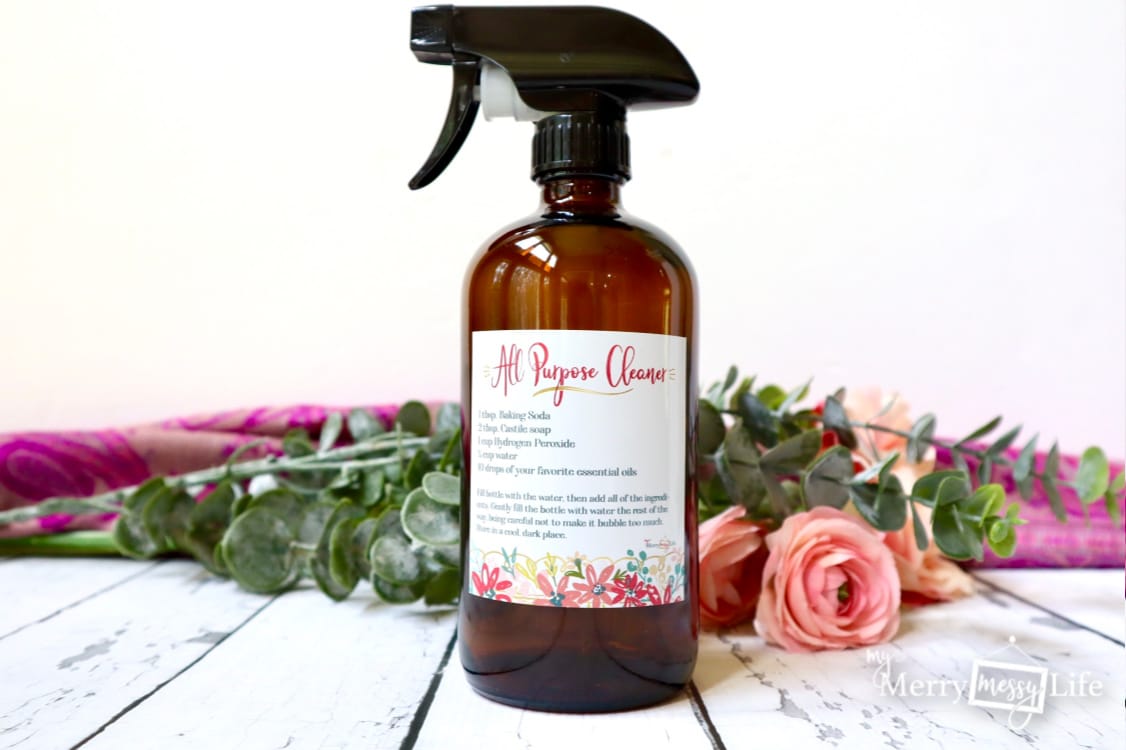 Top 10 Cleaning and Laundry Recipes
This recipe is part of a 10-part series of natural cleaning and laundry recipes. You can find a list of all of the recipes here. You can find the recipe for this natural all-purpose household cleaner in my book, Detox Your Home, which you can find on Amazon. It includes more than 80+ recipes, research, and lists of natural products you can purchase, all to help you go natural in your home!
Why Use a Natural Cleaner?
The last time the FDA passed a chemical regulations law was in 1976 – more than 150,000 chemicals have been released on the market that have not been tested for safety! It's not until people start getting sick or hurt that chemicals are evaluated for safety. There are no regulations requiring companies to disclose the ingredients in household cleaners, so we have no way of knowing whether or not a product is safe for the human, animals and the environment.
Cleaners Cause Indoor Air Pollution
The Environmental Protection Agency reports that the air inside the typical American home is 2-5 times more polluted than the air immediatley outside – and in some extreme cases, 100 times more contaminated. Ten percent of all toxic exposures report to the U.S Poison Control Agency are from common household cleaners. Chemicals within our homes contribute to indoor air pollution, especially ones containing fragrances, chlorine bleach and ammonia.
Health Affects of These Chemicals
Common cleaning chemicals can release more than 450 chemicals into the air and are linked to asthma, reproductive toxicity, cancer, neurotoxins and more! They are even harmful to babies growing in the womb.
According to the Environmental Working Group (ewg.org):
Studies have shown that infants exposed in the womb to cleaning products used by their mothers may suffer lower birth weight, lower IQ, and wheezing and respiratory symptoms that may persist throughout childhood.
They can even worsen asthma and CAUSE adult-onset asthma – what?! How is this okay?
Many cleaning products, including spray cleaners and disinfecting wipes, contain asthmagens—chemicals that can either worsen asthma or cause asthma in someone who never previously had it. Studies show that using traditional cleaning sprays as rarely as once a week can increase your risk of developing adult-onset asthma. Common asthmagens and respiratory irritants in cleaning products include quats, ethanolamines, glutaral and sodium hypochlorite (chlorine bleach).
Making Your Own Cleaners is Cheap and Eco-Friendly
It is so cheap to make your own cleaners at home, and my blog is full of them! See more recipes here. You can easily find the ingredients in most grocery stores and they are inexpensive and readily available. To be more eco-friendly and to save money, you can buy the ingredients in bulk, which saves on packaging, shipping costs, fuel, and waste.
Learn About the Ingredients in this Cleaner
Hydrogen Peroxide
This is a safe and effective disinfectant and alternative option to chlorine bleach. Its molecules are made of two hydrogen and two oxygen atoms (H2O2) that decompose after use back into oxygen and hydrogen, so it's completely green and nontoxic, and is colorless and odorless to boot. It must be stored in a dark container or cabinet out of direct sunlight as sunlight will break it back down into oxygen and hydrogen.
For household cleaning, the 3% solution is an effective disinfectant if left on for 30 minutes or more. It can also be used as a laundry and upholstery stain remover for light or white items. I wouldn't use it on colored items as it will remove the color like bleach does.
I have a whole post I wrote just about hydrogen peroxide – see it here!
Baking Soda
Baking Soda, also known as sodium bicarbonate, it is a component of the natural mineral natron that is found in mineral springs. It is a natural deodorizer and scrubbing agent, perfect for removing soap scum and stuck on particles. You can make a paste with some Castile soap and water, or just water, and you might be surprised by how effective this very simple and safe ingredient can be!
Castile Soap
Castile Soap is traditionally made from Olive Oil and comes from the Castile region of Spain, which is where it derives its name. Today it is also made from coconut, castor and hemp oils. It is free of animal fats, making it vegan, and free from synthetic ingredients, making it environmentally friendly and biodegradable. It is also a gently surfactant, unlike harsh ones such as sodium laureth sulfate that strip your hair and skin of its natural protective oils (like sebum). I have written extensively about Castile Soap here on the blog – see all of the ways you can use it here!
Essential Oils
Essential oils are wonderful to use in cleaners. They add extra cleaning and germ fighting power, and also smell wonderful, making the cleaning experience more enjoyable! In my family, we also use them for our health. I only use Young Living Essential Oils as I've found them to be the best and most effective ones on the market. Learn more about their oils here.
Print
DIY Natural All Purpose Household Cleaner Recipe
A DIY natural all purpose household cleaner recipe using just baking soda, Castile soap, hydrogen peroxide and essential oils. Easy to make, safe and nontoxic, and eco friendly!
Instructions
Fill the bottle with the water first. Add the rest of the ingredients. Done! This can be used on just about any surface except for windows and mirrors as the soap in it will cause streaks.
Notes
I like to buy all of my ingredients in bulk from Amazon – it saves me time and money and also saves the environment of more waste. The ingredients are linked to Amazon above.
Would You Rather Make than Buy?
Here is a list of natural All-Purpose Cleaners you can purchase on Amazon. Click on the link to purchase on Amazon.
Get Waterproof, Vinyl Labels from my Etsy shop
I designed and then had recipe labels professionally printed to make our lives easier! When you go to refill the bottle or jar, you don't have to look up the recipe again. It's printed on the label itself! These are waterproof vinyl stickers that are high quality and do not pucker or come off even if they get wet.