My Favorite Natural All-Purpose Cleaner
I love using a natural all-purpose cleaner to clean my home – it's much safer for me, my kids, and our pets! There are many on the market and some work and others don't – here's my favorite one and how I use it!
This blog is full of DIY cleaning recipes, and I have enjoyed making them and using them over the years! That is, until I got tired of making them…the more kids I had and the older they got, the harder it was to make them! So now I only use my Thieves Household Cleaner from Young Living, and I'll give you six main reasons why so you can decide if you'd like to have some of your own, too.
Why Use a Natural Cleaner?
Because ones that aren't natural or safe pollute our homes and contain many toxic ingredients. They pollute the air we breathe and get into our bodies. They can also negatively affect our pets and our children!
Common cleaning chemicals can release more than 450 chemicals into the air and are linked to asthma, reproductive toxicity, cancer, neurotoxins, and more! They are even harmful to babies growing in the womb.
According to the Environmental Working Group (ewg.org):
Studies have shown that infants exposed in the womb to cleaning products used by their mothers may suffer lower birth weight, lower IQ, and wheezing and respiratory symptoms that may persist throughout childhood.

They can even worsen asthma and CAUSE adult-onset asthma – what?! How is this okay?
Many cleaning products, including spray cleaners and disinfecting wipes, contain asthmagens—chemicals that can either worsen asthma or cause asthma in someone who never previously had it. Studies show that using traditional cleaning sprays as rarely as once a week can increase your risk of developing adult-onset asthma. Common asthmagens and respiratory irritants in cleaning products include quats, ethanolamines, glutaral and sodium hypochlorite (chlorine bleach).
Many products also contain preservatives, including formaldehyde, which is a known carcinogen. Ones that are artificially scented can release VOCs (Volatile Organic Compounds), which, when it reacts to the ozone inside our homes, actually form formaldehyde which we then BREATHE in.
There are currently no regulations that require manufacturers to disclose their ingredients, leaving us completely in the dark and at their mercy. This is why I've taken cleaning into my own hands for the past eight years!
Learn more in these articles:
1. Simplifies Your Life
This natural all-purpose cleaner can clean nearly everything in your house! I have a few spray bottles of it on each floor of the house, and it's safe for my kids to use to help me clean, too.
Here are 25 ways I've used it myself with success:
Bathroom countertops
Toilet bowl
Toilet
Bathroom floor
Shower
Bathtub
Mirrors
Walls & cabinets
Kitchen countertops
Stove
Oven
Car wash
Clean the car dashboard
Clean hardwoods
Clean tile
Put in my Spot Bot carpet cleaner and use to clean messes on the carpet
Put in my Spot Bot carpet cleaner and use to clean messes on upholstery
Dust the furniture
Clean makeup brushes
Use as an air freshener in bathrooms (or anywhere)
Clean the screened-in porch
Clean dirty furniture (kids get food on everything!)
Clean the pet bowls
Clean the car seats
Clean the upholstery in the car
2. Smells like Christmas (and doesn't make you cough)
I love using this product because it smells better than even other natural cleaners I've used from the stores, like Seventh Generation, Method (which is pseudo-natural), and a few other brands. It is not artificially scented at all (no VOCs or toxins), so all you smell are the oils that make up the famous Thieves blend from Young Living – clove, lemon, cinnamon, eucalyptus, and rosemary.
3. No More Watery Eyes
I remember when I used to use Scrubbing Bubbles or Lysol, my eyes would water, my lungs would burn, and I'd be coughing while cleaning my bathroom! It drove me crazy. Now I can clean and am only bothered by all of the pee that my little boys spray on the ground. 😉
4. Highly Concentrated – A little goes a LONG way!
One 14.4-ounce bottle lasts my family of six 4-6 months! At $22.50 a bottle, that's only $3.75 a month, and it replaces window cleaner, counter cleaner, toilet bowl cleaner, shower cleaner, bathtub cleaner, floor cleaner, car wash soap, and more! The natural all-purpose cleaner can clean anything! So you can really simplify your life with this one product.
Here's how to dilute it:
Most cleaning applications: 30 parts water to 1 part Thieves Household Cleaner
Heavy degreasing: 15 parts water to 1 part Thieves Household Cleaner
Light degreasing: 50 parts water to 1 part Thieves Household Cleaner
Glass: 50 or 100 parts water to 1 part Thieves Household Cleaner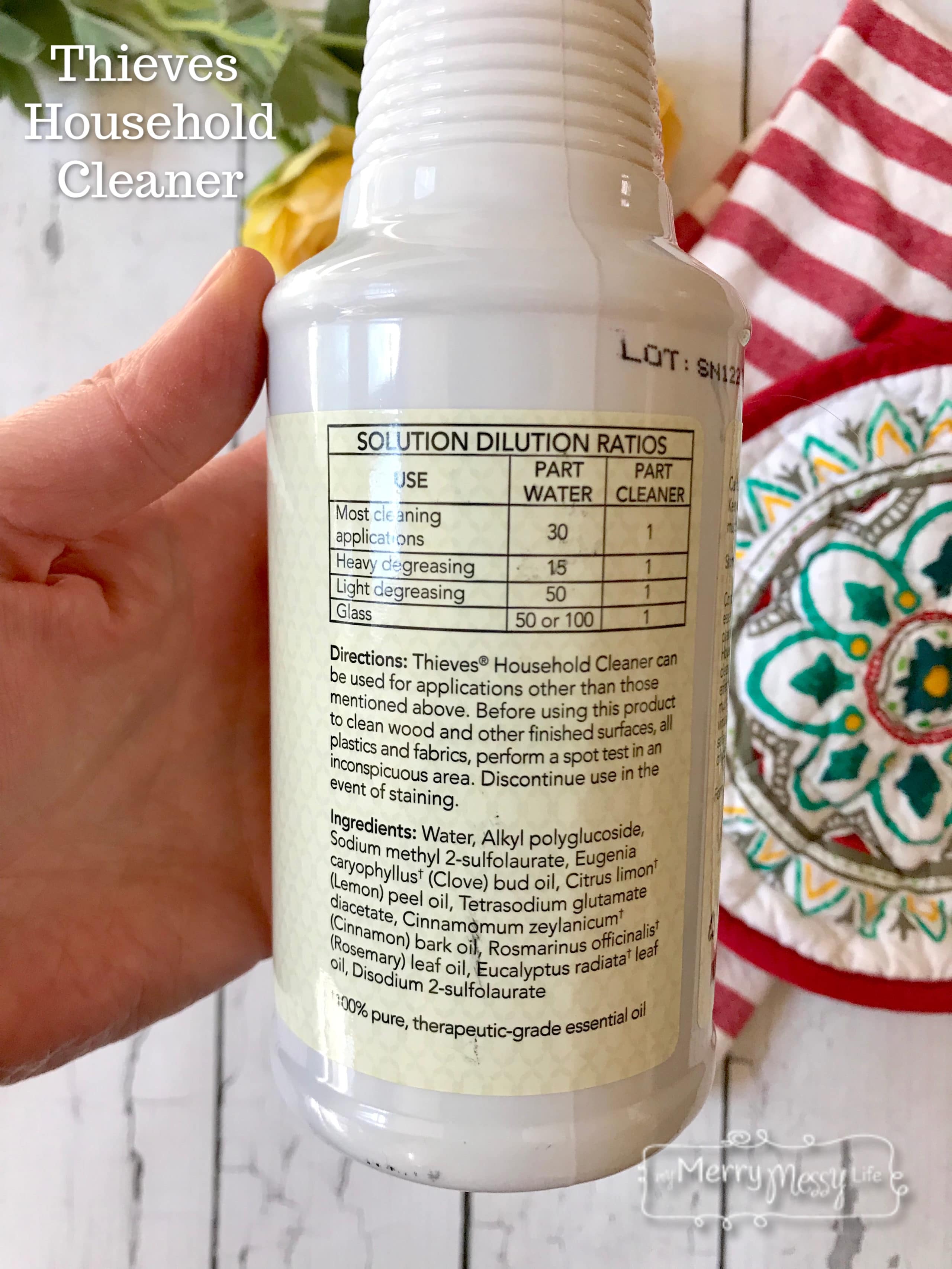 5. All Botanical Ingredients
I love Young Living's products because they are super high-quality and contain environmentally and human-friendly ingredients. Win-win!
Water
Sodium 2-methyl sulfolaurate (a botanical soap)
Essential oils of clove, lemon, cinnamon, eucalyptus, and rosemary (the 5 oils in Young Living's famous Thieves blend)
Tetrasodium glutamate diacetate
Disodium 2-sulfolaurate
6. It's Cheap!
A bottle of this natural all-purpose cleaner with the 24% off member discount is $23.50, which sounds like A LOT compared to a bottle of Lysol! But it's a highly concentrated cleaner, it's meant to be diluted with water. When you buy cleaners from the store, even natural ones, you're paying mostly for water as they are highly diluted. To me, it makes a lot more sense to save on water and buy a concentrate instead.
This one costs $1.56 an ounce, and it only takes 1 ounce for a 30 oz. bottle! So, that's $1.56 for 30 oz. Compare that to Scrubbing Bubbles, which costs $3.59 for 32 ounces. It's HALF the price and contains no toxins or irritating substances. To me, it's a no-brainer!
Save $$ with the Thieves Kit
You can purchase the Thieves Cleaner by itself for the full retail price of $28.95 (click here) or get it at the member price of $23.50 (click here) by becoming a member of Young Living! It's easy and there are no strings attached – just purchase one of the starter kits, and you're automatically a member for a year, even if you never purchase again. You could get started with essential oils (the kit makes it so easy and takes the guesswork out – click here to see the kits) or they even have a Thieves Starter Kit that includes all of our most popular products that can replace most all of the toxins you might have in your home and bathroom products.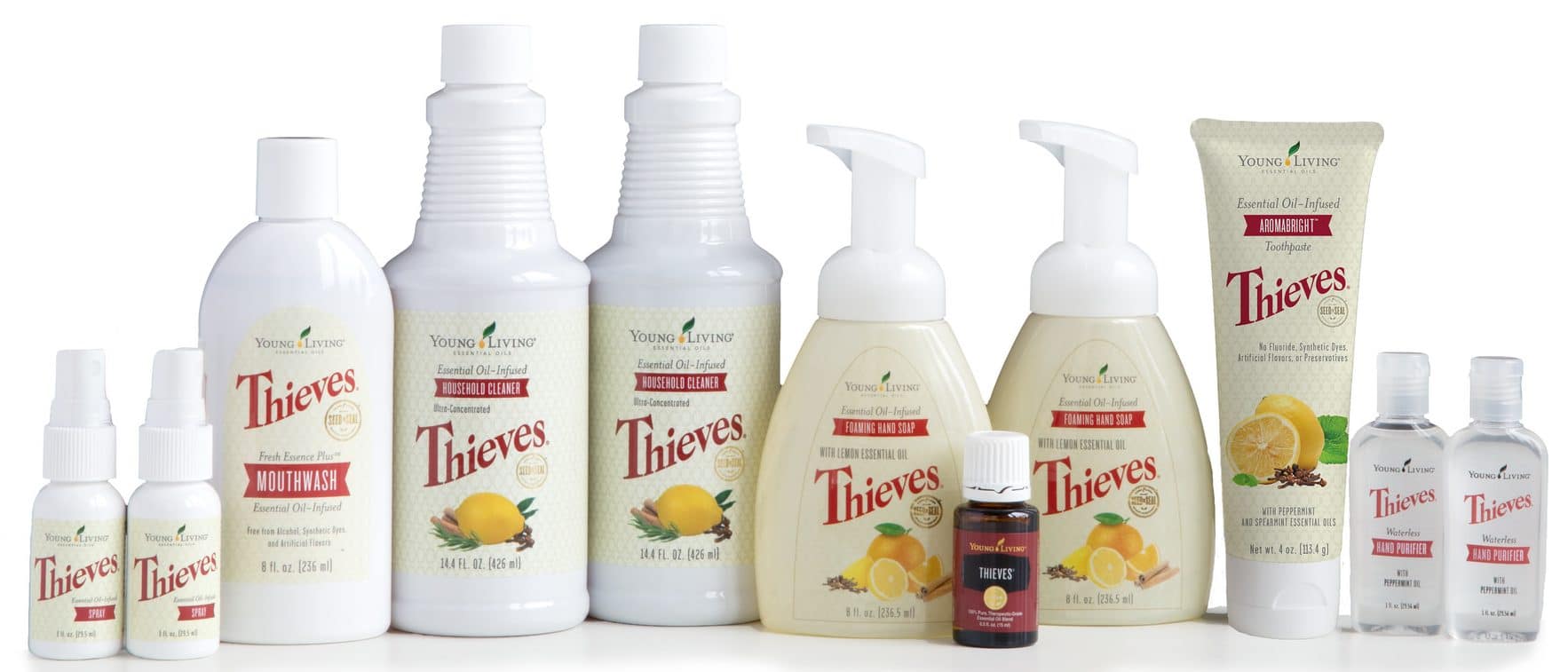 What Comes in the Thieves Kit?
Thieves Essential Oil 15-ml (I diffuse and use this oil all the time to keep my family healthy!)
Thieves AromaBright™ Toothpaste (my favorite toothpaste)
Thieves Fresh Essence Plus Mouthwash (we use this daily)
2 bottles of Thieves Household Cleaner
2 Thieves Foaming Hand Soap
2 Thieves Spray (great for purifying surfaces)
2 Thieves Waterless Hand Purifier (gentle enough for sensitive skin & kids)
Stress Away™ Essential Oil Blend 5-ml (one of my favorite oils! It's like a perfume and great for relaxation and reducing stress)
AromaGlide™ Roller Fitment
Thieves Household Cleaner 1-oz. sample
10 Sample Packets of Essential Oils
10 Love It? Share It! Sample Business Cards
10 Love It? Share It! Sample Oil Bottles
2 NingXia Red® 2-oz. samples (one of my favorite supplements! Great for immunity, nails, skin, hair, and digestion)
Product Guide and Product Price List
Essential Oil Magazine
Essential Edge
Click here to get the Thieves kit and the exclusive 24% member discount!
I'm a member, and I've loved having 24% off of their products for five years. I purchase soap, toothpaste, makeup, essential oils, supplements, and more from them every month! Learn more about the essential oils starter kit here.
Plus, you'll get access to my exclusive members-only Facebook group, where I will teach you daily about removing chemicals from your home and staying healthy with essential oils and supplements.
Note: Don't Clean the Mold and Mildew in My Shower
Now, I'll be totally honest and share with you that it does not clean the mold and mildew in our old shower. I've tried every natural thing you can think of – hydrogen peroxide, baking soda, Seventh Generation natural cleaners, and Thieves essential oil. Nothing but products with bleach in them have gotten it out.
So in full disclosure, I have two cleaners in my house – Thieves Household Cleaner (my favorite natural all-purpose cleaner) and Tilex. The Tilex makes me cough, and our whole bathroom stinks of bleach after using it. I can't stand it, but I also won't live with mold and mildew in my shower, LOL. So if you have a natural alternative that has worked for you, let me know in the comments below!