Easy Natural Disinfecting Spray to Make at Home
Here's an easy natural disinfecting spray recipe using just three simple ingredients – rubbing alcohol or a pure grain alcohol, hydrogen peroxide and essential oils. Use it on your countertops, cutting boards, toilet seats, doorknobs, faucets and more without worrying about toxins!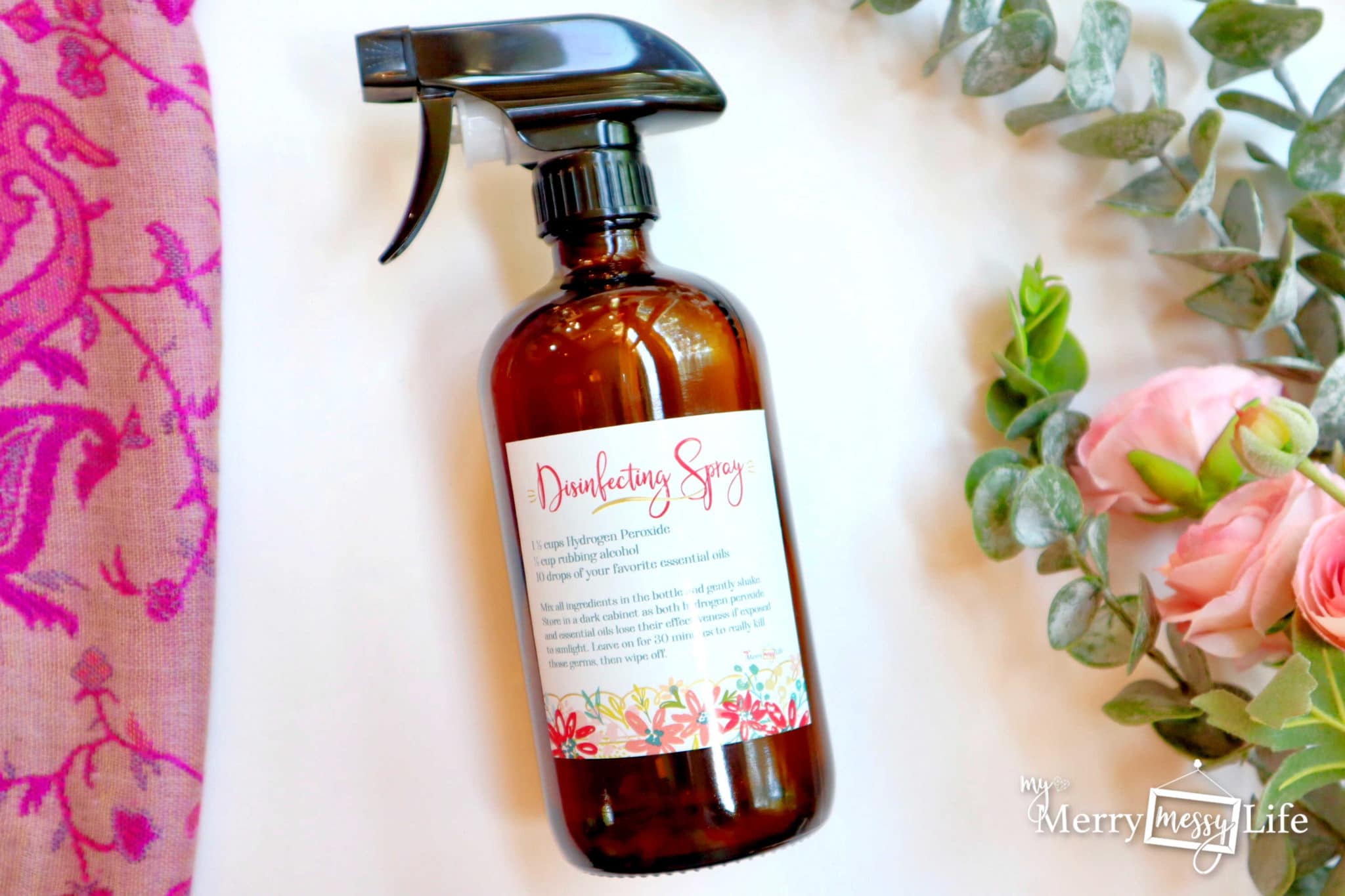 Top 10 Cleaning and Laundry Recipes
This recipe is part of a 10-part series of natural cleaning and laundry recipes. You can find a list of all of the recipes here. This natural disinfecting spray recipe is also found in my book, Detox Your Home, which you can find on Amazon. It includes more than 80+ recipes, research and lists for natural products you can purchase all to help you go natural in your home!
Toxins in Disinfectants
Antibiotic Resistance
The problem with using hand sanitizers, disinfecting sprays and antibiotics frequently is that it creates antibiotic resistance. Why is this a problem?When we truly need antibiotics for an illness, they aren't as effective.
So I would also use this sparingly. Use on your countertops and cutting boards when you have handled uncooked meat, or when there is a virus going around your home. It can be effective to spray on doorknobs, toilet handles and seats, and faucets, but I recommend only using it when needed, not on a regular basis.
Artificial Fragrances
I've written about the dangers of artificial fragrances many times here on the blog! Artificial fragrances can trigger asthma attacks, worsen allergies, and cause inflammation in the sinuses that can lead to more frequent colds and respiratory infections. That's why I prefer to scent my homemade products with essential oils.
Fake fragrances disperse particles of formaldehyde and phthalates (thy-lates) into the air. Phthalates are small particles of plastic that are used to bind the artificial fragrance molecules together. We then breathe in those tiny particles of plastic and they get into our nose and lungs – yuck!
Airborne Toxins
Most disinfecting sprays release formaldehyde, 1-4 Dioxane, and artificial fragrances into the air that we then breathe in. They irritate allergies and asthma and even some studies have shown they can cause asthma over time with weekly use. They also contribute to more frequent colds and respiratory illnesses.
A growing body of evidence suggests that using cleaning products can also cause asthma to develop in healthy people. A 10-country study of more than 3,500 individuals who were initially free of asthma found that nine years later, those who used spray cleaners at least once a week to clean their homes had a 30-to-50 percent increased risk of developing asthma during the study period (Zock 2007). This association was linked primarily to commonly used spray products such as air fresheners, glass cleaners and furniture cleaning sprays. (source)
Learn About the Ingredients in this DIY Natural Disinfecting Spray
Hydrogen Peroxide
This is a safe and effective disinfectant and alternative option to chlorine bleach. Its molecules are made of two hydrogen and two oxygen atoms (H2O2) that decompose after use back into oxygen and hydrogen, so it's completely green and nontoxic, and is colorless and odorless to boot. It must be stored in a dark container or cabinet out of direct sunlight as sunlight will break it back down into oxygen and hydrogen.
For household cleaning, the 3% solution is an effective disinfectant if left on for 30 minutes or more. It can also be used as a laundry and upholstery stain remover for light or white items. I wouldn't use it on colored items as it will remove the color like bleach does.
Another option to get stronger disinfecting power from your hydrogen peroxide is to use the 35% solution, which you can find here.
I have a whole post I wrote just about hydrogen peroxide – see it here!
Rubbing Alcohol
Rubbing alcohol (70% or higher) is very effective in killing germs, however, it can be irritating to the lungs and should be used in a well-ventilated area. The EWG.org gives it a low risk (see here) for asthma and respiratory concern. The reason I chose it is because it has been proven to kill the flu virus (source) and much safer to use than say, Lysol Disinfecting Spray.
You could also use pure grain alcohol, like Ever Clear, which has 90-95% alcohol content.
But if you'd rather not use it, use White Vinegar instead (see below). Though, I cannot say for sure that it'll actually kill germs without the alcohol.
Precautions to Take:
Rubbing Alcohol can destroy the finishes on furniture, so this is better to use on cutting boards, kitchen countertops and other non-porous surfaces.
Also, do not ever mix it with chlorine bleach as the combination of the two creates cholorform – a toxic compound that releases toxic and corrosive fumes (source).
Lastly, it is is flammable so keep it away from flames.
White Distilled Vinegar
Vinegar is completely safe and a very effective window, all purpose cleaner, and sanitizer. However, studies are very limited on it's ability to kill germs so that is why I recommend using Rubbing Alcohol over Vinegar.
Also, we all know vinegar kinda stinks. So you can make some citrus infused vinegar (see my tutorial on that here) to lessen the scent, add your choice of lovely smelling essential oils to it, or do one of the other two recipes I've added here.
In order for it to properly sanitize, leave on the surface for 30 minutes.
Essential Oils
Essential oils are wonderful to use in cleaners. They add extra cleaning and germ fighting power, and also smell wonderful, making the cleaning experience more enjoyable! In my family, we also use them for our health. I only use Young Living Essential Oils as I've found them to be the best and most effective ones on the market. They have starter kits that make using oils for your health easier to learn about and have success with! Learn more about their oils here.
Print
DIY Natural Disinfecting Spray Recipe
An all natural disinfecting spray recipe using just three simple ingredients – rubbing alcohol or white vinegar, hydrogen peroxide and essential oils.
Instructions
Combine all ingredients in a spray bottle. Clean the surface first with my all natural household cleaner recipe. Then use this spray on nonporous surfaces such as countertops, toilet handles and seats, cutting boards, faucets, doorknobs, keyboards, phones, etc. Do not use on wood or finished wood surfaces. See also my recipe for natural disinfecting wipes.
Get a Waterproof, Vinyl Label in My Etsy Shop!
You can purchase the natural disinfecting spray recipe label in my Etsy shop. The labels are professionally printed on vinyl, waterproof paper. Having the label on the bottle means you never have to look up the recipe again!
Would You Rather Buy than Make?
If you'd rather buy your own natural disinfecting spray instead of make it, I totally get it! Here are ones I recommend: