DIY Natural Reusable Disinfecting Wipes
Making your own natural reusable disinfecting wipes is so easy, you'll probably wonder why you didn't try it sooner, especially with my no-sew tutorial! Not only are they all-natural, they are also super cheap to make and are eco friendly since you can resuse them, reducing trash not only from the wipes themselves, but the container and packaging they come in from the store. They also make cleaning much easier!
I stopped buying disposable disinfecting wipes once I jumped on the green train and realized just how much paper I was throwing away. Then, I learned later on just how harmful they are to my health.
Take this popular brand of disinfecting wipes – according to the Environmental Working Group, it gets a grade of D for asthma and respiratory problems. That doesn't even compare to the toxicity in the wipes with bleach, like this one. It totally fails the toxicity test and gets a big fat F for moderate concern for cancer, high concern for developmental and reproductive toxicity, some concern for skin allergies and irritation, and high concern for asthma and respiratory problems. Sounds like a good thing to avoid to me!
However, I must say that I've really missed the convenience of cleaning and disinfecting wipes as I used to use them all the time to clean up boy pee off the toilet, floor, baby potty…you get the idea! So, I had to make my own that are non-toxic and reusable, and I found a great solution!
Learn About the Ingredients
Let's learn about the ingredients in these natural reusable disinfecting wipes.
Hydrogen Peroxide
This is a safe and effective disinfectant and alternative option to chlorine bleach. Its molecules are made of two hydrogen and two oxygen atoms (H2O2) that decompose after use back into oxygen and hydrogen, so it's completely green and nontoxic, and is colorless and odorless to boot. It must be stored in a dark container or cabinet out of direct sunlight as sunlight will break it back down into oxygen and hydrogen.
For household cleaning, the 3% solution is an effective disinfectant if left on for 30 minutes or more. It can also be used as a laundry and upholstery stain remover for light or white items. I wouldn't use it on colored items as it will remove the color like bleach does.
Another option to get stronger disinfecting power from your hydrogen peroxide is to use the 35% solution, which you can find here.
I have a whole post I wrote just about hydrogen peroxide – see it here!
Rubbing Alcohol
Rubbing alcohol (70% or higher) is very effective in killing germs, however, it can be irritating to the lungs and should be used in a well-ventilated area. The EWG.org gives it a low risk (see here) for asthma and respiratory concern. The reason I chose it is because it has been proven to kill the flu virus (source) and much safer to use than say, Lysol Disinfecting Spray.
You could also use pure grain alcohol, like Ever Clear, which has 90-95% alcohol content.
But if you'd rather not use it, use White Vinegar instead (see below). Though, I cannot say for sure that it'll actually kill germs without the alcohol.
Precautions to Take:
Rubbing Alcohol can destroy the finishes on furniture, so this is better to use on cutting boards, kitchen countertops and other non-porous surfaces.
Also, do not ever mix it with chlorine bleach as the combination of the two creates cholorform – a toxic compound that releases toxic and corrosive fumes (source).
Lastly, it is is flammable so keep it away from flames.
White Distilled Vinegar
Vinegar is completely safe and a very effective window, all purpose cleaner, and sanitizer. However, studies are very limited on it's ability to kill germs so that is why I recommend using Rubbing Alcohol over Vinegar.
Also, we all know vinegar kinda stinks. So you can make some citrus infused vinegar (see my tutorial on that here) to lessen the scent, add your choice of lovely smelling essential oils to it, or do one of the other two recipes I've added here.
In order for it to properly sanitize, leave on the surface for 30 minutes.
Essential Oils
Essential oils are wonderful to use in cleaners. They add extra cleaning and germ fighting power, and also smell wonderful, making the cleaning experience more enjoyable! In my family, we also use them for our health. I only use Young Living Essential Oils as I've found them to be the best and most effective ones on the market. They have starter kits that make using oils for your health easier to learn about and have success with! Learn more about their oils here.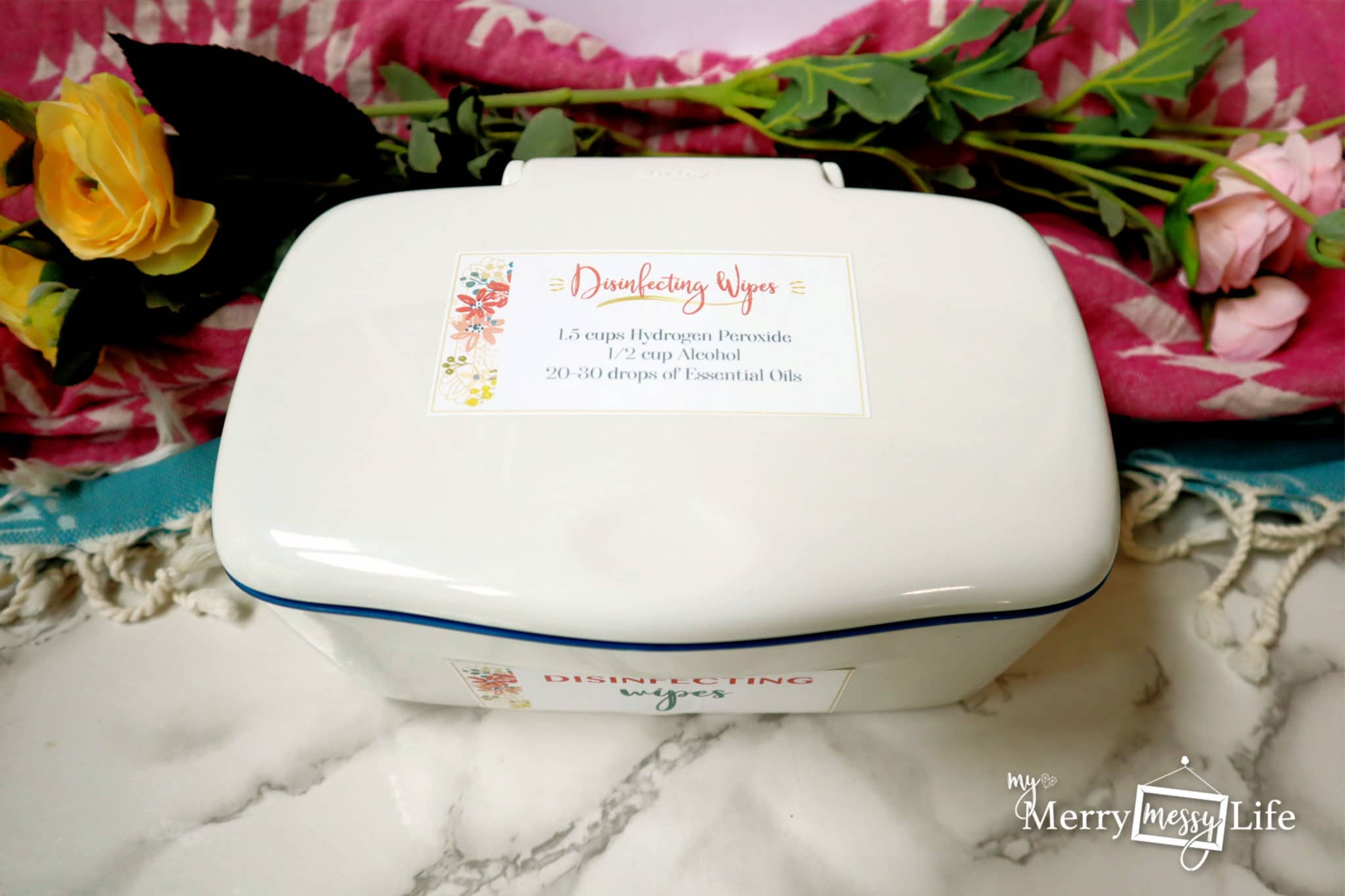 Printable Recipe Label
Get this printable recipe label in my Etsy shop here! You can print on waterproof label paper (link included in the PDF) and never have to look up the recipe again. It also comes as a set of all of my other printable cleaning labels (54 labels total)!
Print
DIY Natural Reusable Disinfecting Wipes
A tutorial for making natural reusable disinfecting wipes that both clean and kill germs without toxins! You can use old t-shirts to make them reusable.
1 1/2 cups

of Hydrogen Peroxide (you can do all HP if you prefer not to use any alcohol)

1/2 cup

 Rubbing Alcohol (make sure it's 60% or more to kill germs) or Ever Clear alcohol (

180

proof or higher)
30 to 50 drops of a purifying essential oil or a blend of oils such as:
Cloth rags cut to be as wide as an old baby wipes container, or buy these cotton baby wipes or these cleaning wipes
Instructions
Fold the wipes as shown in the pictures below. Pour all of the ingredients except for the wipes into the wipes container. Push the wipes down into the container so they soak up the liquid. Push them down so they soak up all of the liquid. If there is excess liquid, pour it out or add it to your All Purpose Household Cleaner or Disinfecting Spray. If there is not enough liquid, add more water, alcohol, or Hydrogen Peroxide, whichever you prefer.
You could also use a brownie pan and soak the wipes one by one:
Pour the peroxide, rubbing alcohol, and essential oils into a brownie pan.

Take each rag or wipe, one by one, and soak it in the solution.
Squeeze out the excess and fold it into the wipes container.
Notes
The alcohol is essential to kill germs. It must be in a quantity of 60% or more isopropyl, ethanol or our grain alcohol. The essential oils are optional, but add greatly to the cleaning power and make it smell wonderful, which helps cleaning be less of a chore.
Upcycle Dingy Tees Into Rags
I had quite a few T-shirts that were covered in stains, so I used these as rags. This made my project almost free, and so good for the environment!
Jersey cotton, like the material used to make T-shirts, is the best fabric to use as it is absorbant (fleece is not, for instance) and doesn't unravel. So there's no sewing involved! I cut them to be the width of my baby wipes container, which is 8 inches wide, and then made then 10 inches tall.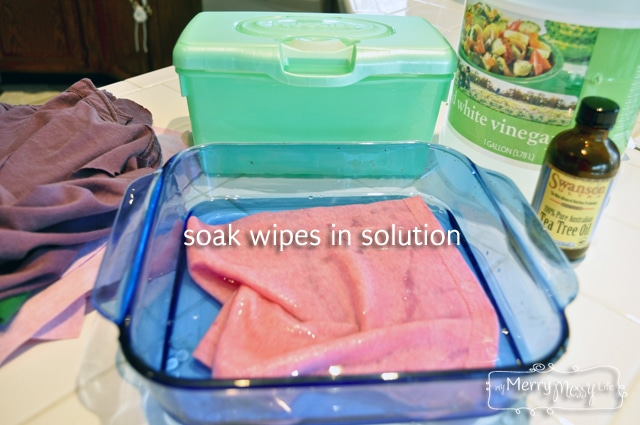 To soak the wipes and cover them with the solution, I like to use a brownie pan (I do it the same way to make my cloth baby wipes).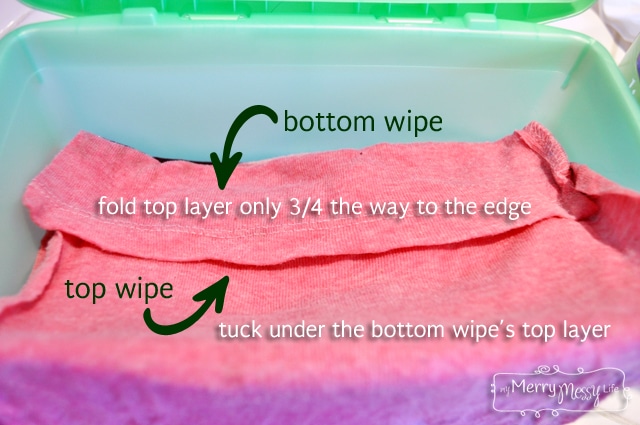 I was able to get the wipes to come out of the container just like the store-bought ones do by folding the top layer of the wipe only 3/4 of the way to the long side of the container. Then, take the next wipe and place it underneath that top layer of the previous wipe and continue folding it on top, then repeat. The top wipe pulls out the wipe beneath it if you follow this method, making these wipes even easier to use!
For more ideas on how to go paper-free, see my no-sew tutorials on ditching the paper towels, switching to cloth baby wipes, making your own cloth napkins, cloth diapering guide, and for the very brave, ditching toilet paper for cloth!