Clean Your Hardwoods & Tile Safely with this Natural Floor Cleaner Recipe
A simple, DIY hardwood and tile natural floor cleaner recipe that cleans and shines and doesn't leave anything toxic behind on your floors! This recipe is perfect to use in an electric or microfiber mop.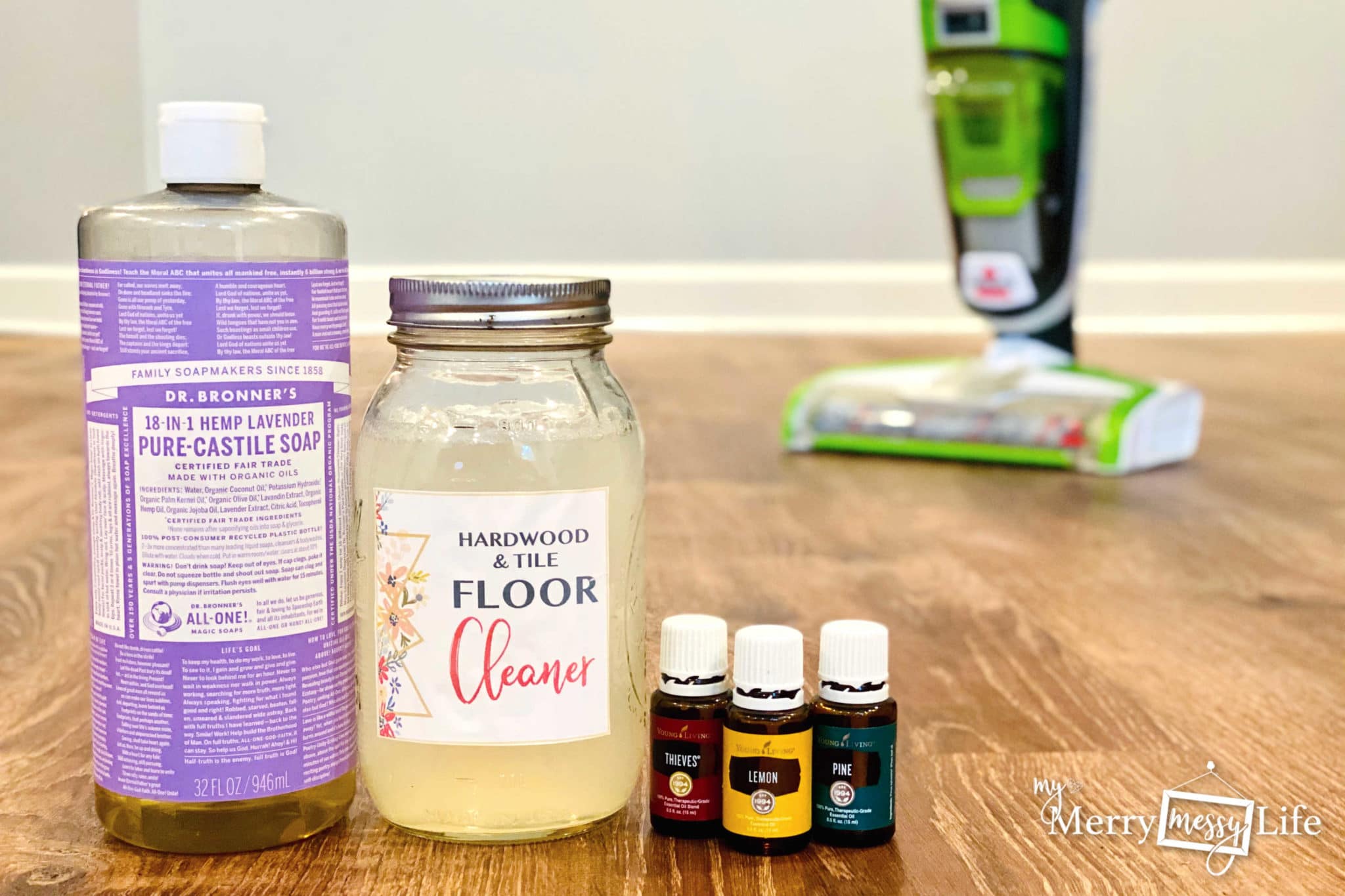 Why Make Your Own Natural Floor Cleaner Recipe?
1 – It's Cheaper
When you buy products in the store, you're paying for mostly water. When you buy the ingredients in the recipes listed below (especially if you buy them in bulk) and add your own water, you save money.
2 – It's Much More Eco Friendly
Buying ingredients in bulk and reusing your bottles saves on packaging, manufacturing and waste. Also, these are nontoxic recipes that are biodegradable and won't harm the environment.
3 – It Doesn't Contain Artificial Fragrances
Glass cleaners in the stores, like Windex, have always given me headaches. Why? They contain artificial fragrances.
Artificial Fragrances
I've written about the dangers of artificial fragrances many times here on the blog! Artificial fragrances can trigger asthma attacks, worsen allergies, and cause inflammation in the sinuses that can lead to more frequent colds and respiratory infections. Yikes! That's why I prefer to scent my homemade products with essential oils.
Fake fragrances disperse particles of formaldehyde and phthalates (thy-lates) into the air. Phthalates are small particles of plastic that are used to bind the artificial fragrance molecules together. We then breathe in those tiny particles of plastic and they get into our nose and lungs – yuck!
Artificial Fragrance is a class of 3,000 different Chemicals
The term "artificial fragrance" stands for more than 3,000 chemicals and companies do not have to disclose which chemicals are included. So there's no way of knowing if the chemicals in the product are safe for our health or not. I don't know about you, but I'd rather be safe than sorry.
4 – It's Non Toxic
The chemicals on our floors get in our bodies through the pores in the bottoms of our feet. It there are toxins in the cleaners, they affect our children and pets even more because their bodies are smaller than our's.
To see which toxins are in many floor cleaners, let's look at this popular cleaner, Mop and Glo Floor Cleaner. It gets a toxicity grade of F from the EWG.org for containing fragrances, sodium salts, and many other not-so-great ingredients. Sodium salts may harm a fetus's reproductive and endocrine systems.
Learn About the Ingredients in this DIY Natural Hardwood and Tile Floor Cleaner
Castile Soap
Castile Soap is traditionally made from Olive Oil and comes from the Castile region of Spain, which is where it derives its name. Today it is also made from coconut, castor and hemp oils. It is free of animal fats, making it vegan, and free from synthetic ingredients, making it environmentally friendly and biodegradable. It is also a gently surfactant, unlike harsh ones such as sodium laureth sulfate that strip your hair and skin of its natural protective oils (like sebum). I have written extensively about Castile Soap here on the blog – see all of the ways you can use it here!
Essential Oils
Essential oils are wonderful to use in cleaners. They add extra cleaning and germ fighting power, and also smell wonderful, making the cleaning experience more enjoyable! In my family, we also use them for our health. I only use Young Living Essential Oils as I've found them to be the best and most effective ones on the market. Learn more about their oils here.
Thieves Household Cleaner
I wrote a whole post (see it here) just about this one cleaner! It smells like Christmas (it contains lemon, clove, eucalyptus, rosemary and cinnamon essential oils) and is both a glass cleaner and all purpose household cleaner. It's totally safe, biodegradable and nontoxic as well!
Print
DIY Natural Hardwood and Tile Floor Cleaner
A simple, natural DIY natural hardwood and tile floor cleaner that really works and effectively cleans! I've included 3 different recipes for you here so you can choose which one works best for you and your budget.
CASTILE SOAP RECIPE
VINEGAR RECIPE
THIEVES CLEANER RECIPE
Instructions
Combine the ingredients in a 32 oz. jar. Add the solution to your microfiber or electric mop, or put it in a mop bucket. Here's the electric mop I own – Bissell Vacuum & Steam Mop
If you want your solution to have more suds, add more dish soap, but only 1 tsp at a time. It's really easy to get too many suds in the solution and then have soap all over the floors that's hard to mop up!
Notes
To make the vinegar recipe smell better, make your own citrus-infused vinegar! To make it smell like Pine Sol, use Pine Essential Oil and the Dr. Bronner's Sal Suds, which has a pine scent from pine essential oil!
Would You Rather Buy Floor Cleaner Instead of Making It?