You'll Love this Thick and Moisturizing Natural Shower Gel Recipe
A natural shower gel recipe that's moisturizing and really thick, like a store-bought gel! You need only Castile Soap, honey, oils, essential oils, salt, and water.
For the longest time, I've been using my foaming body wash in the shower, in fact, everyone in my family of six has one of these in their showers! It works well and is super easy to make, but I wanted to switch things up and try my hand at making an actual shower gel that's thicker.
The Secret to Making this Natural Shower Gel a Gel
After making my liquid laundry detergent thick by using Kosher salt, hot water, and Dr. Bronner's Sal Suds, I knew I could try something similar for a shower gel.
So the secret ingredient to making this gel an actual gel (so you don't need a foaming soap pump) is the salt and water. But in this case, instead of using Kosher salt, fine salt works better.
Learn About the Ingredients in this Natural Shower Gel Recipe
Castile Soap
I use Castile Soap all of the time! I use it in all of our hand soaps and body washes, and it's perfect in this natural foaming hand soap recipe because it lathers well and is also gentle and mild. It doesn't contain any harsh detergents like Sodium Laureth or Lauryl Sulfate, so it is wonderful to use on the body. It is an olive oil-based soap that originated in the Castile region of Spain, which is where it gets its name.
I used to really struggle with dry, cracked hands, especially in the wintertime when I used store-bought hand soaps. Now that I use Castile Soap, I rarely even have to use lotion, even in the winter!
Honey
Did you know that honey has many healing and therapeutic benefits for the skin and hair? It has been used for thousands of years in wound care as well. It also helps to thicken this natural shower gel. Here are some of the benefits:
Contains antibacterial and antiseptic properties
Excellent for acne-prone and dry skin
Contains antioxidants and boosts collagen production
Very moisturizing and hydrating
Helps to fade scars
Helps to open up pores, great for deep cleaning
Contains enzymes that help to exfoliate the skin gently
Moisturizing Agents – Carrier Oils and Aloe Vera
To add an additional moisturizing ingredients, you can use fatty carrier oils like olive, almond, Jojoba, avocado, and grapeseed oils or use liquid Aloe Vera (not the gel – the salt will cause Aloe Vera gel to clump up in a ball).
Carrier oils are different than essential oils – they are the fatty part of the plant and serve to moisturize and soothe the skin and hair. Essential oils are therapeutic and volatile, which means they can evaporate. They are actually drying to the skin, not moisturizing.
Print
DIY Natural Shower Gel Recipe
A recipe for a natural shower gel made with nontoxic and gentle ingredients like Castile Soap, olive oil, essential oils, and honey. And it really does make a thick gel!
Instructions
Heat the water until it's very hot or boiling (in the microwave is fine). Add the salt and stir until it dissolves completely. Then, add the Castile Soap and stir well. The salt water will thicken up the soap, turning it into a gel! Once it cools, add the honey, carrier oil, and essential oils and stir very well. Transfer to an 8 oz. squirt bottle.
Notes
This recipe really does make a thick gel that's perfect for squirting on a loofah! It also suds up really well. The salt is essential to making the gel consistency. Without it, it will be watery.
Which essential oils to use in this Natural Shower Gel Recipe?
I only use essential oils from Young Living. I have found them to work better than other brands I've tried. You have to use double the amount of other, cheaper essential oils to get the same scent and health benefits, and many essential oils on the market aren't even effective (because I've tried many of them) for improving health issues. I've used Young Living's oils for years to help keep my family healthy, and haven't been disappointed yet! Learn more about them here.
More Natural Bath and Body Recipes on My Blog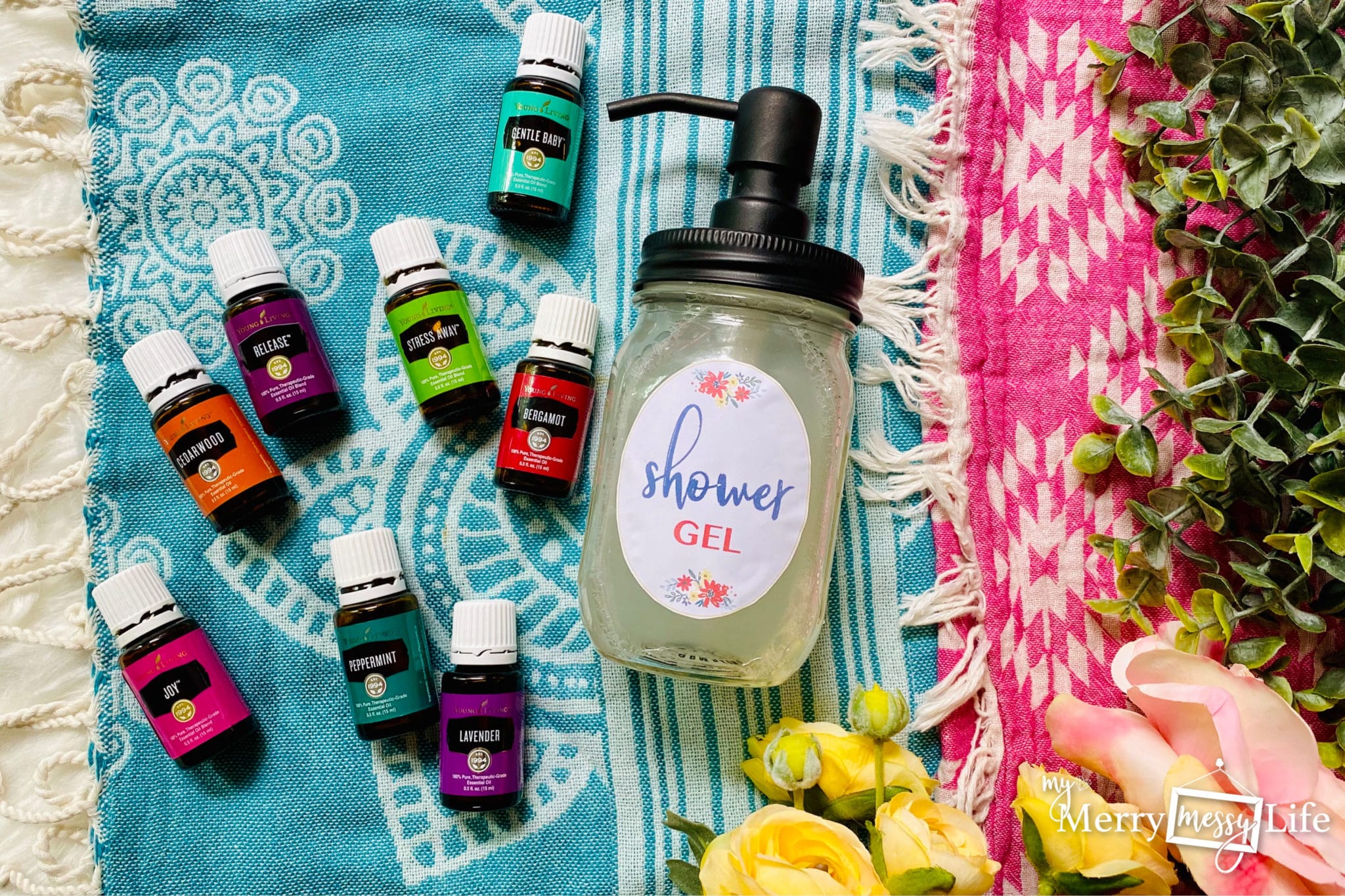 My Favorite Essential Oils to Use for the Body
There are many, MANY essential oils you could use in this natural shower gel recipe. If you have very sensitive skin, I would steer clear of, or use just 1-2 drops of, "hot" essential oils like Wintergreen, Peppermint, Clove, Cinnamon, and Eucalyptus. Use more gentle oils like Lavender, Frankincense, Cedarwood, and Ylang Ylang.
Stress Away – (get here) a blended oil of lime, copaiba, vanilla, cedarwood, ocotea, and lavender. It smells DIVINE and really does help melt the stress away. It is good for tired, sore muscles, too.
Cedarwood – (get here) very woodsy, earthy smell. Great for men, but it's actually one of my favorite scents! It's very relaxing and calming, great right before bed.
Aroma Siez – (get here) a blended oil of basil, marjoram, lavender, peppermint, and cypress – perfect to ease tired, sore muscles after a strenuous workout or long day. It's also an invigorating way to start the day with peppermint and basil! Or just try peppermint.
Lavender – (get here) known for its ability to relax and calm, it can also ease sore muscles, and it smells wonderful!
Lady Schlerol – (get here) a blend of Geranium, Coriander, Vetiver, Orange, Clary, Bergamot, Ylang ylang, Royal Hawaiian Sandalwood, Spanish sage, Jasmine, Idaho Blue Spruce, and Spearmint. It has a beautiful, feminine scent, and I also use this as a perfume!