DIY Citrus-Infused Vinegar for Natural Cleaning
Citrus-infused vinegar is an easy way to make distilled white vinegar smell much better so you can enjoy using it in your natural cleaning recipes! Vinegar is a natural and green cleaning ingredient and has dozens of uses around the house. But I'll admit – it stinks! Today we're going to learn how to make it smell better.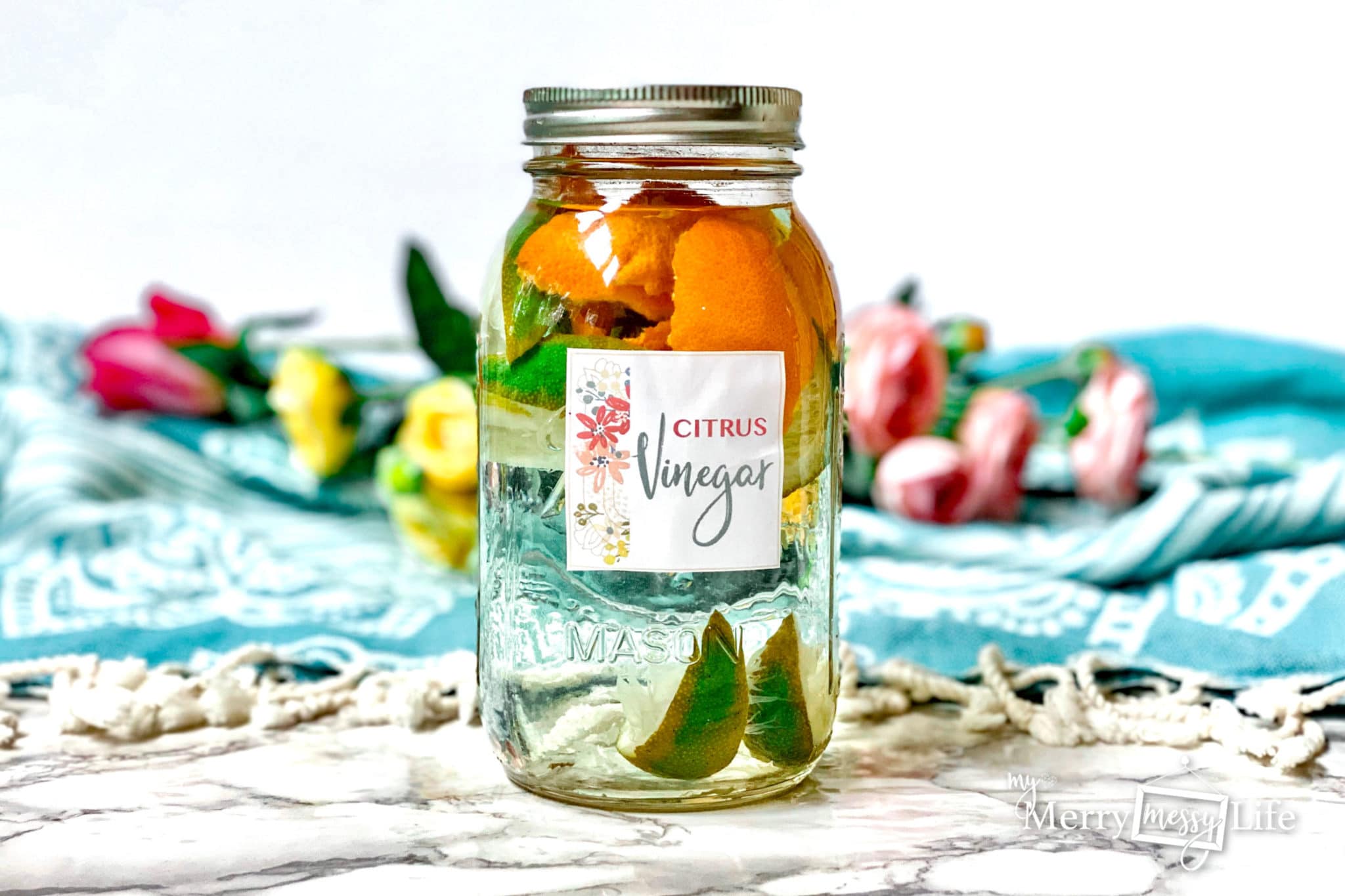 Vinegar is one amazing product – I use it all over the house for homemade cleaning products and it has a ton of uses! It's readily available and very affordable. As much as I love it, the smell does get to me sometimes and I've finally gotten around to making my own scented vinegar to take the edge off that strong smell.
With orange and clementine season starting here in the US, it's the perfect time to start making your own citrus-infused vinegar! The reason this works well is because the rinds of citrus fruits contain scented oils – they are the oils that give the fruit its scent. These oils are absorbed by the vinegar and add a lovely fragrance!
How to Make Citrus-Infused Vinegar for Natural Cleaning
Take the peels of any citrus fruit – grapefruits, oranges, clementines, lemons or limes put them in a jar (a mason jar like this 32 oz. one works best) or other air-tight container. I would fill the jar halfway or more with the peels to get the strongest scent, but honestly, any amount will do!
Cover the peels with vinegar (buy on Amazon here). Screw on the top. Let it sit for one to two weeks on your kitchen counter or in the panty (don't need more than two), then strain out the peels with a fine mesh strainer like this one.
Printable Cleaning Label
Get the label you see in the picture in this printable set of cleaning labels from my Etsy shop here!
Or Use Essential Oils to Make Vinegar Smell Better
I use essential oils in my natural home cleaning routine all of the time! They make all of my products smell so good that I almost don't mind cleaning…almost ;).
Essential oils are another wonderful way to infuse vinegar with an amazing aroma and make it smell much better. They also add extra purifying and cleaning power – bonus!
In my family, we also use them for our health. I only use Young Living Essential Oils as I've found them to be the best and most effective ones on the market. Learn more about their oils here. The ones I use the most in cleaning and to infuse vinegar are: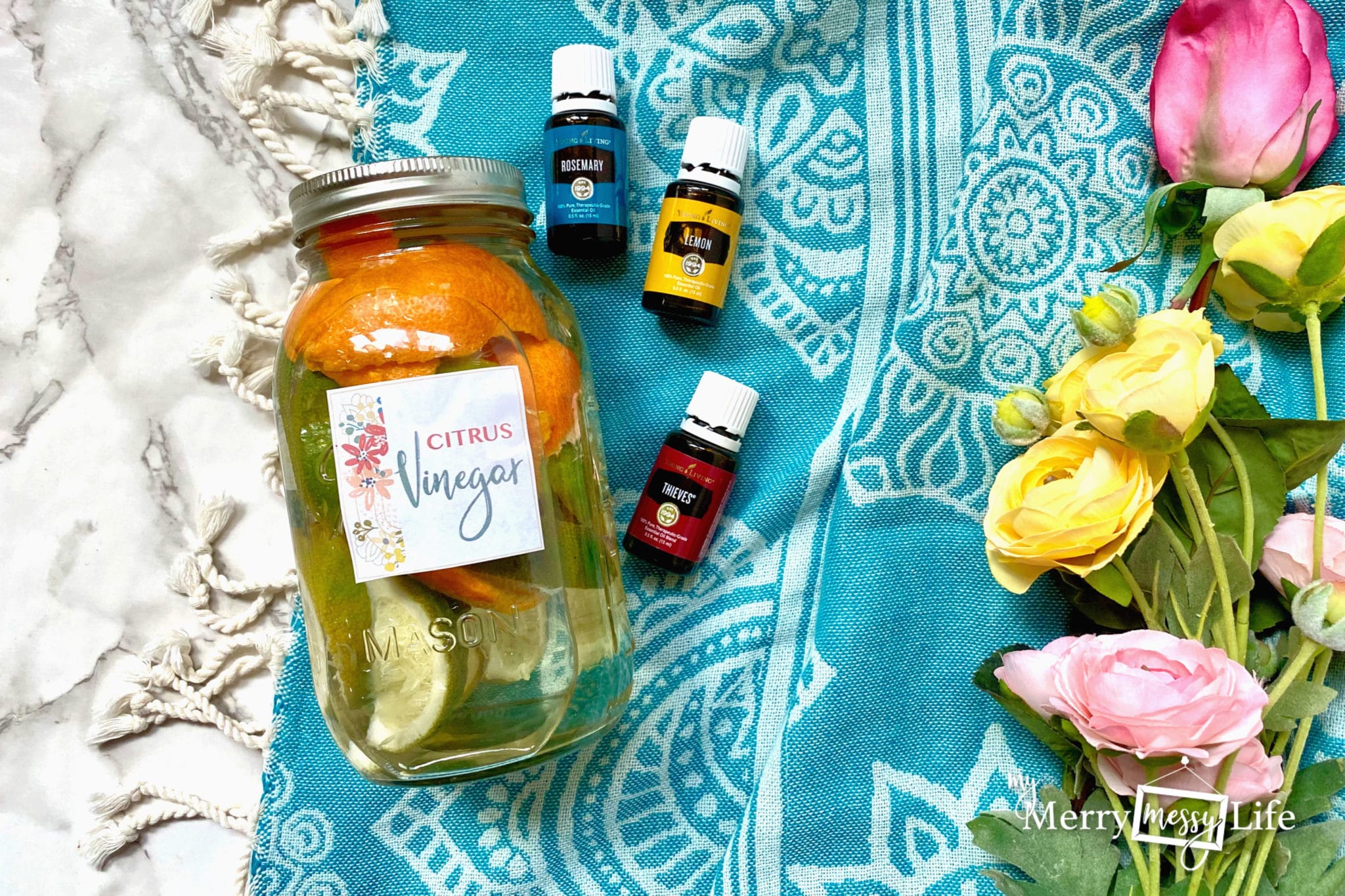 Use the Soaked Peels to Clean Your Garbage Disposal
After straining the peels from the vinegar, keep those peels. They should be very soft (if not, soak them a few more days). Then, throw them in your garbage disposal and crank it up! You can also let the peels sit out and dry, or dry in the sun.
The peels, along with the vinegar, make an excellent garbage disposal cleaner because the vinegar kills bacteria-causing odors and the citrus fruit peels zap odors.
I love how I can use the entire orange to have a healthy snack, make cleaning products AND clean my garbage disposal. It doesn't get more eco-friendly than that!
Easy Ways to Use Vinegar for Cleaning
Vinegar is an excellent cleaner – it works on mold, mildew and bacteria. It's also cheap, readily available, green, eco-friendly (doesn't harm ground water, lakes, streams, aquatic life), and non-toxic. Here are a few quick and easy ways to use it (there are many more, but these are the ones I use all the time).
Window Cleaner – Put in a spray bottle and use it straight up on windows and mirrors. I have used this for a long time and it works just as well as Windex without all the nasty chemicals! I also use it on my glasses. See my glass cleaner recipe here.
Bathroom Cleaner – Check out my recipes for homemade cleaning products using vinegar.
Disinfectant – Studies have shown that spray White Distilled Vinegar, and then Hydrogen Peroxide on top and left on for 30 minutes or more kills many viruses and bacteria. Put in a spray bottle and spray directly on countertops, cutting boards, toilet seats, the shower, toys and more! See my natural disinfecting spray here.
Drain Cleaner – Pour down stinky, clogged drains, along with baking soda, and the two react to naturally clean gunk and stank nastiness out of your pipes! See the recipe for that here.
Laundry Detergent Softener – Pour straight into the detergent softener compartment and fill to the line marked. That's it! It does not leave a vinegar scent on my clothes and does a nice job of softening.