Mexican Stuffed Bell Peppers – A Real Food, Grain-Free and GAPS Recipe
A delicious, real food recipe that even my children will eat, that's also GAPS diet friendly! It's very nutritious and not a single preservative, canned food or chemical in sight.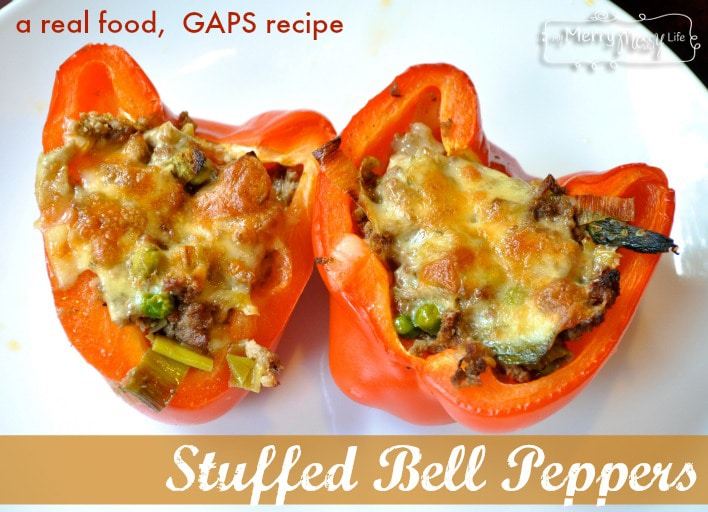 DINNER'S READY! I've shouted that to playing children more than once, okay maybe more like 700 times, but who's counting? When I cook this meal, they actually eagerly come to the table, and that's saying a lot as they are only 5, 3, and 1. I do cut it up in small pieces, but they love the flavor. And my husband devours it! This is one of my family's favorite meals – the ground beef, cheese and pepper are so tasty. You can load it up with veggies for extra nutrition and cook the ground beef in homemade beef stock, which will add incredible nourishing, gut healing properties from the bone marrow.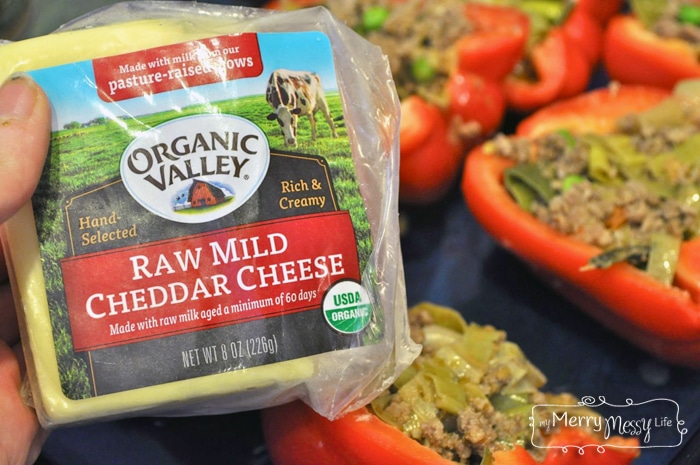 I cook mine long enough so that the peppers get a little soft, about 35 minutes, and then they are PERFECT to eat. To keep it as nutritious as possible, use grass-fed organic ground beef (which I can even get at my local grocery store now – woot!), raw milk organic cheddar cheese (also at my grocery store!), and lots of organic veggies. Even the spices and herbs add nutrition.
I learned how to cook traditional food from the cookbook, Nourishing Traditions. It is full of wisdom for how to cook food that is super healthy, yet easily digested and used properly in the body. You might notice that I use a TON of spices – my husband taught me years ago how to add spices to give recipes incredible body and flavor, and I've been cooking that way ever since. This is not a bland or boring recipe, I assure you! I also cook only with old fashioned cast iron pans and skillets – they are the non-toxic, safe cookware to use (just say NO to Teflon!) (where to buy).
Real Food Mexican Stuffed Bell Peppers – GAPS & Grain-Free
Ingredients:
4-5 bell peppers, cut in half
1 tablespoon grass-fed butter, coconut oil, olive oil or ghee
1 medium onion, diced
1 leek or green onions, sliced
1 lb. grass fed, organic ground beef
1/2 to 1 cup homemade or organic beef broth, or coconut milk (this is the one I buy as it truly has NO additives or preservatives)
3-4 cloves garlic, minced or chopped
2 tomatoes, sliced
1 cup shredded cheddar cheese (shred it yourself as the preshredded cheese is coated in wood pulp, or cellulose)
1 cup various veggies – go veggie diving in your fridge or freezer. Great way to use up produce that will spoil soon!
1 tablespoon cumin
1 tablespoon coriander
1/2 tablespoon chili powder
1/2 tablespoon paprika
1-2 tablespoons chives, cilantro, parsley, oregano or basil
1/2 tsp. salt (or to taste)
1/4 tsp. pepper (or to taste)
Extra boost of flavor – add 2 drops of lemon or lime essential oil for a BURST of flavor! It's like you squeezed 10 lemons in without all the work. (where to buy)

Directions:
Melt the butter/ghee/coconut oil/olive oil in a cast iron pan on the stove on medium heat.
Add the onion and cook until soft and clear.
Add the ground beef and cook until browned.
Add the remaining veggies and all the spices. Cook for 5 minutes or until desired tenderness is achieved.
Pour in the coconut milk or beef broth and turn down the heat to a simmer.
Take off heat after 1 minute and add the filling to peppers.
Sprinkle the cheese on top.
If you really love cheese like we do, shred more and add 1 cup to the filling and also to the top!
Bake at 350 degrees for 30-40 minutes or until the peppers have softened. Share with your favorite people and drink with your favorite glass of wine!