Yummy Oatmeal from Good Food Made Simple
There's been a lot of oatmeal munchin' in my house lately, ever since we acquired some delicious steel-cut oatmeal and egg white patties from Good Food Made Simple. I am very picky about what we feed our children and have been pleasantly surprised by not only how healthy, simple and natural this oatmeal is, but how tasty it is, too!
I really like the concept behind Good Food Made Simple – it is truly good, nutritious food for busy families on the go. All of it is frozen, and if you follow the heating directions, in just a few minutes you have a hot and filling breakfast in the morning before running out the door to work or school! My kids absolutely LOVE this oatmeal, so it has been wonderful to have the boxes in the freezer for the evenings when they aren't so happy with what I've cooked for dinner. It's been my back-up, go-to dinner replacement!
What I love about this oatmeal:
It's steel-cut oats so it has a wonderful texture and preserves the nutrition (like whole wheat does), with bits of round oats
Super easy to pop out of the package and make
The ingredients list doesn't contain unpronounceable chemicals: steel-cut oats, water, sea salt
It comes in 5 flavors, all of which I really liked!  Original, Brown Sugar & Cinnamon (made with organic oats), Fruit and Berries, and Vermont Maple
It's true convenience food without the guilt!
Non-GMO – nuff said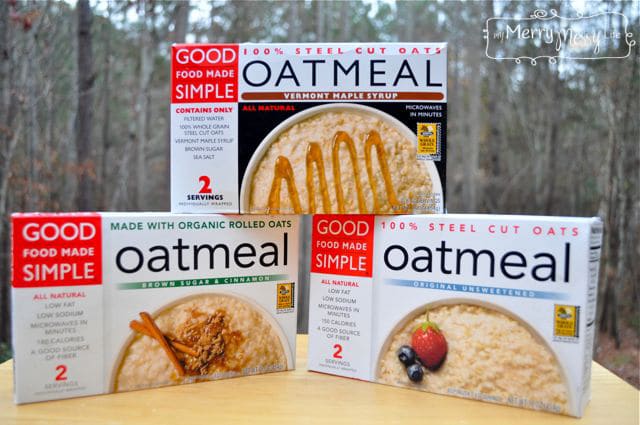 Good Food Made Simple promises to not ever use these ingredients in any of their products:
Artificial flavors or colors
Preservatives
Nitrates & Nitrites
Hydrogenated Fats or Oils
BHA and BHT
Artificial Sugars
Processed Sugars
I was not as impressed with the texture or taste of the egg white patties by themselves, but I did like them in a toasted Thomas muffin. They are very healthy and provide a lot of protein and can be used in many different dishes. See their recipes for ideas on how to use the egg white patties, like an egg pesto sandwich!
Sold In Most Major Grocery Store Chains
Click here for a map to see which stores they are sold in your state.
Simple Breakfast Challenge
Win A Month's Supply of Good Food Made Simple coupons by joining their challenge. See that link for a $1 off coupon to try their oatmeal right away! Share what you think about their products on their Facebook or Twitter pages and you could be chosen to win a month's supply of coupons – one winner chosen each week.