Mexican Huevos Rancheros – Grain-Free Recipe
This hearty delight is perfect for a gourmet weekend breakfast or to spice up dinnertime and it's full of vegetables and loaded with protein from eggs. It is also all real food, nutritious, grain-free and GAPS or Paleo diet approved!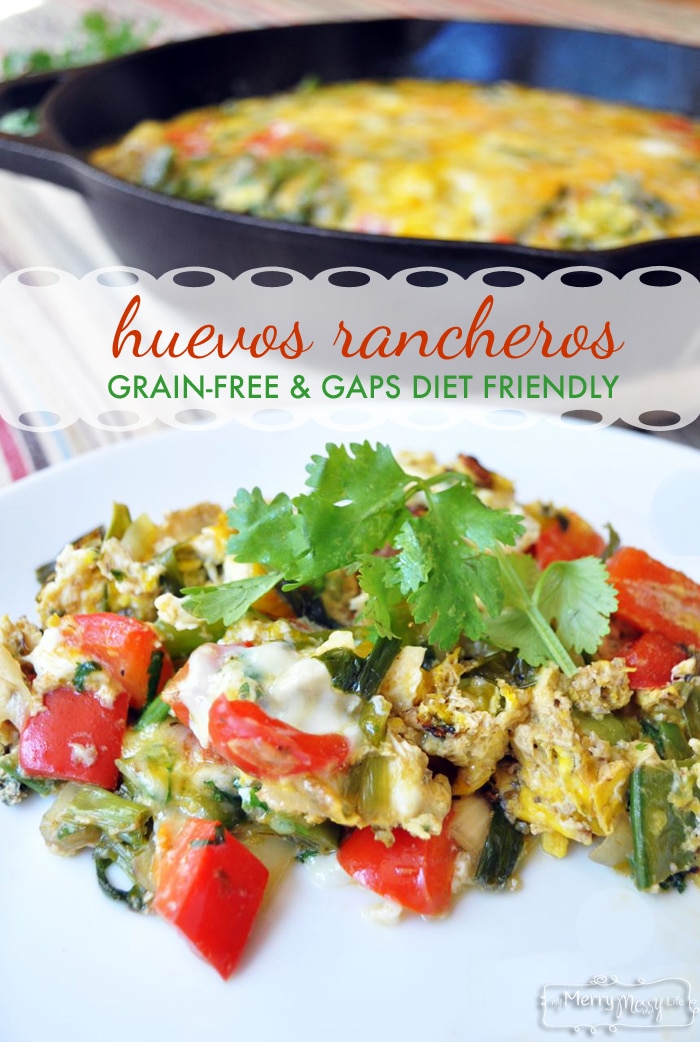 When you're on a grain and sugar free diet like I am, it can be hard to find recipes that sound really tasty, ones I actually want to put on the weekly menu that my kids will eat. When I first started the full GAPS diet (read more about GAPS here), which is very similar to Paleo, I thought I'd never find enough recipes to please my gut and my palate, but after eight months of toughing it out, I now have a 20-30 go-to dinner recipes that are all super nourishing, nutritious, and REAL! Total win.
I absolutely love Mexican food, so this recipe is really one of my favorites. It does have cheese, but it's GAPS-approved cheese. However, if you're not able to digest it, it can just be omitted. This particular Mexican dish has some history – this was the traditional fare served to farmers in Mexico after they'd been working out in the fields all morning. It was designed to give them something very filling to continue their labor.
Fancy Some Cast-Iron Cookware?
You might notice my old-fashioned cast-iron skillet (where to buy). Many of us crunchy hippies have switched to only using cast iron and stainless steel as they are the only ones that are truly non-toxic and safe. Plus, it's an added bonus that they literally last forever and can be non-stick if seasoned properly. Just say no to Teflon, whatever you do!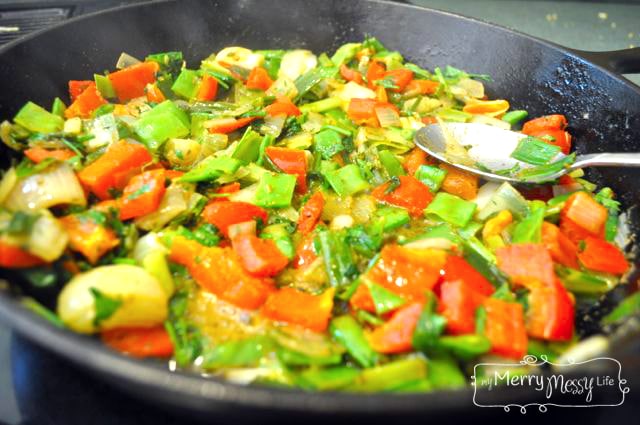 Secret Ingredient for a Burst of Flavor – Lemon Essential Oil
This recipe was absolutely bursting with flavor due to my secret ingredient – lemon essential oil. I just added 2 drops, a very tiny amount, yet it added so much body! It's much easier than squeezing 10 lemons or however much it'd take to make those drops. Here's where I buy my essential oils that are safe enough to ingest! Add chiles if you can handle the spice – we are spice wooses over here, with the exception of the hubs who could drink Tabasco sauce without flinching!

What I Love About this Recipe
It's a one-dish wonder, a term in our house my husband coined while he was a bachelor. (He came up with all kinds of one-dish wonders then!) The only dish to clean is the skillet, whoppie!!! Plus, my kids actually eat it and love it! It also cooks in about 10 minutes – so fast! And it just bursting with flavor if you use fresh cilantro and the lemon essential oil. I also love adding coconut milk to my dishes – it adds creaminess and thickness, and is so healthy! Get those good fats!
The tomatoes are optional – I've cooked it without them before and it's still delicious! And this is not pictured, but it's absolutely delicious topped with slices of avocado! You could also serve with a side of my refried beans.
Print
Mexican Huevos Rancheros – Grain-Free and GAPS Friendly!
A delicious, hearty, and filling treat for the whole family that's full of veggies and farm fresh eggs.
Author:
Prep Time:

15 mins

Cook Time:

10 mins

Total Time:

25 mins

Yield:

4

-6

1

x
Category:

Breakfast, Dinner

Cuisine:

Mexican
10

–

12

pastured eggs (I get mine from a farmer at my church!)

1

medium onion, finely chopped

1

red bell pepper, finely chopped and deseeded

2

bunches green onions or

one

leek, finely chopped

2

tomatoes, finely chopped

1 tablespoon

oregano

1/4 cup

fresh cilantro, finely chopped (dried is no where near the same as fresh)

1 tablespoon

of each of the following – cumin, coriander, oregano, and chili powder

1/2 tablespoon

paprika

1 teaspoon

Celtic Sea Salt or Himalayan Pink Salt

1 teaspoon

pepper of choice – red pepper flakes or ground black pepper

4

cloves minced garlic

1/4 cup

coconut milk or yogurt for added creaminess if desired

1/2 cup

shredded cheese – Gruyere, Cheddar, or Colby Jack

2

drops Young Living Lemon essential oil
Instructions
In a large cast iron or stainless steel skillet, saute the onion until clear and slightly browned.
Add the green onions/leeks until they get a little soft, but not too soft.
Add the tomatoes, garlic and spices and cook for just a few minutes.
Add the eggs and cook until desired consistency is reached (I like my eggs slightly runny, especially farm fresh ones!).
Top with grated cheese.
Serve right out of the skillet!