Easy Pumpkin Pie Recipe with Real Pumpkins – GAPS Legal, Grain Free
Oh wow, pumpkin pie cooking in the oven is a delight for the olfactory senses. Makes my stomach rumble and my mouth water and makes the whole house smell like the holidays! Surprisingly, it is quite easy to make a pumpkin pie from scratch using real pumpkins and your own evaporated milk. Not only that, it can be gluten-free by just not using a crust!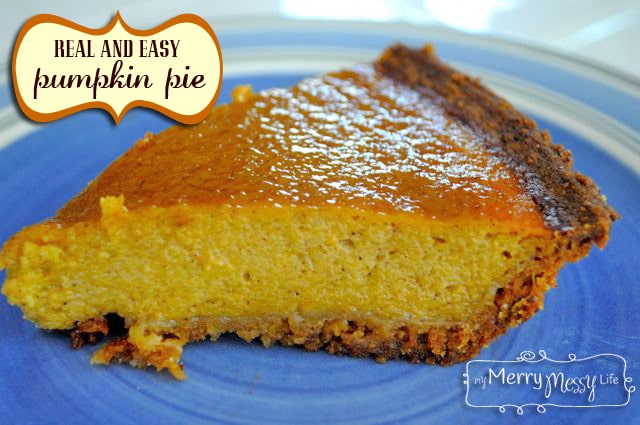 I was able to make this with the help of this very detailed and thorough article from Pick Your Own. I will not go into quite the details that they did, so if you want more, head on over there. Otherwise, stick around for my version!
How To Cook A Pumpkin
#1 – Pick your favorite PIE pumpkins from the pumpkin patch or grocery store (these are not the same as jack-o-lantern pumpkins and are sometimes found in the produce section), and you might find a little cutie along the way to bring home! You'll need 3 pie pumpkins for this recipe, which makes 2 pies.
#2 – Whack open that little sucker straight down the middle with a large serrated knife (a smooth knife will slip off)
#3 – #4 – Then, get your little cutie to help you scoop out the goo with a large ice cream scoop (he used a melon scooper and I used the ice cream scoop) like you're going to make a jack-o-lantern.
#5 – Chop it up into smaller pieces and throw it into baking dish. Bake at 400 degrees for 20 to 30 minutes or until are able to stick a fork into the meat.. I baked it until the meat was really soft, because then it's easy to scoop out with a spoon and you don't have to blend it (can I get a YAY! for less dirty dishes!). I used to cook this in the microwave, but am trying to use my microwave way less after learning about how it changes the molecules of what it cooks.
#6 – Take a spoon and scoop out the meat. A few pieces of skin did make its way into our pie, but they were so soft my tongue didn't notice it at all!
The Ingredients
Gather your ingredients: not pictured – 1/2 teaspoon vanilla extract, 3 cups of cooked pumpkin, and 2 cups of evaporated milk. Then dump all the ingredients into a bowl and beat on low with a hand mixer. Then, pour into a pie pan, I think glass is best. I did do one little cheat, here, I used a store-bought graham-cracker crust because I knew these pregnant feet could take another 30 minutes of standing to make it! Bake at 450 F for the first 15 minutes, then reduce the temperature to 350 F for 45 to 60 minutes. For me, 45 minutes was almost too much with two pies in the oven at the same time, so I would watch it carefully.

Make Your Own Evaporated Milk, or Use A Dairy-Free or Lactose-Free Alternative
Alternatives to the milk include: coconut milk and almond milk.
To make your own evaporated milk, all you need to do is boil off some of the water from your milk. So, to make 1 cup of your own evaporated milk, simmer 2 1/4 cups of milk until it becomes 1 cup. For this recipe, you'll need 2 cups, so double that to 4 1/2 cups of regular milk.
Make it gluten-free
Just pour the pie right into a greased pie dish (I used glass) with no crust. I did that for my dad, since he's gluten-intolerant, and he loved it! Another option is to make an almond or coconut flour crust.
Almond Flour Crust – Grain and Gluten Free
1 cup almond flour (I love this one from Amazon)
1 egg
2 tsp. of honey
2 tablespoons of either grass-fed butter or coconut oil
Combine all in a bowl. Grease the pie pan with coconut oil and mash the crust into the pan. It's amazingly tasty!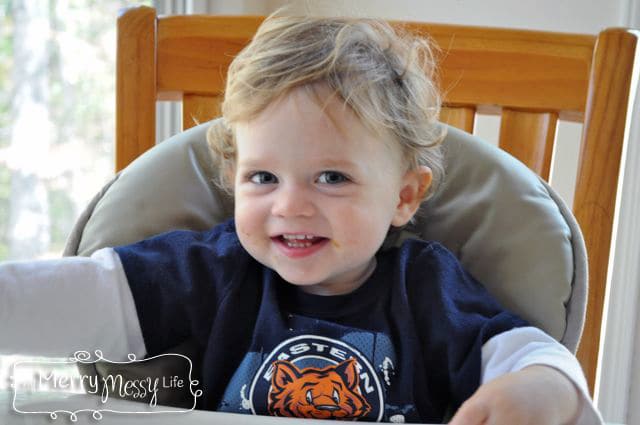 Print
Easy Pumpkin Pie Recipe with Real Pumpkins
An easy, delicious, light and fluffy real pumpkin pie with no canned ingredients! This recipe makes 2 pies.
Author:
Prep Time:

30 mins

Cook Time:

1 hour

Total Time:

1 hour 30 mins

Yield:

1

6

1

x
Category:

Dessert
1 cup

raw, organic honey (I get mine from Tropical Traditions) or raw, organic cane sugar

1

–

2

teaspoons ground cinnamon

2 teaspoons

ground allspice

1/2 teaspoon

ground ginger
OR instead of spices do 2 drops of each of the following essential oils: clove, cinnamon bark, orange and nutmeg – amazing flavor!

1/2 teaspoon

of vanilla extract

1/2 teaspoon

salt

4

large eggs or egg substitute

3 cups

cooked pumpkin meat

2 cups

of evaporated milk
Instructions
After cooking the pumpkins and scraping out the meat, dump all the ingredients into a bowl and beat on low with a mixer until very well blended.
Bake at 450 F for 15 minutes, then reduce to 350 for 45 to 60 minutes or until the edges begin to brown and a knife inserted comes out clean.