Homemade Fruit Roll-Ups – Healthy and Real
Here is one of our favorite homemade snacks- homemade fruit roll-ups! These are so simple to make and you need only a few REAL food ingredients.
Any parent scanning the snack aisle at the local grocery store has seen the HUGE array of choices. From pudding cups, chips, crackers, to fruit based snacks such as Fruit Roll-Ups. As a parent and consumer we would think that fruit-based snacks would be a much better option than most other snacks. Fruit is healthy right? Before you throw those fruit snacks into your cart read the label.
Let's take a look at Fruit Roll-Ups.
The ingredients are anything but healthy. Corn syrup, dried corn syrup, sugar and artificial dyes. Yikes! Partially hydrogenated cottonseed oil is possibly one of the most unstable fats available, leading to inflammation in the body. And the food dyes are very concerning. Many children have been found to have neurological disorders that are exacerbated by food dyes and these fruit roll-ups contain plenty. It's obviously not real fruit giving these snacks their bright, vibrant color. What is even more upsetting are the eye-catching labels on the front of the package: Naturally fruit flavored and gluten free. Lead is also natural and gluten free.
As parents, we need to educate ourselves and take back control of our kids' health. Thankfully, the real food movement is strong and it's becoming easier to create our own real food meals and snacks for our families. You can find countless recipes for homemade snacks that replace almost anything that your kids may currently enjoy.
It's Easy to Add in Extra Nutrition
Homemade fruit Roll-Ups are so easy to make and I encourage you to take this base recipe and mix it up.  Feel free to add other fruits, greens or even starchy (pre-cooked) veggies like sweet potatoes and squash.  I like to add in coconut milk to add a bit of healthy fats to these, but that is definitely optional. I've even added a spoonful of chia seeds to the mixture which creates a bit of a crunch plus extra nutrition.  These use almost the same ingredients as the chia squeeze pouches.  Below is a picture of the mixture before dehydration.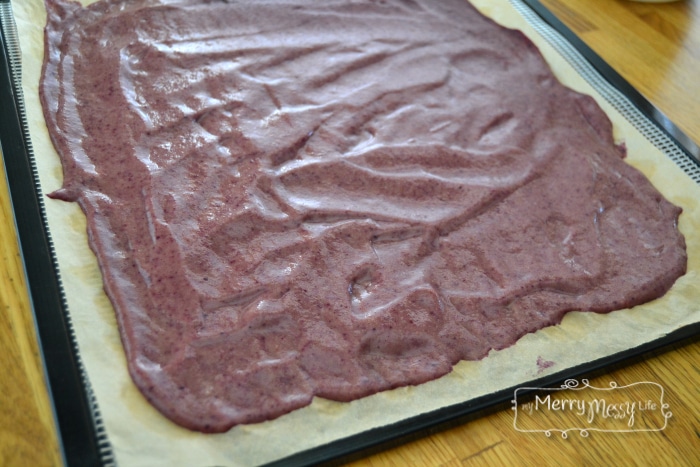 Can Use a Dehydrator or an Oven
I have made these homemade fruit roll-ups in both the dehydrator and the oven. I much prefer the dehydrator (I have this awesome beast) but it's totally doable in the oven, although it requires more care.  
I used parchment paper for these fruit roll-ups but silpats work wonderfully in both the oven and the dehydrator.  The silpats create a smoother finished product whereas the parchment paper tends to curl and warp a bit while drying which is not a big deal, but something to consider.  Here is the dehydrated fruit mixture – flexible and not breaking apart.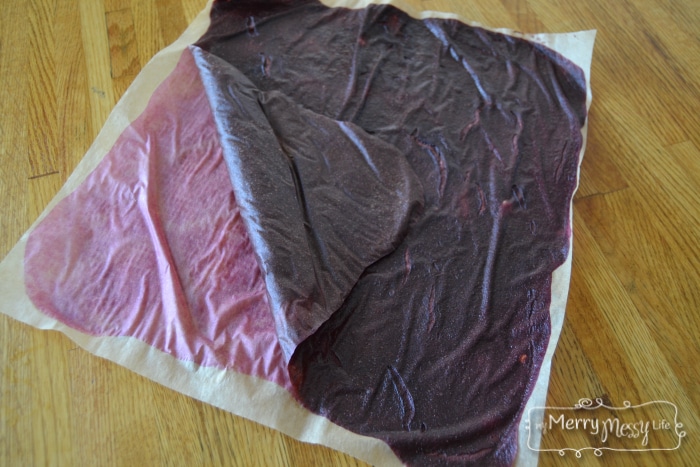 Print
Homemade Fruit Roll-Ups
Try these super simple homemade Fruit Roll-Ups. Your kids will love them!
1 cup

fruit (I used frozen/thawed organic blueberries from Costco)

¾ cup

coconut milk or about

½ cup

water or coconut water
Juice of half lemon, optional

1

T honey or maple syrup (taste your purée before adding sweetener. My son doesn't mind these being no-so-sweet)
Instructions
Blend ingredients till smooth
Pour part of the mixture onto a sheet (Place your parchment on your dehydrator sheets beforehand. This mixture filled about 3 of my sheets.)
Smooth the mixture till it's thin and even on the sheet. (Use an offset spatula to smooth or pick up the dehydrator sheet and tilt it back and forth to smooth the mixture)
Dehydrate on low(about 135F) for 4-6 hours or until mixture is totally dried through but not cracking. I like to rotate the sheets 90 degrees a couple of times.
If baking in the oven, 175F for 2-3 is ideal. If your oven doesn't go that low you can stick a wooden spoon in the door to prop it open and release some heat. Keep an eye on them so they don't get too dried out.
Once dehydrate and cooled, cut the sheets into strips and roll them up. If you're using the parchment paper you can cut the paper and fruit at the same time. If you've used a silpat then you can just roll up the fruit sans paper. I haven't found the paper necessary to keep them from sticking, although my son does get a kick out of unrolling the paper.
Notes
I keep these in my pantry in an air-tight container and they should last a few weeks or more…although my son doesn't' allow that to happen.
It's fun to get your kids involved in making these simple snacks! I'm sure they will be just as excited to eat these REAL food homemade fruit roll-ups as they are about the FAKE food rolls-ups found in the grocery store.  Let me know what you and your kids think about these!