White Bean Protein Dip – Protein-Packed and Vegan Friendly
If you're a hummus lover like me, you'll love this simple recipe for white bean dip.  It couldn't be simpler to make!  Which is good news considering how fast your family will devour this.

Eat those Veggies!
I enjoy vegetables as much as the next person but having a creamy, delicious dip to accompany them really helps increase veggie intake.  I have found that if I have a dip like hummus, ranch, or this bean dip available along with raw veggies, my family will devour them.  I like to have a vegetable or two as a side with our dinner.  This helps us fill up on something that's not only nutritious but inexpensive.  The more veggies we eat, the less of the more expensive cuts of meat we'll need to feel full.
This dip is similar to hummus with a slightly lighter taste and texture.  Traditional hummus uses garbanzo beans (chickpeas) whereas this dip uses Great Northern Beans, which I find to be a bit creamier than garbanzo beans.  Don't have Great Northern Beans?  Feel free to substitute any other white bean of choice.  If you're feeling extra ambitious (and it's more nutritious), soak and cook your own dried beans and you'll make this inexpensive dip even cheaper.  The roasted red peppers give it a slightly sweet taste and pretty orange color. This is a very versatile recipe so feel free to play with different flavor combinations and adjust the ingredients to your taste!
Protein and Omegas
This bean dip is a great source of protein due to not only the beans themselves, but the tahini (ground sesame seeds) and hemp hearts that I added.  Hemp hearts are an amazing little super-food.  Hemp hearts are what's left after shelling the hemp seed.  The end result is a tender and slightly nutty tasting seed that is easily added to many dishes.  I love adding a scoop of hemp hearts to my smoothies and any dips and soups I make.  They would be a great addition to my broccoli cheese soup or sprinkled on yogurt.  Hemp hearts are also a good source of heart healthy omega fats.  I buy the one pound bags and keep it in my fridge to keep them fresh.  Give them a try, I bet you won't be disappointed!  However, don't let hemp hearts hold you back from making this recipe.  You can omit them if you don't have any on hand.
I hope you and your family enjoys this white bean protein dip as much as I do.  Let me know if you try it!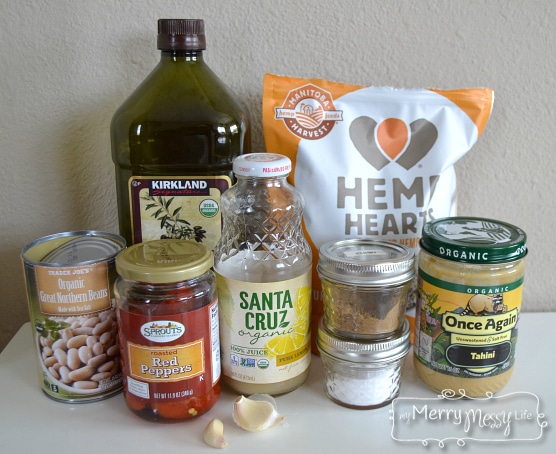 Print
White Bean Protein Dip – Vegan Friendly
This simple, protein packed bean dip is a cinch to whip up and perfect for those hot summer days.
1

can Great Northern Beans (or white bean of choice) drained & rinsed

1/4 cup

Extra Virgin Olive Oil

1

–

2

slices of roasted red peppers

1/4 cup

hemp hearts plus 1 T for garnish

2

–

3

tbsp tahini

2 tsp

salt

1/4 tsp

pepper

1/2 tsp

cumin

1/4 cup

lemon juice

1

–

2

cloves garlic
Instructions
Dump everything into a blender or food processor and blend until smooth (or chunky if that's your jam). You may have to scrape down the sides and add another splash of oil or water to help it blend.
Store in an airtight container in the fridge for up to 2 weeks. Garnish with extra hemp hearts before serving. This works wonderfully as a veggie or cracker dip but is also delicious as a sandwich spread.