Real Food Jello Recipe – Healthy
Here is a real food jello recipe that's a healthy alternative to store-bought jello mixes! It's so easy to make you wonder why you bought the mix to begin with! It's also kid-friendly and can even support your gut and immune system if you use high-quality gelatin.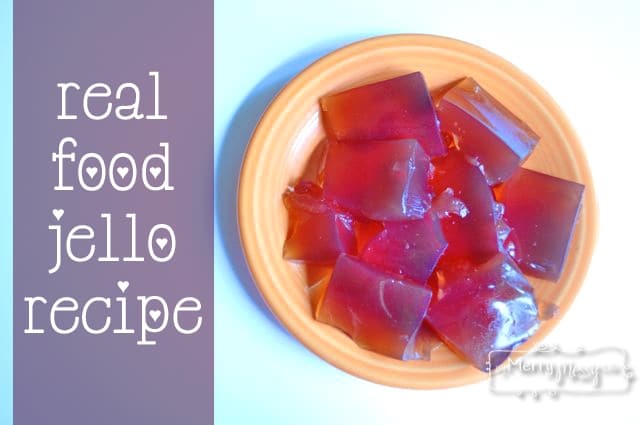 Health Benefits of Gelatin
Did you know that jello can be a healthy food that benefits the digestive system and hair and nail growth, tighten and firm the skin, AND help heal leaky gut syndrome?
Can Help with Leaky Gut Syndrome
Yes, gelatin coats the lining of the intestines and can help soothe the intestinal lining. This helps with leaky gut syndrome, which is when holes form in the intestinal lining and particles of food leak out of the intestines and into the bloodstream. The body sees the food particles as threats and starts to attack them! This is the root cause of a multitude of autoimmune diseases.
Poor diets high in processed foods and sugar, toxic chemicals (found in cleaning, laundry, and beauty products, just to name a few), and stress contribute to damaging the intestinal lining. By removing chemicals from your home (read more on how to do that here) and eating a healthier, real food diet, you can heal your gut. Real food gelatin is a wonderful supplement that can help speed up the process!
It Must Be Bovine or Fish Gelatin Sourced from Healthy Animals
To ensure that it truly is healthy, it's important to use high-quality bovine gelatin made from grass-fed cows like this one or fish gelatin and use homemade fruit juice or store-bought ones with no sugar added and not made from concentrate.
I don't often make it from fresh fruit, though I'd like to once I get around to buying a good juicer. But I do, however, love to buy organic apple and grape juices from my local grocery store. They are not made from concentrate (be aware – juices made from concentrate DO have sugar added, but they don't have to report it – read more here).
My Kids Love Homemade Real Food Jello!
This is a treat my kids ask me to make them about once a week or so – they love it! And I don't feel guilty as it is free of dyes, added sugar, and high fructose corn syrup. It has seriously helped to grow my nails, which before now, have been dry, brittle, and breaking off. They are much stronger when I eat this jello or put the gelatin in my herbal tea at night or in my superfood smoothies.
It's Easy – Don't Need the Stove
The trick to making it dissolve quickly and not having to use the stove is to pour the gelatin into a bowl and cover it with warm water. Stir and let it sit for about 2-3 minutes or until it thickens and becomes like a syrup.
Use Lemon Essential Oil for Extra Flavor & Immune Support
Brighten the Flavor
Most jello recipes call for a 1/4 cup or so of citrus juices for added flavor. It really brightens the flavor of the sweet juice, but if you use lemon and orange essential oils (or lime, grapefruit, or Citrus Fresh), it makes it incredibly easy, and just 1-2 drops of each are all you need!
Lemon and orange are both very high in antioxidants, with lemon having 68% d-Limonene, which is one of the strongest antioxidants! Antioxidants help to combat free radicals, which we come into contact with on a daily basis from processed foods, household cleaners, candles, air fresheners, paint, carpet, and more. In other words, we need to use things daily that help combat free radicals, and essential oils do exactly that.
Immune Support
Essential oils are safe to use internally if you buy from a company that clearly states that on the bottle. Young Living is one of those companies, and they are where I purchase all of my essential oils (get started here). Adding some citrus essential oils to the jello will help with overall body function. I like to make this jello when my children are coming down with something to help support their recovery!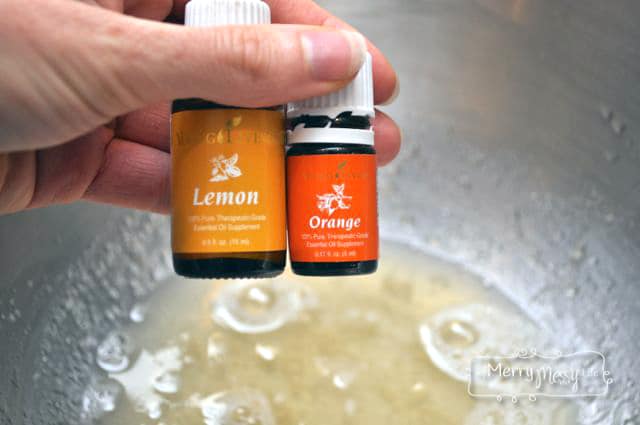 Print
Real Food Jello Recipe – Healthy & Sugar-Free
Real food jello is much healthier than the store-bought version and it's SUPER easy to make with just four ingredients, one of which is water!
Author:
Prep Time:

2 mins

Cook Time:

5 mins

Total Time:

7 mins

Yield:

4

-6

1

x
Category:

Dessert or snack

Cuisine:

American
1 3/4 cups

freshly juiced fruit juice or 100% organic juice not from concentrate, warmed (grape, apple, blueberry, orange, pineapple, and grape-apple all work well)

¼ cup

hot (almost boiling) water

1 tablespoon

of Kosher pasture-raised Gelatin Powder (buy here)
Instructions
In a medium bowl, pour in the tablespoon of gelatin powder.
Add just enough warm juice (but not all of it) to cover the gelatin and stir well. Let sit for 2-3 minutes or until it forms a thick syrup.
Next, add the 1/4 cup of boiling water (I use an electric tea kettle) and stir well.
Once the gelatin has fully dissolved, add the rest of the juice and drops of essential oil and stir well.
Pour into a pan lined with parchment paper and let it cool in the refrigerator for 2 hours, or until the top is firm.
Slice and serve!
Notes
To add in even more nutrition and also probiotics, replace half or all of the juice with my grape juice kefir. Get that recipe here on my blog.
For all my real food recipes, click here!
Use Grape Juice Kefir for Even More Nutrition!
To add in even more nutrition and also probiotics, replace half or all of the juice with my grape juice kefir. Get that recipe here on my blog.