Berry Smoothie Recipe – Delicious and Healthy
My kids and I LOVE to drink smoothies when they get home from school in the afternoons. They love the taste and I love knowing they are fueling their bodies with so much nutrition and protein. Here's our favorite, my superfood berry smoothie recipe!
Kid (and mom) Approved
My kids LOVE this berry smoothie recipe! And I do, too. I've used it as a meal replacement for lunch or dinner to help me reduce calories and make sure all of us are getting the nutrition we need each day. The kids are much more likely to drink a smoothie than they are to finish their vegetables and this one is seriously loaded with healthy ingredients AND still tastes delish.
Organic Frozen Berries
Loaded with antioxidants
May help improve blood sugar and insulin response
High in fiber
High in Vitamins – especially Vitamin C, Vitamin K, Folate, Copper, Manganese
May help lower cholesterol
Good for your skin (contains an antioxidant ellagic acid that helps with wrinkles and sagging skin!)
May help protect against cancer
May help to keep your arteries healthy
(Source)
Spinach and Other Leafy Greens
Helps with diabetes management
Helps to prevent cancer (because it's high in chlorophyll)
Helps lower the risk for developing asthma (because it's high in beta-carotene)
Helps lower blood pressure (due to it's high potassium content)
Helps promote bone health (because it's hgh in Vitamin K)
Helps with digestive regularity (because it's high in fiber)
Helps with skin and hair (because of vitamins A and C)
(Source)
Vital Proteins Collagen
Bioavailable: Digested and absorbed by the body quickly for maximum benefits.
Improves hair, skin, nails, joints and ligaments, and tendon health.
It also comes in a vegan variety from marine bones instead of bovine.
Garden of Life Raw Organic Meal Replacement Powder
This can be used by itself in a glass of milk or water, but I love to add it to the smoothie recipe to give my kids a big burst of protein so they feel full until dinnertime! Some protein powders have a bizarre flavor, but not this one. I've finally found one I actually like and I can use it just for myself to reduce my caloric intake and manage my calories better. I like to use a shaker bottle like this one for doing that and it makes the EASIEST meal in the world for this busy mom!
My Berry Smoothie Recipe contains:
20 grams of clean protein per scoop from 13 raw sprouted ingredients along with greens
Healthy fat
7g of Organic Fiber
Probiotics
Digestive Enzymes
21 vitamins and minerals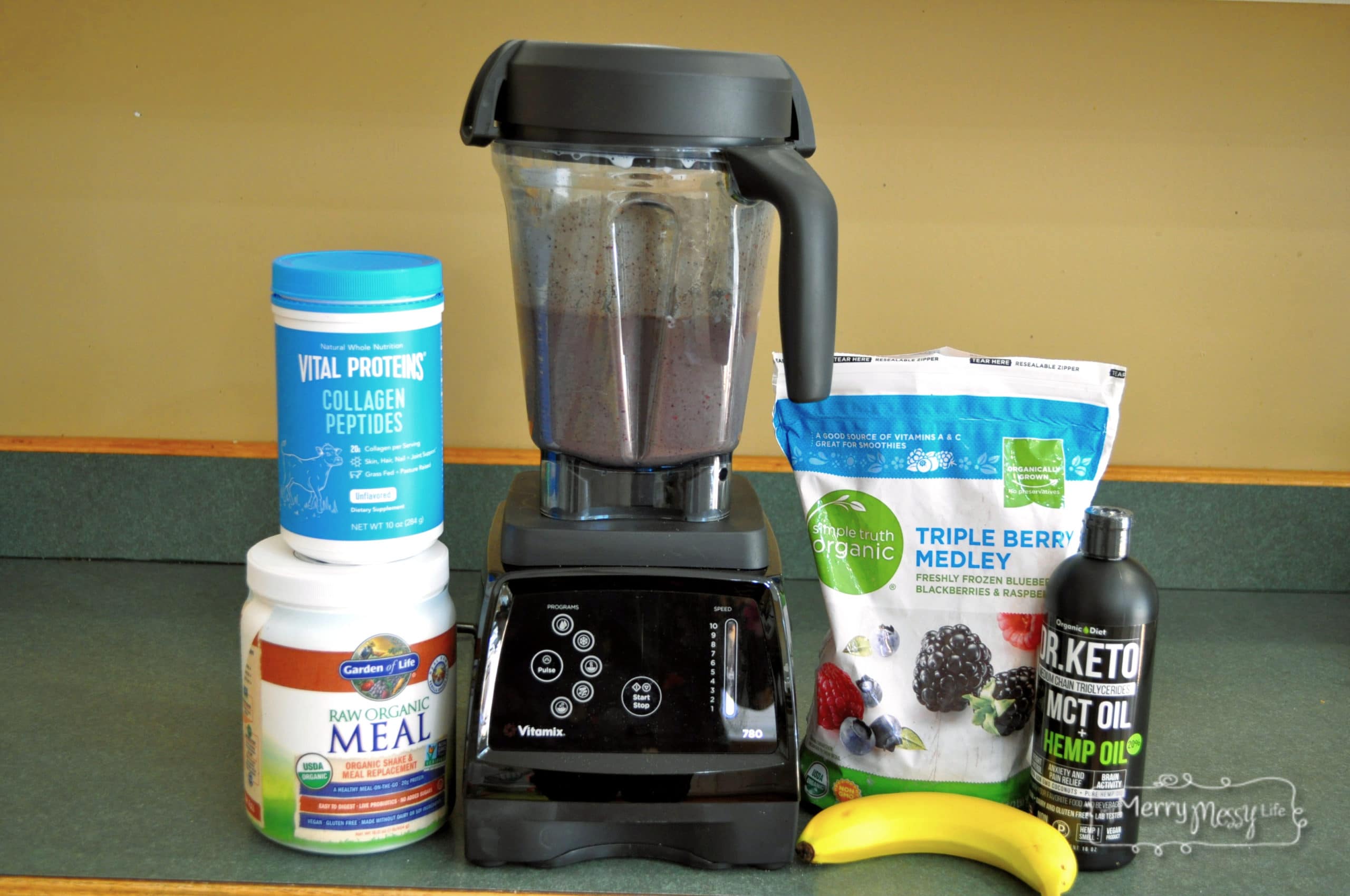 Print
Berry Smoothie Recipe – Delicious and Healthy
1 cup

frozen organic berries (this is what makes it cold. If you don't have frozen berries, add some ice cubes).

1

–

2

handfuls of spinach or other greens (

1

is probably best for kids as

2

handfuls tastes more bitter)

1

banana

8 oz

. almond milk

2

scoops Vital Proteins Collagen

1

scoop Garden of Life Raw Organic Meal
Instructions
Place all ingredients in a high quality blender and blend until smooth. My favorite blender is a Vitamix! It is SO powerful and grinds up all of the spinach well so it really becomes a drink. Definitely on the pricier side, but I used to have a cheap Ninja blender and it doesn't hold a candle to the Vitamix. Makes 4-5 cups.
Enjoy the Berry Smoothie Recipe!