Easy Roasted Homemade Applesauce
A recipe for the the most delicious applesauce using only one dish!  No mess and your family will adore this real food recipe.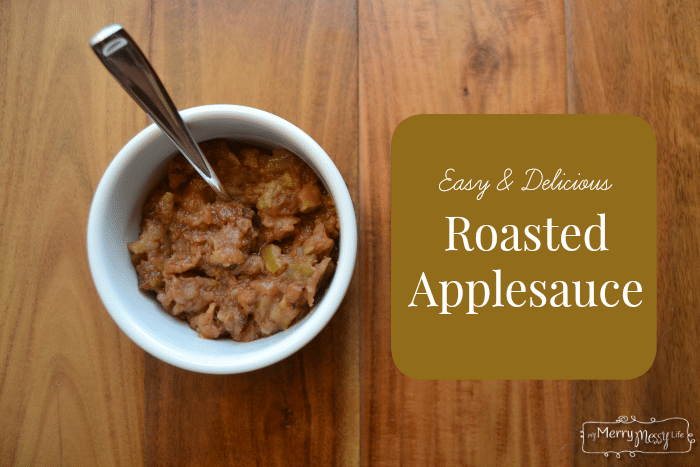 Smell that?  That delicious, cinnamon, pumpkin patch, chunky sweaters and fresh leaves smell?  That's the smell of fall y'all!  My absolute favorite season of the year.  As we dive into winter head first, I'm doing all that I can to hold on to the coziness of the fall season.  For me, that means hearty, warm foods.  One of the first foods that comes to mind when I want to be transported back to Fall is applesauce.  Homemade applesauce, delicious any time of the year, is one of those things that is so simple and inexpensive to make.  And it's not just for the kiddos, although they will absolutely adore this recipe.  Today, I'm sharing a really easy and quick applesauce recipe that uses the oven to do all the work.  And clean up is a snap since we only use one dish.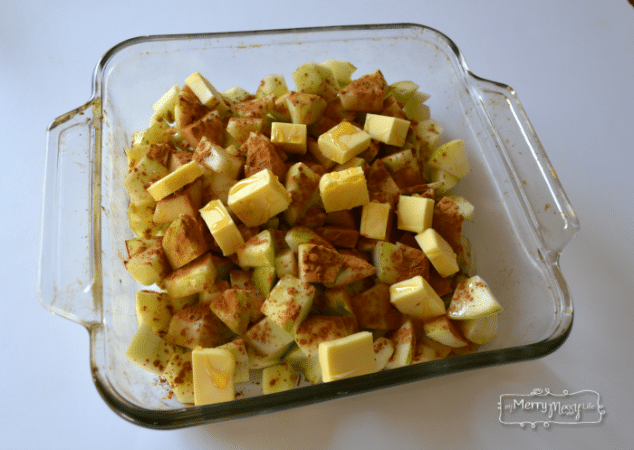 Print
Easy Roasted Applesauce
This super simple recipe for roasted applesauce tastes delicious and is a snap to whip together. Get your kids involved with the simple prep. Yummy!
Approx. 4 cups apples, cored and chopped into 1/2″ cubes

1.5 tbsp

grass fed butter (use ghee or coconut oil if avoiding dairy)

2 tsp

cinnamon (optional) or

2

drops of Young Living Cinnamon Essential Oil (where to buy)

1

–

2

tbsp raw honey
Instructions
Place chopped apples into an oven safe baking dish. I used a 9×9 Pyrex for this amount of apples.
Disburse the butter over the apples.
Sprinkle on as much cinnamon as you like. I really like cinnamon.
Drizzle on the honey.
Bake at 350 for 30 minutes.
Mash up the apples with a fork.
Continue baking for another 30 minutes or longer if apples are not soft enough.
Remove from oven and mash again with a fork or for a smoother consistency, blend.
Notes
Store in the fridge for up to a week.
Best served warm, allowing the buttery goodness to work it's magic.
A few notes on getting that perfect applesauce.
I prefer to use Granny Smith apples for this recipe.  They are firm and hold up well to baking.  In a pinch, any apple will do.  You may have to adjust the cooking times slightly so the applesauce doesn't become too mushy.
Peel the apples – mostly.  In an effort to make this recipe super fast, I did leave some of the peels on the apples.  Totally ok.
Use a lot of apples.  I started with about four cups of chopped apples and ended up with about two cups of applesauce.  Get the whole family involved with the prep and make a big batch!
I use the term "recipe" pretty loosely.  Add more or less of something.  Try it with pumpkin pie spice.  Use maple syrup instead of honey.  I'm sure it will still be delicious.
Please let me know how you like this recipe and if you have any favorite seasonal dishes of your own.  Enjoy!