Homemade Face Powder Foundation – All Natural
If I had known how easy it is to make your own homemade face powder foundation, I'd have done it a long time ago! It's also the cheapest and most natural thing you could put on your face – just cornstarch or arrowroot powder and spices. Yup, that's it!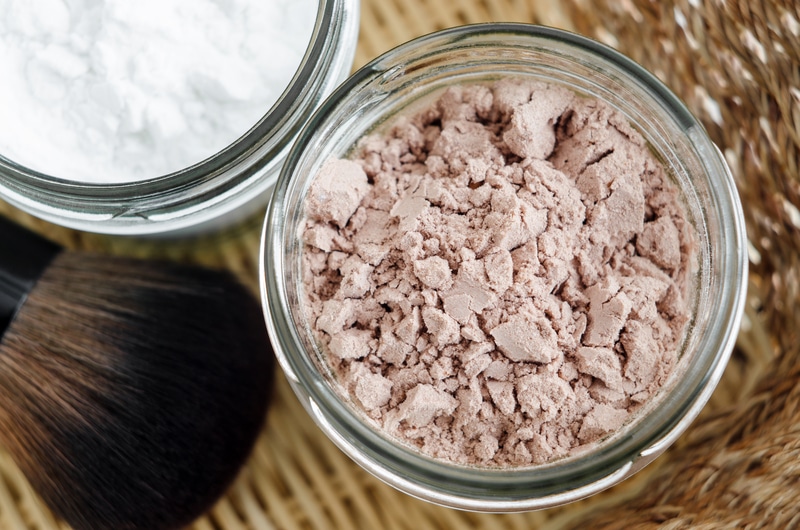 Does It Sound Funny to Put Cornstarch On Your Face? (LOL)
If you're already into making your own cosmetic and cleaning products like I am, this probably sounds like something fun you'd like to try. But, if you're new to the whole non-toxic way of life, you might be thinking, "why in the heck would I put cornstarch on my face?" I'm choosing to because commercial cosmetics are known for being full of chemicals I'd rather not be putting on the largest organ of my body – my skin. Many of those chemicals are toxic, even carcinogenic. So, one time exposure may not be a big deal, but everyday for your entire adult life? A big deal.
Natural Cosmetics are Expensive – this is an Affordable Alternative!
I do love to buy natural cosmetics, but they are expensive. I've had my eye on Coastal Classics makeup for awhile, but have yet to buy it because one container of foundation costs $29. That's not expensive compared to other big name brands, like MAC or Bare Minerals, but I have always had a hard time paying a lot for makeup. And guess what the number one ingredient in their face foundation is? Yup, cornstarch. So, let's make our own!
The performance and coverage is a little bit different than the loose mineral powder I've been using, but not a whole lot different. I am happy with the results.
Cornstarch or Arrowroot Powder?
Now, cornstarch and arrowroot powder are very similar in texture and consistency, so you can use either one. I tried both of them and found that the cornstarch was thicker and sticker and stuck to all the little hairs on my face. Arrowroot blended in better with my skin, so I like it more for this powder.
Tinting the Powder
To tint your powder, you can use anything from cinnamon to nutmeg to cocoa powder. Start with a little and keep adding more until it is a similar tone for your skin. I have very fair skin, like Snow White but with red hair and no evil stepmother, so my recipe is a good starting point for most people. Unless you're as fair as me, you'll need more tint. I only used cinnamon because my skin has a pink undertone and cinnamon has a nice reddish tint. If you're more brown-toned, I'd use cocoa powder.
Want to Have Sunscreen In It?
I thought about adding non-nano zinc oxide to the powder to make it a sunscreen, but decided against it because there is a lot of concern of it being dangerous if inhaled. I would instead add some zinc oxide to your face lotion or oil (I do the oil cleansing method, so I'd add it to some oil). I buy my non-nano zinc oxide from Amazon (see it here).
Add Oils, Essential Oils and/or Glycerin
One thing I did find annoying about this powder is that it sticks to my eyelashes if I brush it on my eyelids. I was able to make it better by adding drops of my favorite essential oils to it and even some almond oil. UPDATE – I added some vegetable glycerine (where to buy) and now it's not bothering my eyes any more! Adding even more oil that I have in the recipe can make a pressed powder if you prefer that to loose powder.
Here are some essential oils that are good for skin (source – love this book! Neal Yard's Remedies – Essential Oils.). I've been using essential oils exclusively from Young Living since 2014 and haven't looked back! They are the best in the business, and believe me, I've used every oil out there. Learn more about getting oils from Young Living here.
Essential Oils for Oily, Acne-Prone Skin:
Cedarwood
Chamomile
Lemon
Tea Tree
Lavender
Patchouli
Palmarosa
Rosemary
Geranium
Essential Oils Good For Aging Skin, Fine Lines and Wrinkles:
Frankincense
Neroli
Lemon
Myrrh
Patchouli
Palmarosa (very hydrating)
Click here to buy high quality essential oils!
Print
Homemade Face Powder Foundation – All Natural
A simple recipe for making loose face powder foundation.
Instructions
Mix all ingredients in a bowl and stir until well combined.
Add more tint (cinnamon, nutmeg or cocoa powder) until you reach your desired color.
For more on natural skin care and cosmetics, check out my posts on The Oil Cleansing Method, Homemade Organic Lotion, Baking Soda Shampoo and Apple Cider Vinegar Conditioner, Homemade Natural Perfume and more!
Reader Tip from Chelle – Use a Coffee Grinder
Chelle writes,
I use a coffee grinder that is exclusive to mineral makeup-ing. It really blends everything together nicely when you pulse it a bit. They're pretty cheap (i actually bought a new one from amazon for like $10 {here is one that is $10}).

I use colored oxides and zinc with the arrowroot (as my main base powder), as my skin is very sensitive to cinnamon and cocoa powder wasn't really looking right (I'm wicked pale too). I add in a few drops of chamomile essential oil and a teensy bit of jojoba to help with adhesion (staying on my skin).

I haven't bought traditional make up in years! So love that people are getting the word out about diy makeup (in my opinion it also helps heal breakouts faster).

SaveSaveSaveSaveSaveSaveSaveSave