Vanilla Natural Poo Pourri Toilet Spray Recipe to Trap Odors
Freshen up your bathroom before going poo with this DIY natural poo pourri toilet spray! It contains glycerin and essential oils which form a liquid barrier over the water that reduce poo odors and make your whole bathroom smell lovely.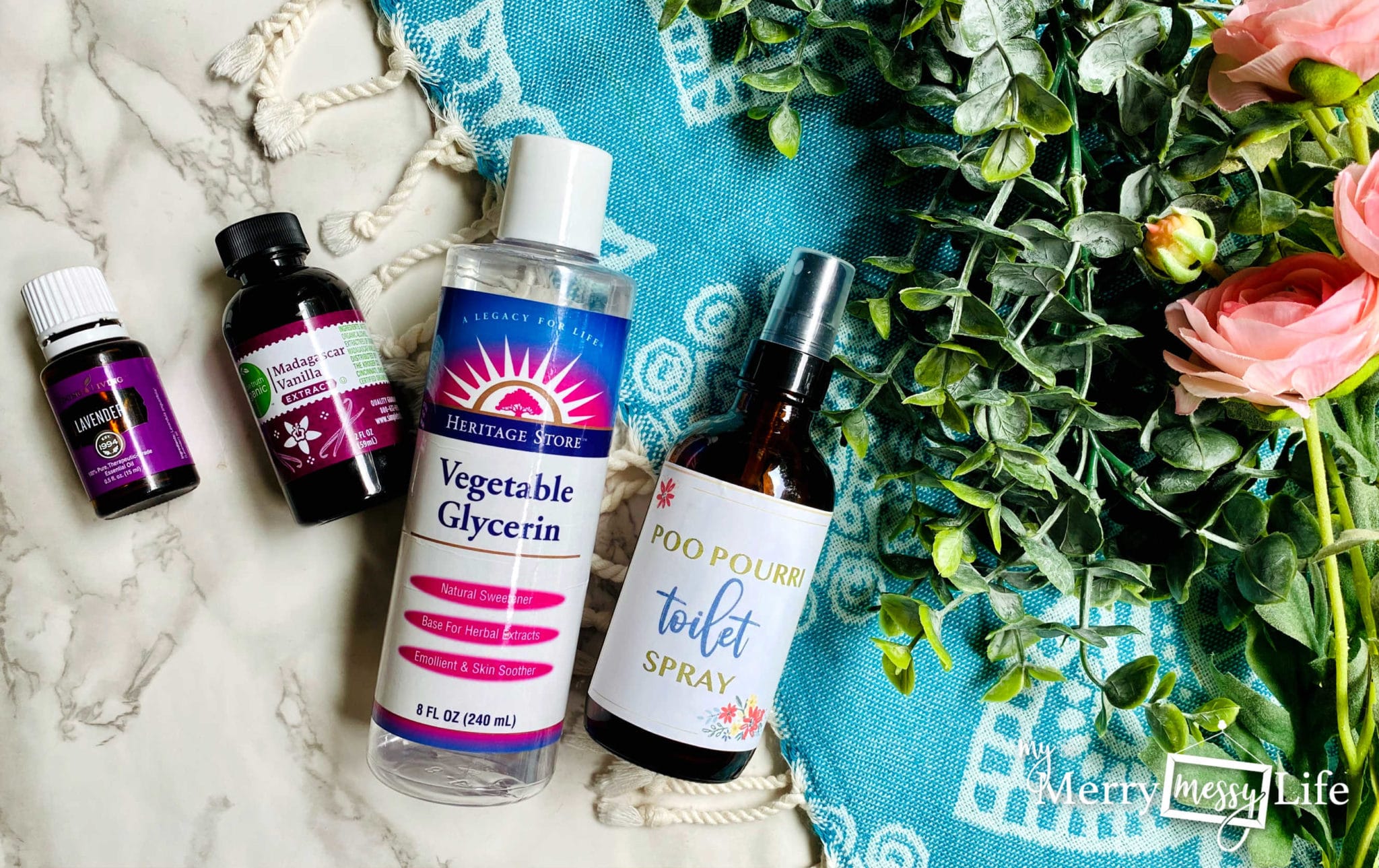 Why Make Your Own?
It's Much Cheaper
I have bought a natural poo pourri toilet spray in the stores before and it was nearly $10 for a small, 2 oz. bottle. You can make it yourself for WAY cheaper and be able to make enough bottles for every bathroom in your house!
Artificial Fragrances are Toxic
Many of the store-bought poo pourri sprays contain artificial fragrances. I love to make my home smell amazing, but when I used to use scented candles, plug-ins, and air fresheners, I found they would always give me a headache, make me feel confused, and even made my nose burn! I started to research why they'd affect me like that as I got into more natural living and found that these fragrance-filled products are very toxic to our health.
Why? It's because they disperse particles of formaldehyde and phthalates (thy-lates) into the air. Phthalates are small particles of plastic that are used to bind the artificial fragrance molecules together. We then breathe in those tiny particles of plastic and they get into our nose and lungs – yikes!
Artificial Fragrance is a class of 3,000 different Chemicals
The term "artificial fragrance" stands for more than 3,000 chemicals and companies do not have to disclose which chemicals are included. So there's no way of knowing if the chemicals in the product are safe for our health or not. I don't know about you, but I'd rather be safe than sorry and now that I use essential oils, it's SO easy to put a few drops in my diffuser or a natural poo pourri toilet spray like we're doing today to make my home smell like an island beach, summer sunshine or a delicious summery drink without a headache!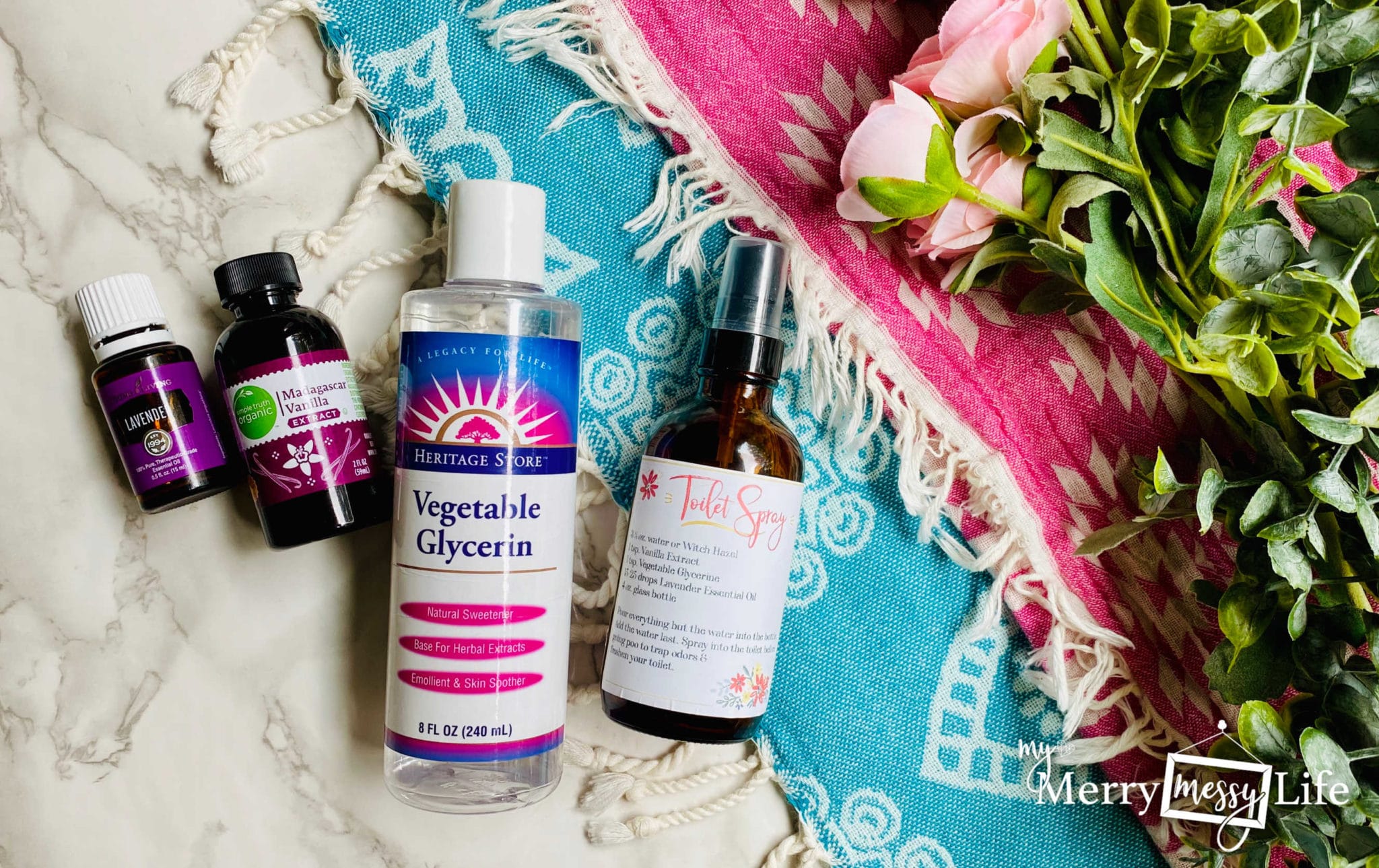 Print
DIY Vanilla Natural Poo Pourri Toilet Spray
Eliminate the poo odor from your bathroom with this easy vanilla natural poo pourri toilet spray! It's easy to make and will freshen up your whole bathroom. It also includes lavender essential oil for a lovely aromatherapy experience.
Instructions
Put the vanilla extract, lavender, and glycerine into the bottle first. Fill the rest with water or witch hazel. Done! Spray directly into the toilet bowl before going poo to form a liquid barrier on the water that helps to trap odor.
Notes
Witch Hazel – when it comes to using witch hazel on the skin, normally I would recommend to get an alcohol-free one. But in this case, one that contains alcohol would actually be helpful for killing odors and keeping the toilet bowl cleaner.
I put 15-25 drops of essential oils because it depends on the brand you use and your own personal preferences. Some people are going to want a stronger scent, and for some, 25 drops will be way too strong. I suggest starting with 15 drops and use the spray to see what you like first, then add more if desired.
Other Natural Bathroom Recipes You Gotta Try!
I have tons of posts here on the blog to keep your toilet and bathroom clean without toxins. Check it out:
Never Have to Look Up the Recipe Again!
You'll never have to look up the recipe again for this natural poo pourri toilet spray if you have a printable recipe label for your bottle. I sell these in my Etsy store (click here to see them) and you can print copies over and over again.