DIY Whipped Tallow Balm – for Smooth Skin
A recipe for an all-natural, super soothing and creamy homemade tallow balm so you can have buttery, smooth skin!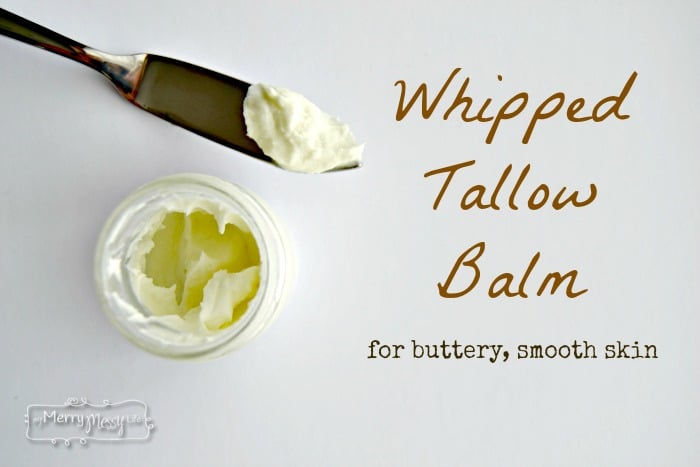 Season change can be signified by several things.  Falling leaves, cooler temperatures, pumpkin spice everything and dry skin.  Inevitably my skin lets me know that winter is on it's way.  I have never been big on lotions but as I've gotten older I've found that my skin really does need that extra oomph, especially during the winter months.  Since switching to a more natural line up of skin care, I've also found that my skin does well with oils.  I used to be afraid that oils would cause be to breakout but I haven't found that to be the case.  Natural oils have softened and soothed my skin, making it appear more youthful and less I haven't gotten a full nights sleep in two years.  Win!  Today, I'm sharing a simple recipe for an intense healing balm that will help give your skin a youthful glow.
The star ingredient is tallow.  Tallow is the rendered fat from beef.  Tallow is a wonderful fat to cook with and is great in skin care products such as my tallow lotion.  This article goes over the numerous benefits of tallow (for both skin and consuming).  Basically, the same health benefits that you receive internally from eating pasture raised tallow is translated externally to your skin.  Tallow can be rendered in the same way that lard is rendered, subbing pork fat with beef fat.  You can see my tutorial here.  If you'd rather purchase your tallow, I highly recommend this brand.  And of course quality matters.  Let's get started!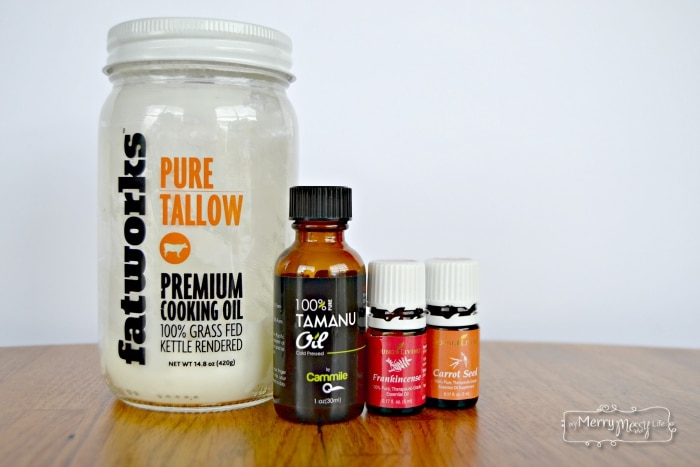 DIY Whipped Tallow Balm Recipe
Ingredients
About 1 tablespoon of tallow
About 1/8th teaspoon of tamanu oil (read more about tamanu here)
5 drops of Frankincense oil (helps to smooth the skin) (where to get the highest quality Frankincense)
3 drops of Carrot Seed oil (where to get the highest quality Carrot Seed Oil)
Optional (for aging and mature skin):  5 drops Lavender essential oil + 2 drops Lemon essential oil
First, whip the tallow.  Sounds difficult, but is pretty simple.  I find that vigorously stirring it with a fork does the trick.  You want to soften the tallow and add air.  If you were to make a larger batch of this you could whip the tallow with a hand or stand mixer.  Add the remaining oils and stir well.  Add mixture to a small glass jar and keep stored in a cool dark place.
I like to apply this sparingly to the under eye area and any other areas of the skin that need some extra attention.  The essentials oil also make this a super useful product to use on skin for any reason when it needs extra support and adds wonderful fragrance without nasty chemicals!.  I love multi-use products!
Please let me know if you give this a try!