Anti-Inflammatory Iced Turmeric Ginger Latte
This has become one of my favorite creamy drinks that is also full of healing, and anti-inflammatory properties. Hope you enjoy this real and delicious recipe!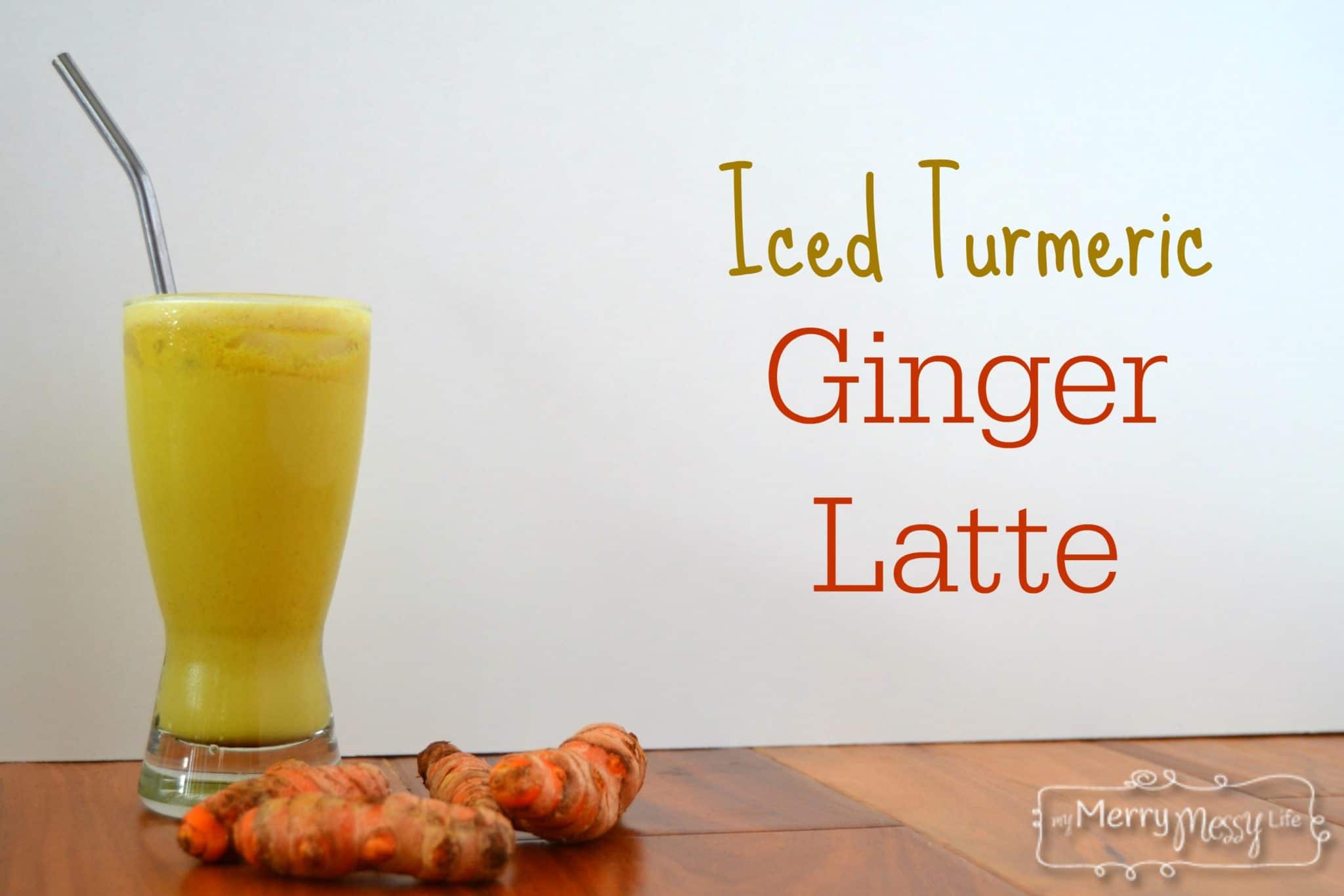 I live in Texas and although the stores are gearing up for fall with jeans, scarves, button down shirts, it's still over 90 degrees here on the reg and and it will continue to be hot well through September.  When everyone else is sipping piping hot pumpkin spice whatever, I'll still be drinking iced tea and eating popsicles! However, lately I've been on an iced latte kick.  First off, it sounds fancy.  "Iced latte…," right? And secondly, it's actually a delicious and decadent treat. I kicked my caffeine habit several years ago so if I'm sipping a latte it's decaf and decaf coffee gets boring after a while.  And decaf is still coffee which is likely not the best thing to consume all the time (it's a diuretic so you can dehydrate yourself, which I'd like to avoid in this hell fire heat).  
Lemme Tell Ya 'Bout It
Enter, the iced turmeric ginger latte – creamy, sweet with a unique spice blend.  This has become my drink of the summer!  Seriously, cannot stop drinking them!  They have been my afternoon treat, my reward for making it through another day stuck inside with a toddler, a few minutes of escape.  All without having to feel guilty about spending too much money or ingesting something a that isn't great for my health.  This latte is chock full of healing ingredients, healthy fats and zero junky ingredients.  That is the beauty of making things at home.  You get to control what goes into your foods and into your body!
What's So Great About Turmeric?
As of late, turmeric has been a bit of a buzz word in the health and wellness community and it's most known for it's anti inflammatory properties. It is the root of a flowering plant and in the ginger family.  You've likely seen it in the spice aisle or even used it for cooking yourself.  Traditionally, turmeric is dried and ground into powder which is used in ethnic cooking such as Indian curries (yum!).  Turmeric is bright, beautiful orange, but also be aware that it can stain everything!  If you've got a special cutting board you may want to use a different one to prepare fresh turmeric.  I happen to like stains on my cutting board and kitchen utensils…reminds me of amazing meals of times past (smile). Turmeric powder can be used for this recipe (halve the amount of fresh) but I highly suggest using fresh turmeric.  It blends well and doesn't sink to the bottom of your drink.  
Goodbye Inflammation
Turmeric contains curcumin as an active ingredient.  Curcumin is responsible for the anti inflammatory properties of this delicious root.  It can help relieve pain, swelling and inflammation in the body.  Getting more turmeric in your diet is a great idea!  Use it to spice up stews, curries and other savory dishes.  You can also purchase curcumin capsules which are actually part of my regular supplement routine.  And of course, my favorite way of all is to use fresh turmeric root to make this delicious latte.  Ginger is also a wonderful immunity booster and has anti inflammatory properties as well.  This is a one-two punch (in a good way) to heal and soothe your body.  
Where to get it?
Turmeric can be found at most local grocery stores.  Unlike ginger, turmeric root is usually in the refrigerated section.  I usually spot it near the pepper/mushroom/salad section.  I've seen it loose in bins like ginger and packaged in containers. It can be a bit on the pricey side but a little goes a long way.  Don't forget your fresh ginger while you're shopping!
The recipe couldn't be simpler!
Print
Healing Iced Turmeric Ginger Latte
Author:
Yield:

1.5 cups

1

x
Category:

Beverage
1 cup

of milk (I like to use my homemade cashew milk, half & half, coconut milk or a blend of whatever milks I have on hand. If I'm feeling extra decadent I'll add a splash of organic heavy cream)
About

1

inch of grated turmeric root (I peel as best I can and grate with a microplane)
About

1

inch of grated ginger root (I love to peel my ginger and store in the freezer and grate from frozen. It melts right into any dish or drink)

¼ tsp

ground cardamom (optional but gives it a great flavor)

¼ tsp

-1 tsp of ground cinnamon
Pinch of salt
Sweetener of choice (Stevia or maple syrup are great options)
About

¾ cup

water (you can omit for a smaller but creamier portion)
Ice cubes
Instructions
Option 1 (using heat)
Gently simmer the grated turmeric, ginger and water in a saucepan over low heat for 8-10 minutes. This will help the turmeric and ginger release their juices and infuse the water.
Pour mixture and remaining ingredients (minus ice cubes) into a blender and blend on high for 1 minute.
Strain mixture through a fine mesh sieve and pour over ice.
Adjust sweetener to taste.
Option 2 (no heat)
Add milk of choice to a glass jar.
Add all other ingredients except ice.
Shake the jar vigorously and set in fridge.
Let the mixture infuse in the fridge for at least 4 hours but overnight is best.
Shake it a few times during this waiting period.
Strain mixture through a fine mesh sieve and pour over ice.
Adjust sweetener to taste.
Enjoy!
As you can see, this gives you a creamy, luscious, unique and super pretty drink!  Feel free to adjust to your taste.  Some days I like to add a LOT of turmeric, which makes this drink even brighter.  This is one of my favorite treats and I hope you love it as much as I do.  I'd love to hear if you give this a try!