How to Cook Spaghetti Squash in a Pressure Cooker (Instant Pot)
Here's how to cook spaghetti squash in a pressure cooker (Instant Pot)! Spaghetti is a great alternative to pasta – it's low in carbs, healthy and gluten-free! But cooking it can be difficult, especially the traditional way that's done in the oven. Here's how I do it in my pressure cooker (InstaPot), and it's so easy!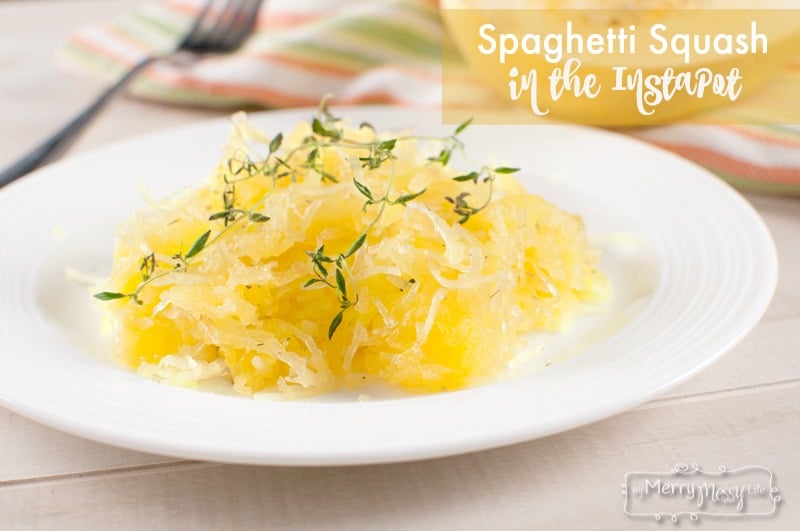 Spaghetti squash is riding the wave of popularity ever since the low carb craze.  People have been substituting insulin spiking, processed pasta for spaghetti squash as a way to get their pasta fix without the guilt or nasty health consequences.  I had never heard of this squash until I started eating a more real foods diet several years ago.  It's like the new car phenomenon.  
Instant Pots are Amazing!
If you buy a new car, you suddenly notice them all over the road!  Squash is like that.  Spaghetti squash as a pasta substitute is super simple to make but a pressure cooker like an Insta Pot makes it even easier.  Seriously, put this on your wish list if you don't have one already!  And when you have a screaming toddler at your legs and a Lego minefield in your kitchen, easier (and faster) is usually better.  Get dinner on the table fast with this simple method for cooking that squash!
How to Choose Your Spaghetti Squash
This is no exact science, but choose a squash that feels heavy for its size. This will usually ensure that the squash is not dried out and will give you a good yield of squash "noodles."
Check the squash for cracks in the skin. They can break open with rough handling and who knows what those squash have gone through from the farm to the market. Or if you're like me…your kid suddenly has go-go gadget arms at the grocery store and can knock any vegetable to the floor with one swift reach. A drop on a cement floor could definitely damage a squash.
Choose a squash on the medium to small side. The one I used for today's recipe is a behemoth squash. I find that the smaller squash are more flavorful, easier to handle and fit nicely into the Instant Pot. The squash I used here was so big that I had to cook each half separately. Not a huge deal but something to consider.
How to Prepare Your Spaghetti Squash
Most recipes for spaghetti squash instruct the chef to cut the squash lengthwise from top to bottom. Have you ever actually tried this? It requires some sort of magic, skill and courage that I don't always have around dinner time. The squash has a tough skin which makes cutting it difficult and dangerous. Save your fingers and try this instead.
Cut the squash around the equator or waistline. Right in the middle at the widest part. This will make cutting the squash super easy. Yeah, for keeping all your fingers! This also means that you'll get longer, more spaghetti like "noodles" as the squash strands run circular around the inside of the squash. Instead of getting half a noodle strand from a squash you cut lengthwise, you get a longer noodle. It's a win-win. At this point you can scoop out the seeds and guts. Save those seeds for roasting! Or, if you want to keep it even easier you can leave the seeds/guts in and just remove after cooking. I find scraping out the seeds and guts annoying so I just leave them in.
How to Cook Your Spaghetti Squash
Add about 1 cup of water to the inner pot of the InstaPot. Place the squash halves on the trivet. Don't worry about placement here, just fit them in. If your squash is too big (like mine) you will need to cook separately, but a normal sized squash should fit in just fine.
Press "Manual" and adjust the time to about 8 minutes for a smaller squash. This bad boy took about 14 minutes. Less is better, and you can always restart your pressure cooker if it needs a bit more time. Move the pressure release valve to "Sealing" and sit back and relax. The Instant Pot is awesome because you don't have to babysit it. We do enough of that already!
Once the timer has gone off you can do a quick release by moving the pressure valve to "venting." Don't have your hand near the actual hole of the valve because it is super hot. I just give it a flip and stand back. Once the steam has released and the safety mechanism has dropped you can unlock the lid. Using an oven mit you can give the squash a poke. It should be a bit soft to the touch but not squishy. I find that undercooking the noodles a bit gives more bite and substance to the squash in my final dish. If it feels really firm you can close the lid, seal the valve and cook for a few more minutes.
How to Easily Remove the Squash Meat (Noodles)
Wait for the squash to cool completely before attempting to handle. Or, if you like to live on the edge you can use an oven-mit to handle the hot squash.
Now you can remove the guts and seeds with a fork. Be careful not to remove actual squash strands at this time, just the dark, slimy looking stuff. Next, I like to set the squash on a cutting board with my hand on top to stabilize it and then run a fork around the inside of the squash while turning the squash. You'll see that the squash strands will easily remove and be nice and long. You did it! Scrape as much of the squash out as you can and store the noodles in the fridge (up to a week) or use immediately for a delicious meal.
Now it's Time to Eat!
Spaghetti squash noodles are a great make-ahead staple to have in your fridge. I honestly don't find this to be a super flavorful squash on it's own so it is definitely a blank slate. Add some ground beef and marinara for a quick meal. I also like to add the squash to casseroles or even eat it on it's own with a bit of grass fed butter and salt. Fun for the kids to eat too! One of my all-time favorite, go-to, meals is this recipe by PaleOMG. With this giant squash I cooked, I was able to make 2 of these casseroles. One for dinner and one in the freezer. Simple and delicious!
Do you love spaghetti squash? Love your InstaPot? Let me know if you give this method a try and what you think.