Where to Buy Real, Organic Food for Less
Since switching over to real food a year ago, it has been a challenge to keep the food budget down and under control as I'm out in the suburbs where farmer's markets are not plentiful or nearby. So, I've finally found a way to make it doable by shopping at local chain stores where prices are cheaper!
Real Food
I define real food by anything that is something from nature – a fruit, vegetable, or a grass-fed, pasture-raised animal fed no antibiotics or hormones. I buy very little that comes in a box unless it's legumes, rice, and the occasional treats of natural popcorn or chocolate, or something where I can actually understand all the ingredients in it and there are about five or less (read more about my real food journey here). I have seen tremendous changes in my health since switching to a real food lifestyle (not a diet!) and thankfully, this concept is finally picking up and might one day become mainstream as more and more people get sick and tired of being sick and tired on conventional low-fat, processed-filled diets!
We live out in the suburbs where farmer's markets are few and far between and often rather expensive. You can do a farmer's market basket nearby, but it is not something where I can get daily staples. My local grocery store and other local chain stores are just now starting to sell a lot of organic and natural products, so here's some of what I buy!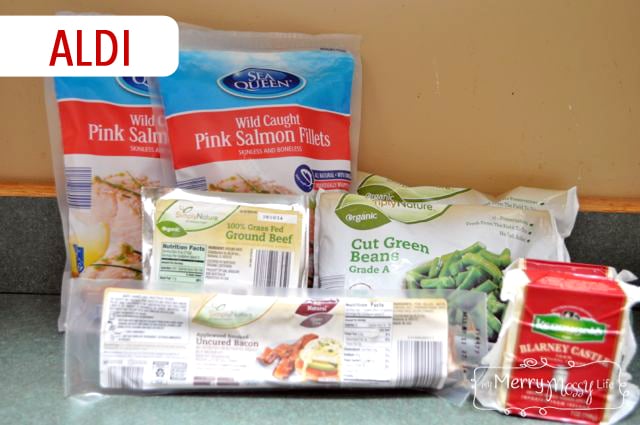 Aldi
This smaller grocery store reminds me of living in France where the clerks are actually allowed to sit down (gasp!) and you have to put a quarter into a slot to get a cart out (brilliant!). Here's what I've gotten at Aldi:
Sea Queen ild caught salmon fillets
Simply Nature 100% grass-fed organic ground beef
Simply Nature organic frozen cut green beans (love these – so easy to steam really fast for meals!)
Simply Nature uncured, humanely-raised bacon (not sure what the humanely-raised part really means, though)
Kerrygold cheese (this is delicious cheese – from grass-fed, pastured cows in Ireland!)
Costco
Costco is a fun place, isn't it? Though it can make me crazy, like American consumerism gone bananas (I mean, you could buy 20,000 rolls of toilet paper if you so wish!). They do have quite a few natural products that I love to get through my mom's account (isn't she nice?).
Kirkland and other brands of wild caught Hake loins, Flounder, Salmon and Shrimp
Coleman organic boneless chicken
Organic ground beef (not necessarily grass-fed, doesn't say on the package)
Kirkland Goat Cheese (all natural, not organic)
Kirkland organic eggs
Kirkland organic olive oil
Kirkland organic peanut butter and natural peanut butters with no added sugar
Maranatha almond butters with no sugar added
Kirkland organic animal crackers (not healthy, really, but a nice treat for the kids now and then)
Wal-Mart
Wal-Mart is still lagging behind in the real food department, however, in their refrigerated sections, they are carrying more real food products. Like Kerrygold butter! Again, this is butter from grass-fed cows in Ireland. They also carry some organic eggs, but those are still pretty expensive. Costco's price is better and even Kroger has a decent price on natural eggs (but not organic). The best way to get eggs is definitely from a local farmer!
Kroger
In the South, we have always regarded the premier grocery store to be Publix, but I don't anymore! They are way behind Kroger when it comes to organic and natural food and make it hard to even find the real food. In Kroger, it's neatly stowed away in a natural section, right next to the produce, which is so convenient because I spend 90% of my time in the store in that section! Plus, they have their own brand of natural products called Simple Truth, and there are often sales and specials for those items to save even more money!
Food for Life Ezekiel Bread – Sprouted wheat bread – the best store-bought bread you can buy for your health!
Simple Truth natural sausages and uncured bacon from humanely-raised pigs (not sure if the humanely-raised part is really true, though)
Muir Glen organic tomato products – canned tomatoes, spaghetti sauces (also love the ones from Simple Truth)
Stonyfield Organic Whole Milk Yogurt
Bob's Red Mill grains, flours, gluten-free grains, oats and more – love Bob's Red Mill products and Kroger carries A LOT of them!
Cascadian Farms organic frozen vegetables and fruit
Simple Truth organic frozen vegetables and fruit
Simple Truth organic free-range chicken meat
Bragg's products – Liquid Aminos and Apple Cider Vinegar
Organic Valley Raw Mild Cheddar Cheese (can you believe they sell RAW cheese! Wow!)
Organic brown rice and other organic rices
Organic and natural peanut butters
Organic herbal teas from Traditional Medicinals and Yogi
Apple butter – no sugar added
Almond butter
Organic, fair-trade chocolate (fair-trade is important)
Organic whole milk and other products like ricotta cheese, cottage cheese, cream, etc.
Organic beef and pork, beef jerky and even organic buffalo meat