Relieve Stress with this Calm Essential Oil Spray Recipe
Calm the crazies with this super easy calm essential oil spray recipe! It smells so good you could use it as perfume, to freshen up linens, to calm wild kids (and adults), and many other things. I'll also share with you the best essential oils for sleep.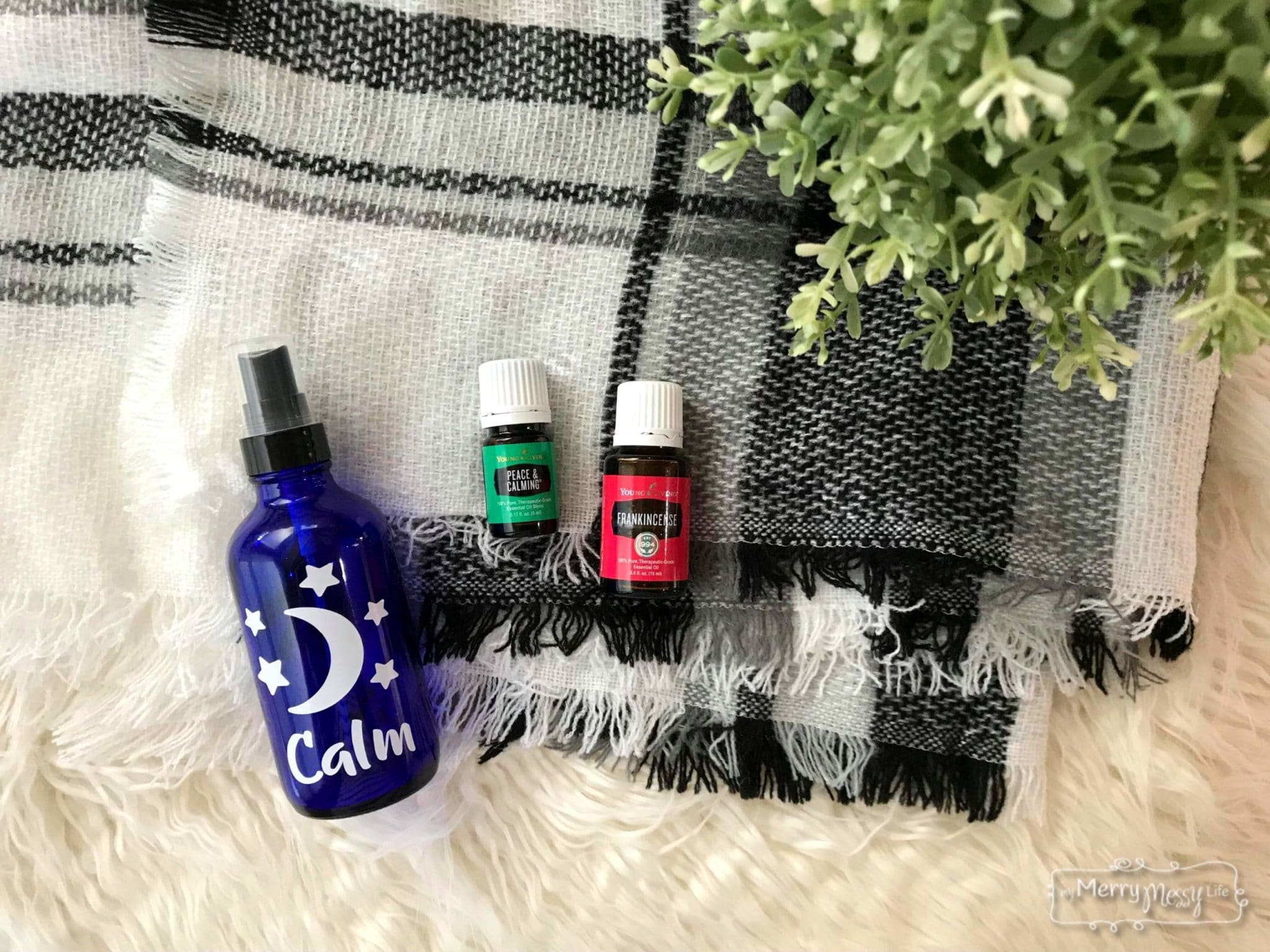 This is so easy to make and use, and is actually effective when you use high-quality essential oils like the ones I use from Young Living!
How Do Essential Oils Work to Calm the Mind and Ease Stress?
The aroma of essential oils affects the limbic system of the brain, which is the part that controls memories and emotions. We can literally calm anxious, worrying thoughts, and help to change negative thoughts into positive ones.
Learn About Peace and Calming
Peace and Calming is a gentle, sweet blend of Ylang Ylang, Orange, Tangerine, Patchouli, and Blue Tansy. This fragrant oil is a wonderful addition to your meditation, evening routine, or playtime with the kids. It creates a relaxing environment that's especially great for homes with children. You'll love that you can use this oil for your children's bedtime and then for yourself for a moment of quiet after the house has settled down.
I love to diffuse this oil as well as the aroma is SO satisfying! I also use it in a roller bottle – see all of my roller bottle recipes here.
Learn About Frankincense
Frankincense is an amazing oil – we like to say if it was good enough for Jesus, then…well, you know! It's good enough for us. It is a rich, woodsy oil that is very high in a chemical compound called sesquiterpenes that are able to cross the blood-brain barrier and help the brain.
Frankincense is also wonderful for the skin – use it in your face lotion and soap to help smooth wrinkles and soothe blemishes.
Print
Calm Essential Oil Spray Recipe
A calm essential oil spray recipe to use when you feel stressed, anxious, or worried or want to fall asleep more easily.
6

drops Peace and Calming Essential Oil Blend from Young Living (get it here) or Stress Away Essential Oil Blend (get it here)

6

drops Frankincense essential oil (get it here)
Pinch of salt (finer salt works best) or witch hazel to emulsify the essential oils
Water
Optional cute label from The Oil Drop Shop
OR get this printable set of 12 essential oil spray bottle recipes that include the Calm Spray one
Instructions
Put the pinch of salt in the bottom of the spray bottle
Add the essential oils
Add the water
So easy a baby can do it!
Spray into the air to calm the atmosphere. Works great in cars on long trips, and in the bedroom to spray next to your bed. It is safe to use around children and babies. You can spray it on dark linens and clothes – there is a blue tint from the Blue Tansy in the Peace and Calming oil and that will stain. Choose a different oil if you'd like to use it on all fabrics.
More Calming and Soothing Essential Oils
Peace and Calming smells so sweet and children usually respond REALLY well to that oil, so it's one of my favs, but some others that would work well to help calm, relax and fall asleep include:
Gathering (blend of lavender, Northern Lights Black spruce, geranium, frankincense, Royal Hawaiian Sandalwood, Ylang yang, vetiver, cinnamon, and rose.)
Grounding (blend of White fir, Black spruce, Ylang yang, Pine, Cedarwood, Angelica, and Juniper)
Inner Child (blend of orange, tangerine, Ylang yang, Royal Hawaiian sandalwood, Jasmine, Lemongrass, Spruce, Bitter orange, and Neroli)
Stress Away (blend of Copaiba, lime, cedar wood, vanilla, ocotea, and lavender)
Release (blend of Ylang ylang, Olive fruit oil, Lavandin, Geranium, Royal Hawaiian™ sandalwood, Grapefruit, Tangerine, Spearmint, Lemon, Blue cypress, Davana, Kaffir lime leaf extract, Ocoteail, Jasmine, Matricaria, Blue tansy, and Rose)
How to Use this Calm Essential Oil Spray
Just spray into the air when you need to freaking calm down (LOL) and then take a few deep, cleansing breaths! It's also super effective for children! It also works great to spray on pillows and blankets, but the Peace and Calming does have a bluish tint, so be careful when it comes to using it on light fabrics as it could stain.
Another idea would be to just diffuse these oils, which is super dee duper easy!
Get a Set of 12 Essential Oil Spray Bottle Recipe Labels
Get a beautiful and functional set of 12 essential oil spray bottle recipe labels in my Etsy shop here! They include recipes for 2 oz. and 4 oz. bottles, plus a bonus set that is blank so you could write in your own recipe!SaveSaveSaveSaveSaveSaveSaveSave