Make Homemade Natural Dryer Sheets Recipe For Soft Clothes
It is really easy to make your own natural dryer sheets at home! And you won't have to worry about any toxins or artificial fragrances. If you follow my tutorial, they can also be reusable, which is good for the environment and your wallet. Here's my tutorial!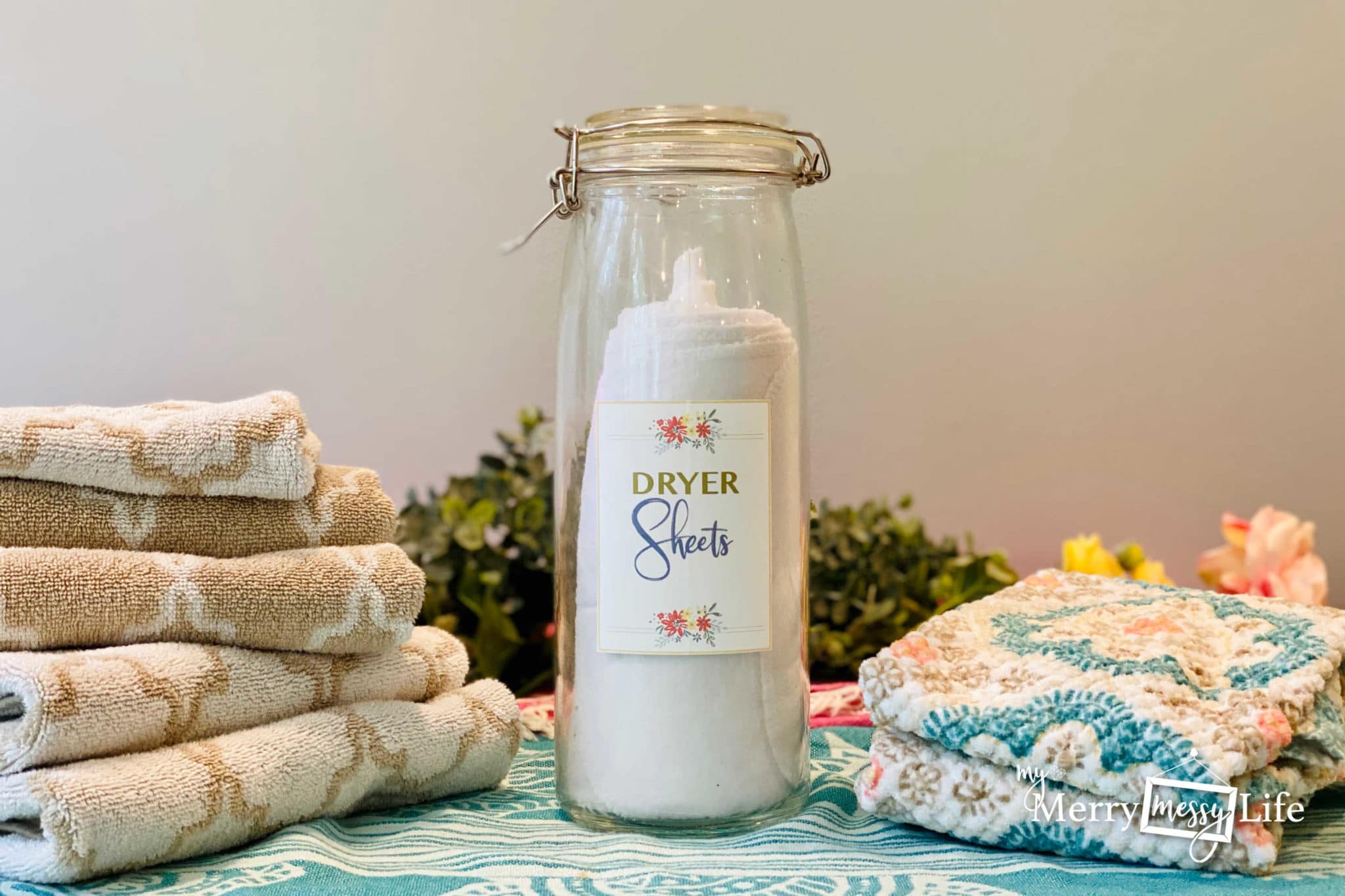 Toxins Found In Dryer Sheets
Toxins abound in dryer sheets! Companies are not required to disclose which ingredients they use in laundry products because they are not used directly on the body or ingested.
Dryer sheets contain artificial fragrances and softeners that work to reduce static and soften the clothes. To soften and reduce static without the toxins, I suggest trying my Laundry Booster and Softener recipe here.
Let's look at a very popular brand of dryer sheets – Bounce. They get a D grade from the ewg.org for toxicity! Almost failing. See the grade here. When we use dryer sheets, the toxins are dispersed into the air of our homes, polluting the air we breathe. Yikes! We tend to think of big cities as having polluted air, but the air inside our own homes has been proven to be many times more toxic. Gulp.
Artificial Fragrances
Artificial fragrances are in practically every laundry and cleaning product sold in stores, but that doesn't mean they are safe or healthy!
Fake fragrances disperse particles of formaldehyde and phthalates (thy-lates) into the air. Phthalates are small particles of plastic that are used to bind artificial fragrance molecules together. We then breathe in those tiny particles of plastic, and they get into our noses and lungs – yuck!
This is why you might find that you've got a headache, brain fog, and fatigue by being around artificially scented products (candles, plug-ins, air fresheners, cleaning and laundry products, and even cosmetics all contain them).
Dryer sheets can also contain toxins like Formaldehyde, which has been linked to cancer. And Dipalmitoylethyl Hydroxyethylmonium Methosulfate, which is a reproductive organ toxin and can trigger asthma attacks in those with asthma.
Scientific American even posted an article about toxins in dryer sheets. Check it out here. Here's another article about dryer sheet toxins from Healthline.
Watch My YouTube Dryer Sheets Video Tutorial Here!
Print
DIY Natural Dryer Sheets
Make your own natural dryer sheets at home with this simple recipe that uses only vinegar, water, and essential oils! They're also reusable, which is good for the environment and for your wallet.
Instructions
Pour the water, vinegar, and essential oils into the jar. Roll the baby wipes up into one large roll, overlapping them as you roll. Placed the rolled baby wipes into the jar and close the lid. Shake the jar so the wipes absorb the liquid. The wipes should all get damp. Pull out the center wipe. Wipe the bottle down with rubbing alcohol before applying the label.
Notes
To see how to fold the wipes to put them in the baby wipes container, see my cleaning wipes post and video here.
If you want to keep the cost down, cut up old shirts or other jersey cotton material into 8×8 inch squares!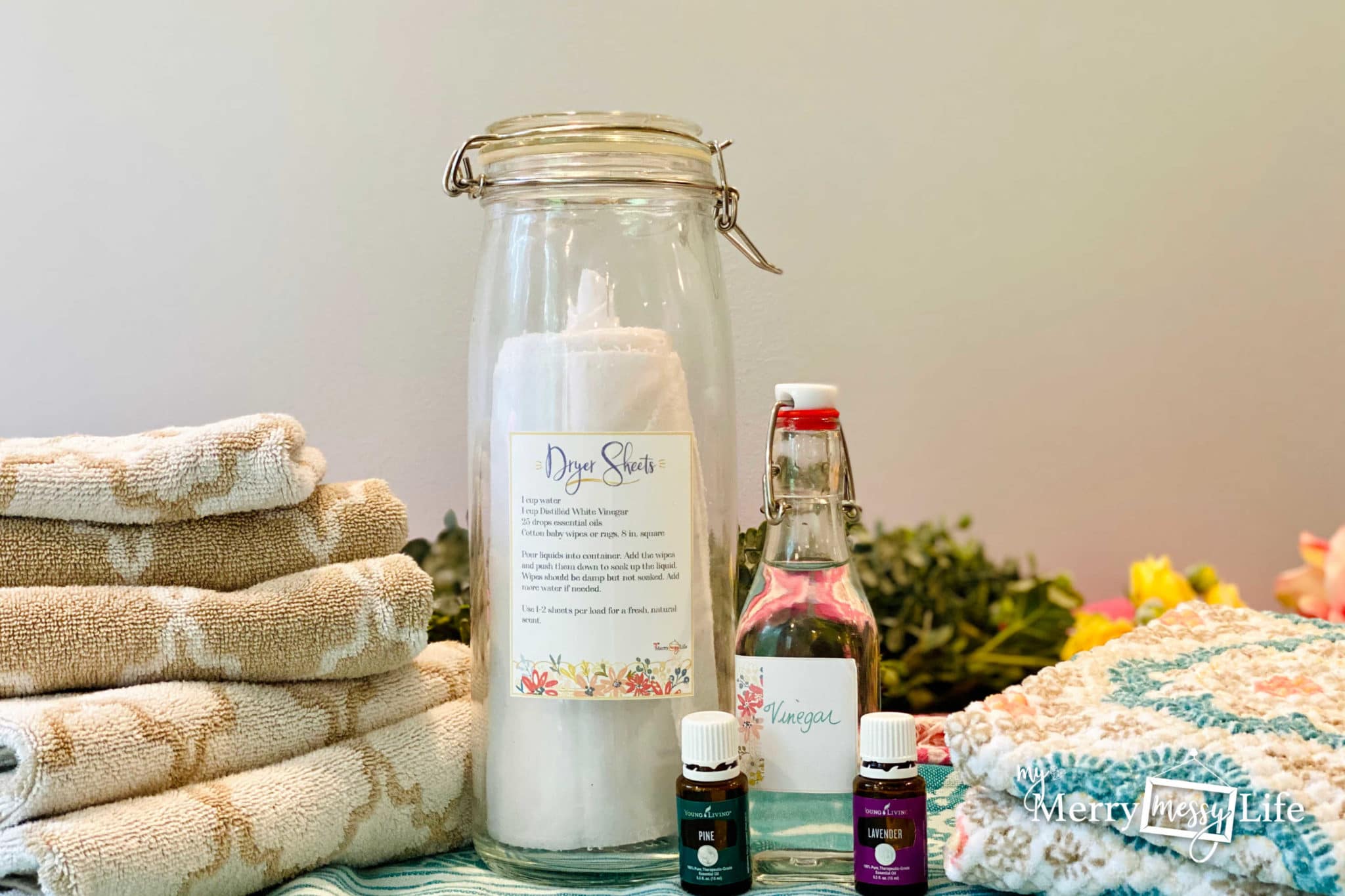 Best Essential Oils to Use for Dryer Sheets and Laundry
Here is a list of my favorite essential oils to use in my laundry products. I buy all of my oils from Young Living, as I have found theirs to be of the highest and best quality. Learn more about them here.
*indicates that the oil comes in Young Living's Premium Starter Kit, which, in my opinion, is the easiest and most affordable way to get started with essential oils.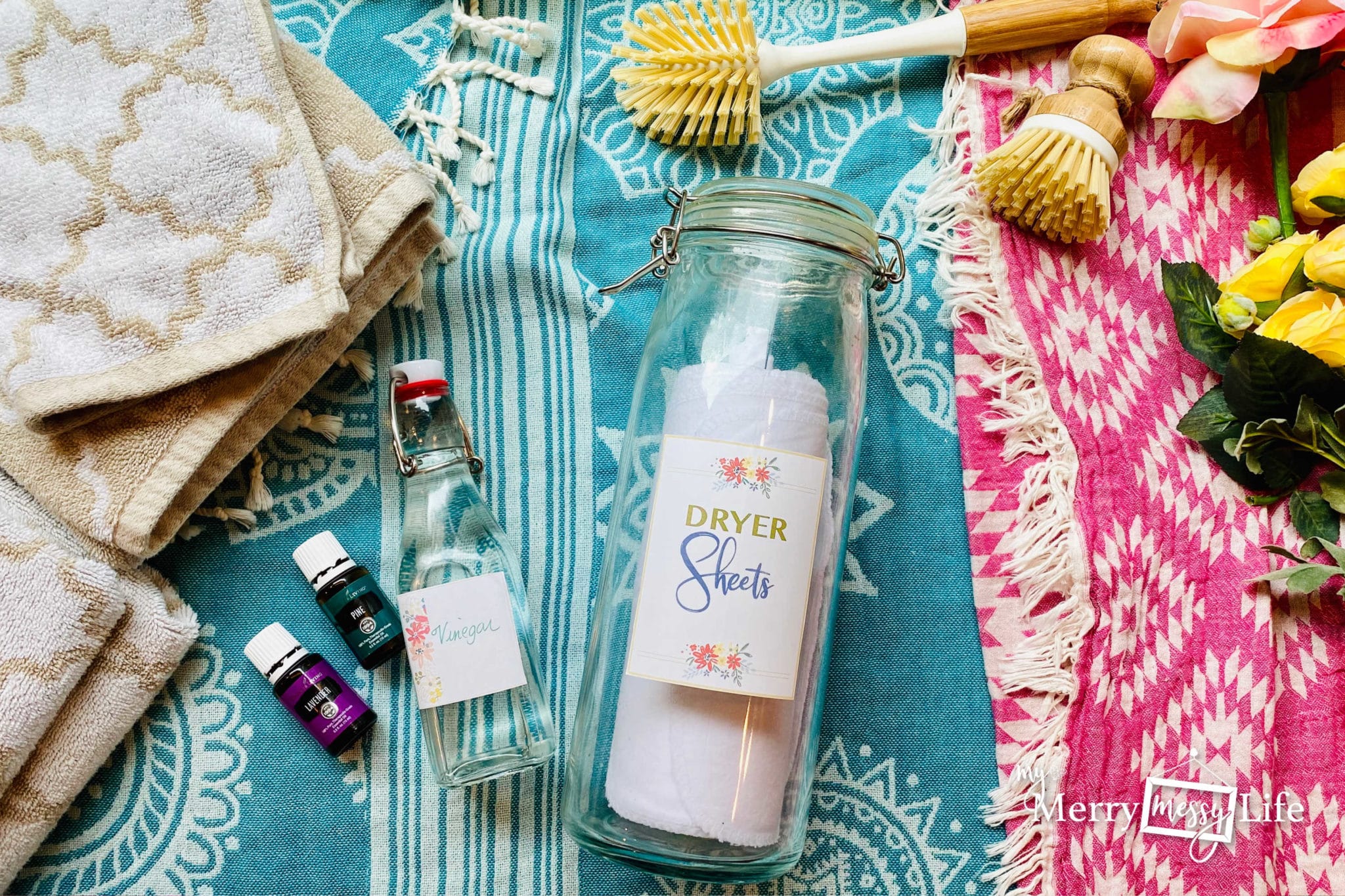 Essential Oil Blends for Your Natural Dryer Sheets
Here are some fun ways you can mix those essential oils to create blends for your natural dryer sheets that will smell amazing!
Flower Garden

– 10 drops Lavender, 8 drops Ylang Ylang, 7 drops Bergamot

Spring Day

– 10 drops Citrus Fresh, 10 drops Peppermint, 5 drops Ylang Ylang

Mountain Man

– 10 drops Cypress, 10 drops Pine, 5 drops Tea Tree

Fresh and Clean

– 10 drops Purification, 5 drops Lavender, 5 drops Citrus Fresh

Sunshine

– 10 drops Lemon, 10 drops Purificaiton, 5 drops Peppermint
See My Other DIY Natural Laundry Recipes Here!