Slip Into Summer with Essential Oils – Webinar Notes
Essential oils can be very helpful to get through the dog days of summer, when bugs and the sun abound. In this webinar, I shared how to use oils to protect yourself from the sun, soothe and support the skin, and summer must-have oils for kids!
Check out a video of my webinar and see all the notes and slides here!

What are Essential Oils?
Essential oils and essential oil infused supplements help antioxidant support in our body.
Essential oils are steam distilled or pressed from plants – from the leaves, roots, bark, stems, rinds or seeds.
They are much more concentrated, and therefore, more potent than dried herbs. 1 drop of peppermint oil is the same as 26 cups of peppermint tea! 1 drop of lemon oil is the same as 16 lemon rinds!
They are the lifeblood of the plant that initiates regeneration into the cells. They support the immune system of plants, and they work the same for humans. Anything that our blood does for us is what the essential oils do for the plant.
Essential oils can quickly penetrate the tissues of the skin, and from there diffuse throughout the body in the blood and tissues
They can affect the body at the cellular level by supporting cellular health and normal cellular regeneration and by supporting the immune system.
Essential oils work synergistically with the body to support normal body processes because they are recognized by the body as nutrients.
Three Ways to Use Essential Oils
AROMATICALLY
Diffuser – my favorite way to use EO's.
Changes mood & emotions, kills airborne germs and odors, purifies the air.
Scent affects the limbic part of the brain that controls emotions and memories.
Use a diffuser that does not operate with heat, heat destroys the therapeutic properties of the oils.
Easy, safe, less is more
TOPICALLY
Due to their molecular structure, essential oils are rapidly absorbed by the skin. Applying the oils to the Vita-flex points on a foot that relates to organ system will activate their reflex (that foot chart is shown here in the slide. You can see the chart in the guidebook that I give to all of those who sign up as a member underneath me). Applying the oils to your feet is a great way to absorb the oils into your body. With over 2,000 pores in each foot, they have some of the largest pores on your body.
Takes just 2-3 sec for oil to reach bloodstream when used topically.
Takes 20 min for an oil to reach every cell in the body.
2 ½ – 3 hours to fully metabolize
This is a powerful and effective way to use oils!
Use vegetable carrier oils, organic is best, like Sweet Almond, Olive, Jojoba, Coconut, Fractionated Coconut, etc. to dilute the oil.
Do a skin patch test first to make sure you won't have a reaction, especially when new to oils.
INTERNALLY
If the oil bottle label shows it is a Vitality oil, then it is safe to take internally.
Can add oils to food for flavor (just need a drop or two – lemon, basil, oregano, thyme, etc.)
Put a drop of lemon in water, or dilute in coconut oil and add to herbal tea
Put in enteric coated gelatin capsules (doesn't dissolve until it's in the intestines, safer), Young Living sells these capsules.
Not recommended for children.
How Do I Dilute The Oils?
Okay, now I want to show you how to dilute your oils safely and effectively for topical use, as this is probably the most common question people have when they first start. This is advice I've gotten from both Young Living's guidebooks and aromatherapy experts.
First, let's talk about carrier oils. The are vegetable oils that are used to dilute the essential oils and "carry" them over your skin. It is an economical way to use your oils and it's also safer, especially for children and infants. Those include any cold pressed vegetable, nut or seed oil like sweet almond, coconut, fractionated coconut, jojoba, grapeseed, and even olive oil!
When you're new to oils, I suggest to always start with diluting because your body isn't used to the oils and it could have a detox effect, which results in a rash, itching, headache or nausea. So, I say, start slow to be safe.
For babies to age 5, dilute 1 tablespoon carrier oil to 2-3 drops essential oil.
For children ages 5-10, dilute 1 tablespoon carrier oil to 3-6 drops essential oil.
For teens and adults, dilute 1 teaspoon carrier oil to 2-6 drops essential oil.
Remember, these are general guidelines. Use your best judgement and the more accustomed you body becomes to natural living and oils, the better it can handle them and use them!
FREQUENCY is also very important when using oils as they metabolize in the body after 2.5-3 hours. So, you can reapply that often, or 2-4 times a day, when extra support is needed.

Basic Oil Usage and Safety Guidelines
Do not put inside ears or eyes
Use carrier oils to dilute if an oil feels too hot on the skin
Pregnant women, and people with high blood pressure or epilepsy should consult their doctor first as some oils need to be avoided.
Avoid use of oils without doctor consent if undergoing chemo or radiation
Avoid peppermint, rosemary, sage or eucalyptus for children under 5, and wintergreen under age 12
If currently taking a medication, ask your doctor first before using.
Store oils in glass containers and in a dark bottle or cabinet. Sunlight and heat will cause them to oxidize and lose potency (but not go bad or rancid). Oils will last several years if cared for properly. Can also store in the fridge.
Why Use Young Living Essential Oils?
I have been using essential oils for many years now, but for most of the time, only used them in cleaning supplies. I bought the cheapest oils I could find on Amazon and online, they smelled nice for my homemade cleaning supplies but didn't work to when I used them on my body or my kids. I thought all essential oils must be a quack.
That all changed when I started buying Young Living
Young Living was founded in 1993, and is the oldest, most trusted essential oil company in the world. Young Living has 20+ years of research and experience, and is the only company that has the Seed to Seal® guarantee. Our proprietary Seed to Seal® process is the heart of our commitment to purity and authenticity. You deserve products that are genuine, free of synthetic chemicals, and of unmatched purity, and that is what you get with the Young Living. Seed to Seal® is both a promise to you and a reflection of our sense of global stewardship. Through each step of our production process on both our own farms and partner farms, we use the highest standards possible to make our products, your life, and the earth better. From the time the seed is sourced until the oil is sealed in the bottle, we apply the most rigorous quality controls possible to ensure that you are receiving essential oils exactly the way nature intended. Only one company can make the Seed to Seal® promise, and that is Young Living.
They are the world leader in producing and guaranteeing 100% pure and potent, genuine therapeutic grade essential oils. Gary Young, the founder, has built 8 farms around the world, not including their partnered farms that also uphold the Young Living Seed to Seal standard. Young Living loves for their members to be a part of the farming process from seed plantings, all the way to the harvest and distillation process. Young Living uses its own internal labs, in addition to third-party audits, to verify that international purity and potency standards are met and surpassed. There are no pesticides or chemicals used on their farms.
Young Living completes 8 different tests on every batch of oil that is made.
So, there are a lot of essential oil brands out there. What makes Young Living so special?
Now, essential oils are not regulated by the FDA, so you do have to do your own research to make sure you're buying a truly pure oil. Their only requirement is that 5% of the oil be pure therapeutic grade oil for it to be called, "pure, therapeutic grade." Companies are allowed to add fillers, water, synthetic chemicals and more!
Young Living owns all their own farms and they are located all over the world, near the plants' native environments. Anyone can visit these farms and watch the planting, harvesting and distillation processes, and many folks in the business I know have seen it first-hand!
Young Living Oils are first distillation only. Think of olive oil – there is Extra Virgin, which is the first press of the olive and is the most potent, then there's regular Olive Oil, which is the second press, so less potent. All of Young Living's oils are potent, called the first distillation, or the first press.
The oils are rigorously tested both in-house and by third-party, in fact, only 28% of the batches actually pass lab tests for purity and quality and are then sold, the rest are used as pesticide and herbicide!
All the weed control is done by hand!
DIY Outdoor Spray for Adults
Why Make Your Own?
As you may know, DEET is the most common chemical found in bug repellents. While it is very effective at repelling mosquitoes and ticks, it is a strong chemical that can be toxic, especially when used incorrectly (on top of open cuts, sores, or broken skin – which is pretty much all summer long, right?).
Here's what the EWG says about DEET "We urge consumers to handle DEET with caution. It is known to irritate the eyes and in intense doses may induce neurological damage. In very rare cases DEET has been reported to impair the nervous system, with symptoms including seizures, tremors and slurred speech, most often after exposure to high concentrations of the chemical. In addition, DEET gives off a distinct odor and can damage plastic, rubber and vinyl on a variety of gear including clothing, backpacks, glasses, watches and cameras." Read more here → https://www.ewg.org/research/ewgs-guide-bug-repellents/repellent-chemicals
So, the good news is that a outdoor spray with Purification not only smells wonderful and fresh, it really does help you to enjoy the outdoors annoyance free! I've used it for a year now and have literally watched mosquitos fly towards my children and retreat once they get near their Purification-doused skin.
Supplies Needed & Directions
Supplies: a 2 oz. or larger dark glass spray bottle, a pinch of salt (any kind), 30 drops Purification and water.
Put the pinch of salt into the bottle, add the 30 drops of Purification, then add water (the salt acts as an emulsifier). Done! You might find you need even more Purification if the mosquitos are really out in force.
Other oils that will work well – eucalyptus & lemon together, cedarwood, & any of the single oils in the Purification blend

DIY Outdoor Spray for Kids
Use lavender, cedarwood or tea tree oil to make a spray, cream or oil for babies and kids that will not only keep keep them safe outside, but will also help promote sleep and relaxation, and support their immune systems! Double whammy. There's not an outdoor spray on the market that can do all of those things!
Supplies Needed and Directions
Supplies: a 2 oz. or larger dark glass spray bottle, a pinch of salt (any kind), 20-30 drops of any combination of lavender, cedarwood or tea tree oil (though the most effective of the three against bugs are cedarwood and tea tree), and water.
Put the pinch of salt into the bottle, add the 20-30 drops of oils, then add water (the salt acts as an emulsifier). Done!
You might find you need even more essential oils if the mosquitos are really out in force. Turn it into an oil by adding your favorite carrier oil and putting it in a medicine dropper bottle, or just mix up in the palm of your hand!
Sunscreen Education – What Not to Buy
Let's start with a little sunscreen education. Why make our own sunscreen or buy natural ones? Did you know that skin cancer, in particular, melanoma, is on the rise even though more people use sunscreen and are educated about the dangers of too much sun damage? It doesn't add up until you check out the ingredients in today's sunscreens. Here's what to avoid, according to: https://www.ewg.org/2014sunscreen/
No spray sunscreens – The FDA has already expressed concern that although these are the  most convenient to use, they are not as effective and are dangerous to inhale.
No super high SPF's – The high SPF doesn't apply to UVA rays, which are the dangerous cancer-causing ones. The FDA is considering putting a cap on the number companies can use to 50 SPF, as is already done in many other countries.
No oxybenzone – This is the chemical used to create the sunblock. Preliminary studies show it is absorbed into the body and mimics estrogen, which is very dangerous – it caused endometriosis in some women and low birth weights in daughters of pregnant women who used it.
No loose powder sunscreens – Dangerous if inhaled.
No retinyl palmitate (Vitamin A) – Government studies have shown Vitamin A in sunscreens speeds up the growth of lesions and tumors in sun-exposed skin.
No combined sunscreens/bug repellents – Studies show that combining the two increases the absorption of the bug repellent chemicals into the skin and body – dangerous ones like DEET.
No tanning oils – Encourages risky behavior and high risk of skin cancer and sunburn.

DIY Sun Oil with Only Essential Oils (Not water or sweat proof)
All you need to soothe and protect skin that is out in the sun is your favorite carrier oil (Young Living makes an excellent one that is 6 vegetable oils combined, V-6), a medicine dropper bottle, and three essential oils. Avocado and coconut oils both have a natural SPF – avocado about 5, and coconut oil about 8-10 SPF, so they make excellent choices as well.
Recipe:
½ cup Young Living V-6 oil
5 drops myrrh
5 drops lavender
20 drops Carrot Seed (SPF of 35-40!)
Combine and add to an amber medicine dropper bottle or a squirt bottle (PETE or HDPE plastic only, glass is best). NOTE: this is NOT a waterproof sun oil. You will need to reapply if you are sweating or in the water. Apply liberally and often.
Here is a waterproof version that is more like the traditional texture of sun lotions you buy in the stores. I've used this one for two years and no one has gotten burned with it! I reapply about every two hours or more if we are wiping off with towels or very active. This recipe has an SPF of about 30.
Click here to see the recipe here on my blog.

Summer Must-Have Oil for Kids
These special oil blends are formulated specifically for kids as they are already diluted and ready to go! You could buy Young Living's metal roll-on fitments to turn them into instant and convenient roll-on bottles.
Owie – contains Idaho balsam fir, Tea tree, Helichrysum, Elemi, Cistus, Hinoki, & Clove essential oils. Perfect oil for kids' skin – I use it on mine when they fall down or have an unpleasant encounter with a bug! Will also help improve the appearance of skin.
Remember to steer clear of citrus oils as they are phototoxic – they attract the sun and can cause it to burn (orange, lemon, grapefruit, tangerine, and lime).
Lavaderm – Natural Skin Soother
Been outside just a little too long? Try Lavaderm Cooling mist.
It relieves stressed skin with a blend of gentle skin-soothing ingredients including lavender essential oil aloe vera. Spray directly onto the affected area and repeat every 10-15 minutes until desired relief is achieved.
It contains water, aloe vera leaf extract, vegetable glycerin, lavender essential oil, spikenard oil, trace minerals (Chloride, Magnesium, Sulfate, Sodium, Potassium, Lithium, Boron).

Refreshing Lavender Lemonade Recipe
This is Young Living's lavender lemonade recipe. It is absolutely delicious! So refreshing on a hot summer day, and and impressive beverage to serve at a cookout or barbeque.
You'll Need:
3 organic lemons
7 cups water
2 drops Young Living lavender vitality essential oil
2 drops Young Living lemon vitality essential oil (or even try Citrus Fresh Vitality for more flavor!)
¾ cup organic raw agave
Handful ice cubes (as needed)
Optional: lemon slices for garnish
Directions:
Juice the lemons into a pitcher
Add the water, lavender and agave
Stir well to mix, then add ice and serve!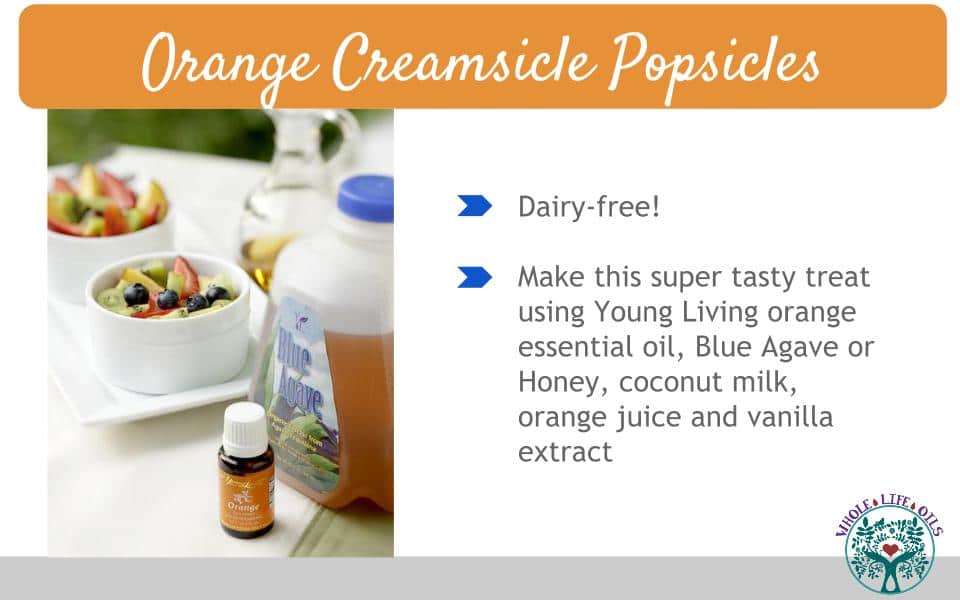 Orange Creamsicle Popsicle Recipe
Here's a delicious dairy-free treat the whole family can enjoy this summer!
You'll need:
1 Popsicle tray & sticks (where to buy)
1 cup orange juice (no pulp)
1 cup coconut milk
3 tsp honey or Young Living's Blue Agave
1/2 tsp vanilla extract
5 drops Young Living's orange vitality essential oil
DIRECTIONS:
Mix ingredients well and evenly distribute into Popsicle tray. Add sticks.
Freeze & Enjoy!
The Premium Starter Kit – the Best Way to Get Started with Oils!
Now, I want to share with you how you can get these oils, because they are not sold down at Whole Foods or your corner Walgreens. The oils sold there are much less potent, and some are even adulterated. But Young Living's oils are very high quality, therapeutic grade oils.
The way that Young Living has decided to sell them is through individual members sharing with others – they don't pay for an advertising department and use us instead so we can offer you support. When you buy oils in store or online from just anywhere, you won't get a team of support helping you learn how to use the oils. And especially when you join my team! We offer monthly Facebook classes, webinars, promotions, giveaways and blog posts so you are always learning!
Okay, you can purchase the oils we just discussed for $163 and that would be the retail price. No sale or discount. But there's a much cheaper way to get them. I know I'm always looking for a deal, and this is definitely it!
And this is the way I started with Young Living and I highly recommend it. You can actually get this set, plus a home diffuser, PLUS this little starter kit with an extra oil in it, Stress Away, Ningxia Red samples, and little sample sachets you can share or throw in your purse, all for $160! You save over $150 this way. At the same time, you automatically become a wholesale member which means you get 24% off everything!
Now, don't let the term member scare you. There are no monthly minimums or order requirements. In order to keep your membership after one year, you just need to purchase about $50 worth of products the next year. If you don't want to, that's fine! No one is going to hunt you down – there are no penalty or cancellation fees and you could reinstate your membership at any time. AND there are no monthly minimums you have to order or a requirement to sell.

The Essential Rewards Program
Once you're a member and find you've regularly cleaning supplies with essential oils, it really makes sense to join the Essential Rewards program and anyone who does gets a free silver-plated diffuser necklace!
So, what exactly is this program?
Young Living's monthly program where you order 50 PV per month and earn 10-25% of your order total back in points to use as store credit AND get reduced, flat-rate shipping. Use those points as cash to get free oils! You also get free gifts at 3, 6, 9 and 12 months from Young Living!
How to Earn Points Back
When you're with the company:
1-3 months, you get 10% back in points
4-24 months, you get 20% back in points
25+ months, you get 25% back in points
Design Your Own Program
You can change your order every month, it does not have to be their recommended kits or products. You can change your ship date each month, too! No contract, no fees, no penalty fees.
Since last year, I have been able to use more than 1,000 points, which means I've gotten more than $1,000 of free oils and products! I love the program.