DIY Natural Reusable Cleaning Wipes
Make cleaning your home easier with DIY, natural, reusable cleaning wipes! You could use paper towels if you'd rather them not be reusable, but I like to use cloth wipes to be more eco-friendly. You only need three ingredients to make these wipes – Castile soap, Hydrogen Peroxide, and the optional use of essential oils like lemon.
Why Make Your Own?
It's Much Cheaper
Making your own homemade cleaning and laundry products (see all of my recipes here) saves a lot of money. You're paying mostly for water when you buy cleaning products in the stores! So I like to buy the ingredients in bulk and use my own water – much more affordable.
It's Much Better for the Environment
It's so very eco-friendly if you buy your supplies in bulk and reuse your containers. Also, there are many toxins in cleaning wipes and other cleaning products that not only harm us in our homes but also harm animals in the environment and pollute our drinking water.
It's Much Healthier – No Toxins
Secondly, store-bought cleaning wipes contain toxins like artificial fragrances and bleach that are harmful to your health.
Sodium Hypochlorite (Bleach)
Sodium Hypochlorite is another name for bleach. It gets a toxicity grade of F at EWG.org for "developmental/endocrine/reproductive effects, damage to vision, cancer, kidney, and urinary effects, nervous system effects, digestive system effects," among other things. It's so very irritating to the respiratory system and should only be used in well-ventilated areas.
Artificial Fragrances
Artificial fragrances can trigger asthma attacks, worsen allergies, and cause inflammation in the sinuses that can lead to more frequent colds and respiratory infections. That's why I prefer to scent my homemade products with essential oils (read more about them below).
Fake fragrances disperse particles of formaldehyde and phthalates (thy-lates) into the air. Phthalates are small particles of plastic that are used to bind artificial fragrance molecules together. We then breathe in those tiny particles of plastic, and they get into our noses and lungs – yuck! This is why you might find that you've got a headache, brain fog, and fatigue by being around artificially scented products (candles, plug-ins, air fresheners, cleaning, and laundry products, and even cosmetics all contain them).
Learn About the Ingredients in this Cleaner
Hydrogen Peroxide
This is a safe and effective disinfectant and an alternative option to chlorine bleach. Its molecules are made of two hydrogen and two oxygen atoms (H2O2) that decompose after use back into oxygen and hydrogen, so it's completely green and nontoxic and is colorless and odorless to boot. It must be stored in a dark container or cabinet out of direct sunlight as sunlight will break it back down into oxygen and hydrogen.
For household cleaning, the 3% solution is an effective disinfectant if left on for 30 minutes or more. It can also be used as a laundry and upholstery stain remover for light or white items. I wouldn't use it on colored items as it removes the color like bleach does.
I have a whole post I wrote just about hydrogen peroxide – see it here!
Castile Soap
Castile Soap is traditionally made from Olive Oil and comes from the Castile region of Spain, which is where it derives its name. Today it is also made from coconut, castor, and hemp oils. It is free of animal fats, making it vegan and free from synthetic ingredients, making it environmentally friendly and biodegradable. It is also a gentle surfactant, unlike harsh ones such as sodium laureth sulfate that strips your hair and skin of its natural protective oils (like sebum). I have written extensively about Castile Soap here on the blog – see all of the ways you can use it here!
Essential Oils for Natural Cleaning
Essential oils are wonderful to use in natural cleaning. They add extra cleaning and germ-fighting power and also smell wonderful, making the cleaning experience more enjoyable! In my family, we also use them for our health. I only use Young Living Essential Oils as I've found them to be the best and most effective ones on the market. Learn more about their oils here. The ones I use the most in cleaning are: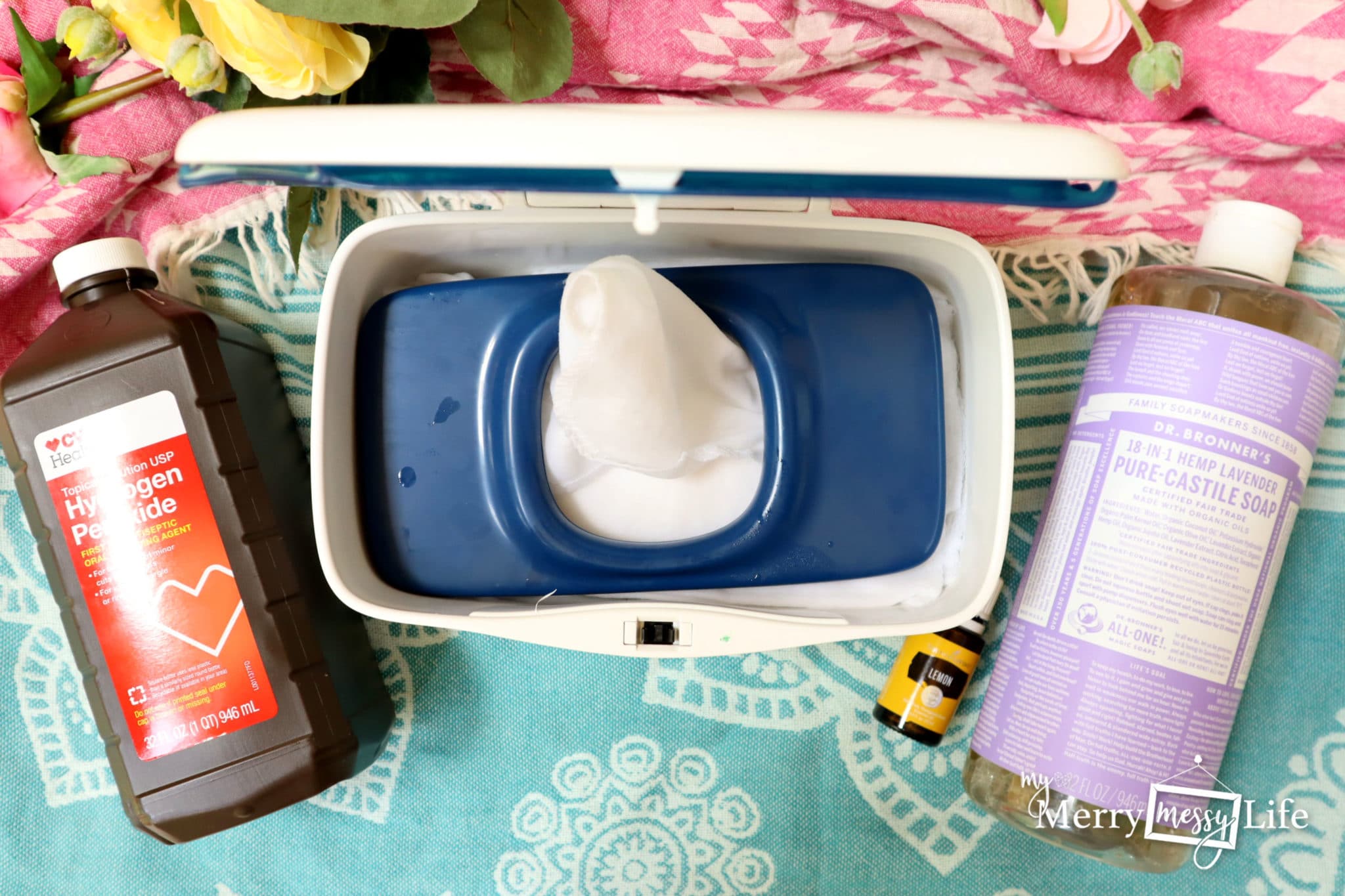 Print
DIY Natural Reusable Cleaning Wipes
Make your own DIY natural, reusable cleaning wipes with this recipe, using just three ingredients – Castile soap, water, and Hydrogen Peroxide.
Instructions
Fold the wipes – for the baby wipes container, follow my tutorial in my disinfecting wipes post to ensure they will pull out well. For the 1/2 gallon container, cut the wipes to be the height of the container and roll each one individually.
Add 3/4 the water to the container, the Hydrogen Peroxide, then add the Castile soap.
Add the essential oils and stir well.
Place the wipes in the container and press down so they soak up all of the liquid. If you need more liquid, add more water or peroxide.
Use on any surface that needs cleaning.
Printable Recipe Label
Get this printable recipe label in my Etsy shop here for your natural cleaning wipes box! You can print on waterproof label paper (link included in the PDF) and never have to look up the recipe again. It also comes as a set of all of my other printable cleaning labels (54 labels total)!