How to Make DIY Essential Oil Diffuser Ornaments for Christmas
Making and using your own DIY essential oil diffuser ornaments is so super easy! Fill your home with the natural, safe and therapeutic aroma of essential oils during the holidays by making your own diffuser ornaments. Let's get started!
Do you Have a Real or Artificial Christmas Tree?
We have an artificial one, but not until just last year! It took me many years to get my husband's cooperation on that one (wink, wink). I know for me, I got so tired of vacuuming pine needles off the floor nearly every single day. Then for the rest of the year I continually find more needles stuck under area rugs, under the couch and chairs, and all over the living room! I already have enough to clean and take care of as a mom of four, so I decided I'd had enough and we started getting a fake Christmas tree.
I Used to Get Bronchitis Nearly Every Christmas Season!
Also I would noticed that I'd get bronchitis every single Christmas season! I think it partly has to do with all of the dust that comes out after we get out Christmas decorations, but it also has to do with the tree. I do have some allergies.
Many Farmers Use Pesticides and Preservatives on Trees
Plus farmers, especially big commercial ones, spray a lot of pesticides and even preservatives on the trees to help them last longer. Those chemicals make their way into our homes and they add to the indoor air pollution we've already got going on. See my other blog post on how to reduce air pollution inside your home, here!
Now We Miss that Pine Tree Scent!
Now that we have an artificial tree, we really miss that wonderful, fresh pine or fir tree scent that used to fill our home. So I've been using my own DIY essential oil diffuser ornaments and diffuser to replace that scent so I can still enjoy it!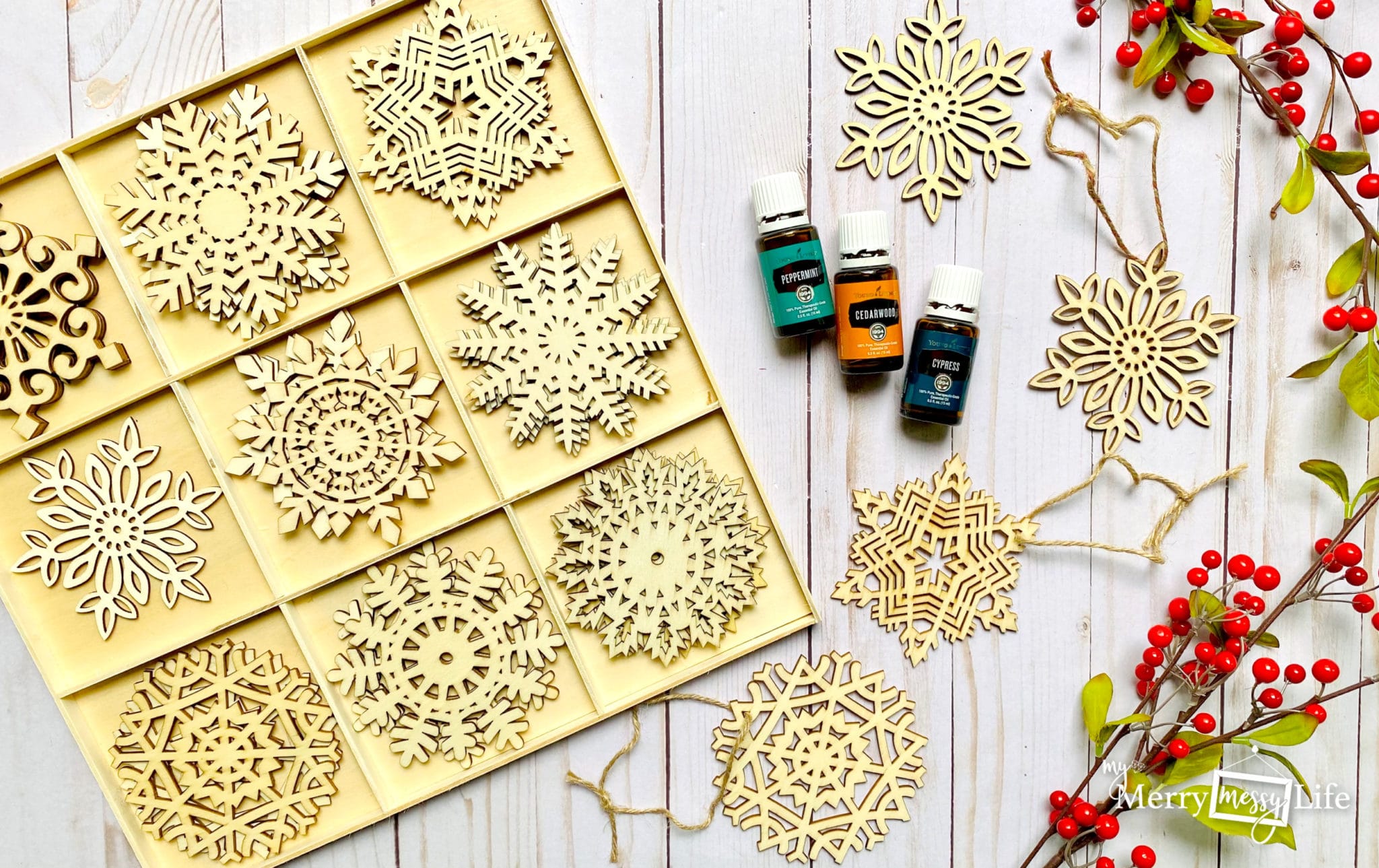 How to Make Essential Oil Diffuser Ornaments for Christmas
It's SO SUPER easy! All you need are some wooden, fabric, or felt Christmas ornaments, and your favorite tree essential oils.
Tree Essential Oils to Use
I get all of my essential oils from Young Living Essential Oils. I've used them since 2014 and have never been disappointed! They are very potent, strong, and work. They also have a lot of high-quality supplements that I used and love. Learn more about their amazing starter kits here and get a free gift from me!
When it comes to tree oils for your DIY essential oil diffuser ornaments, I suggest sticking with essential oils that are clear. Ones like orange and Blue Cypress have a color to them and will stain fabrics and wood. Also, If you have a painted wood ornament, put the oil on the back of the ornament as the oil could destroy the paint.
Wooden and Fabric Ornaments
I recommend using wooden, bamboo, and/or fabric ornaments or other natural materials. Felt works especially well with essential oils. I don't recommend plastic – it won't hold the scent and also could be destroyed by the essential oils.
All you do is put a drop or two of the essential oil on your finger, and rub it onto the ornament. If you're braver and don't think the essential oil will discolor the ornament, then drop it directly on the ornament itself.
Here are the ornaments you see in this post:
You'll Also Enjoy..
If you liked learning about DIY essential oil diffuser ornaments, you'll love these posts, too!