Fizzy Natural Bath Bombs Recipe
An easy tutorial for making a fizzy natural bath bombs recipe at home! This recipe is free from dyes, preservatives, parabens and artificial fragrances!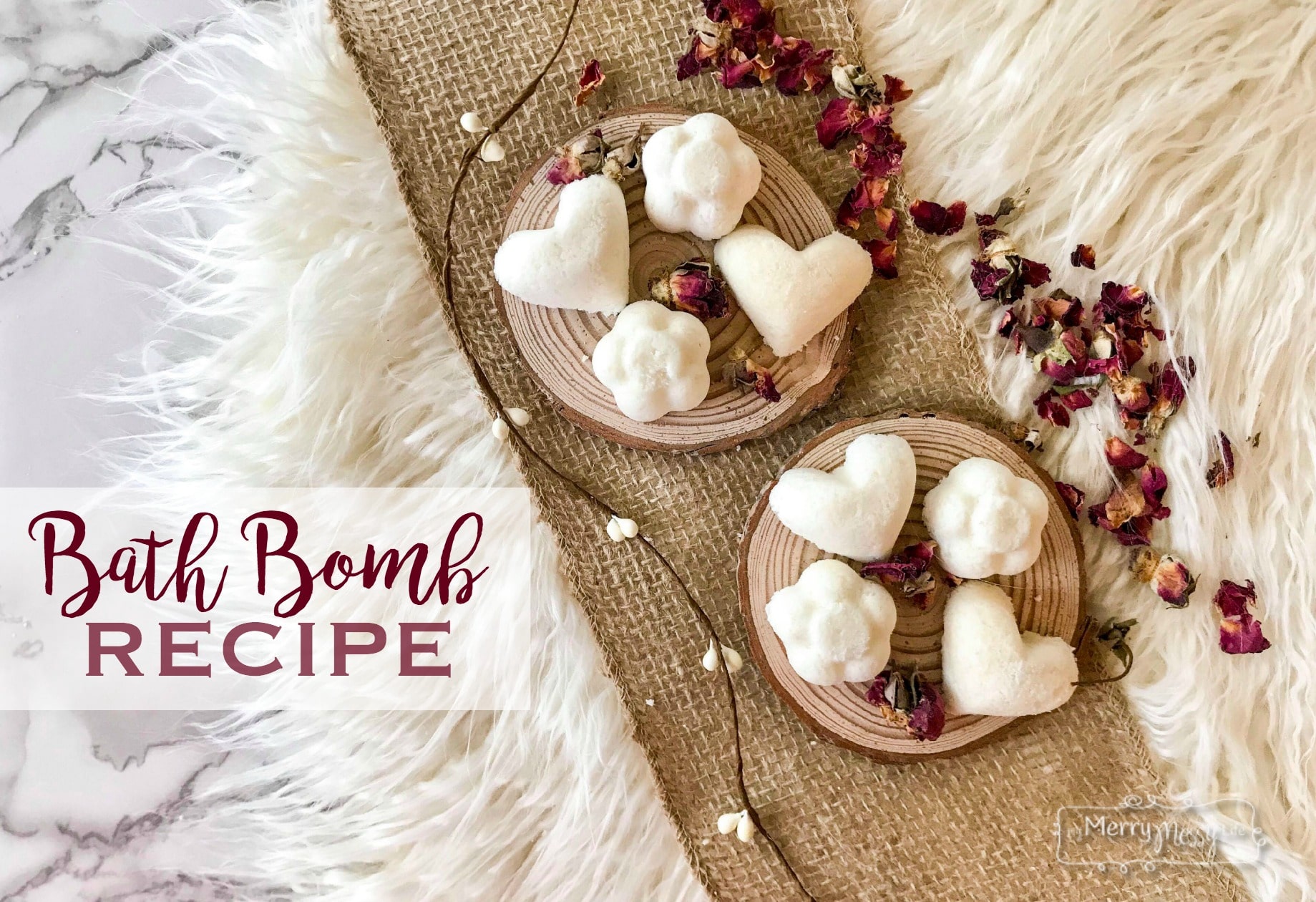 I love to use bath bombs for both my kids and for me! It's really fun to watch them fizzle and then release the delicious scent of whatever essential oils I've added to them. They're very easy to make and much cheaper than the ones you buy in the store. Plus, you can make sure they contain natural, safe ingredients!
Why Use a Natural Bath Bombs Recipe?
Many bath bombs in the stores contain artificial dyes and fragrances – both of which can be very irritating and aren't healthy. According to the Environmental Working Group (ewg.org), fragrances can cause allergies/immunotoxicity, irritation (skin, eyes, or lungs), organ system toxicity (non-reproductive), ecotoxicology (meaning that they can harm fish and wildlife).
So it's best to use ones that are scented with pure essential oils or non-scented.
Great for Kids!
This natural bath bomb recipe is a fun project to make with the kids, and then they can enjoy their project in the bathtub, too! It has the consistency of a thick dough once it's mixed, so it's really tactile and makes for a great sensory experience. Plus when you're using these safe, all-natural ingredients, we don't have to worry about them getting any toxins into their systems (or our own!).
Make it Scented and Colored without Toxins!
To make this natural bath bombs recipe, it's easy to add scent that also happens to be therapeutic – just add essential oils! They add natural scent that won't irritate the lungs or cause skin irritation, as long as you use gentle oils like lavender, cedarwood, Stress Away blend, frankincense, or more like that. There are some hot oils, like cinnamon, eucalyptus, and peppermint that I don't recommend using in the bath because they do irritate the skin without a carrier oil.
You can also add natural dyes – I recommend India Tree that makes their dyes from plants!
Which Essential Oils to Buy?
I only trust Young Living – I have used many, many different brands of essential oils and even partnered with some here on the blog. They made my homemade cleaning products smell nice, but didn't do much when it came to health issues for me and my family.
Ever since I started using Young Living in 2014, we have been so happy with the health and wellness in my family of six (four kids ages 8 and under) that we've experienced! I use them daily now for a whole lot more than fun DIY projects. To learn more, see my essential oils page. The best way to get started is with a starter kit – as using just one oil here and there really isn't going to make much of a difference in your health.
Print
Fizzy Natural Bath Bombs Recipe
Here's a fizzy natural bath bombs recipe that's fun to make, even with kids, and makes for wonderful gifts for friends, teachers and family!
Instructions
Mix all of the dry ingredients together in a bowl.
Slowly add the wet ingredients and stir. This is a great time to let your kids get their hands in the bowl as you pour in the wet ingredients.
Knead the mixture like a dough with your hands and then press them firmly into silicon molds, muffin tins, or bath bomb molds. They might expand some, so just know that is part of the process.
Notes
That's it! They take about 10 minutes to make. Let dry for 24-48 hours and then drop in the bathtub for a fun, sensory experience! Store in a zippered plastic bag or airtight container and use within a month or so.
I love to use this natural bath bombs recipe when my kids are under the weather or really wired up – it helps to calm and relax them.SaveSaveSaveSave