Green & Non-Toxic Carpet Cleaning from All-Star ChemDry
When we bought our house a few months ago, I knew I wanted the carpets cleaned before we moved in. I could only imagine what kind of dirt and other yummy things could be ground up in those fibers as the previous owners had pets and were a large family. Now that I've become educated on how just about everything contains varying amounts of toxic chemicals, I knew I had to find a green carpet cleaning company that uses safe products and methods to clean carpets. Enter All-Star ChemDry!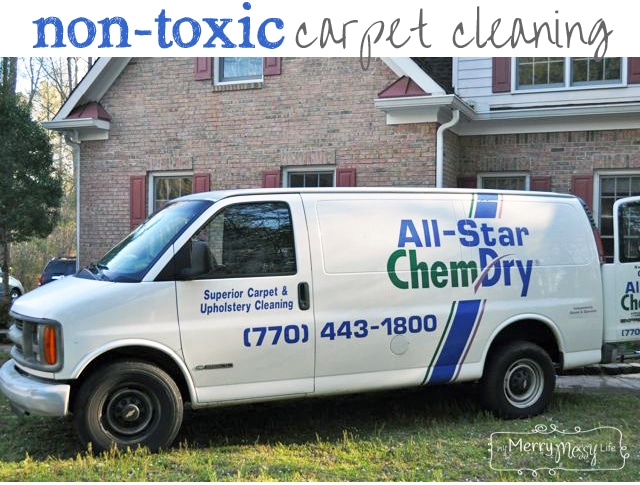 I was so excited to discover that an old friend owned an ChemDry franchise and booked them as soon as the house closed. I love to support small, local businesses, so that was an added bonus.
Why Use a Professional to Clean Your Carpets?
Before we decided to use a professional  we were considering renting one of those carpet cleaning machines from the grocery store for $30 a day – simply to save money. I mean, that's cheap! With three kids, one of whom is a newborn, we started to think better of it. Then, after talking with Shelly, co-owner of All-Star ChemDry, I learned that professionals use much more powerful machines than the rented ones that ensure the water that is used to clean is removed from the carpets, preventing mold and mildew buildup in the carpet, pad and even subfloor. Doesn't really make sense to have the carpets cleaned, only to end up with mold growing after the dirt's gone, does it?
What Makes Them Green and Non-Toxic?
No Detergents or Chemicals Used – Pure Oxidation Power
All-Star ChemDry uses a special non-toxic formula they call The Natural that is basically like club soda. If you're like me, you've probably already used club soda on stains and stinky spots in your carpet before. The oxidation released from the carbonation brings the dirt to the surface of the fibers, and then they use a special scrubbing machine and hot water to remove the dirt that's been brought to the surface. Simple and natural!
They Use 1/5 The Amount of Water that Steam Cleaners Use
The best part is that because they do not use a steam cleaning system, your carpets dry in 1 to 2 hours instead of 1 to 2 days! We were so excited about that because we wanted to move in on a Saturday, but had hardwood floors laid on a Thursday. So, the only day to get the carpets cleaned was Friday and were really worried because we knew the carpets wouldn't be dry with another cleaning service by moving day. I was pleasantly surprised to find out from Shelly Browne, the owner of my local All-Star ChemDry franchise, that we could still move in when we wanted to. Score!
Green Certified
Their process is also green-certified and The Natural solution is on the F.D.A.'s G.R.A.S. list (Generally Recognized as Safe). Their solution has no V.O.C.'s, does not bio-accumulate (bio-accumulation harms lakes, streams, rivers and aquatic life), it contains no carcinogens and has no dermal, oral or inhalation toxicity. Wow! There's hardly a cleaning solution, especially for carpet, that can claim they are that safe!
Here are more details of the cleaning process that explain it very well if you'd like more information.
I love this video from All-Star ChemDry about their business and the processes used.
And their cleaning services don't stop at carpet. They also clean area rugs, upholstery, tile and stone, water removal and damage cleaning, pet urine treatment and more! Don't live in the metro Atlanta, Georgia area? Find your local ChemDry franchise here!